Public Still Opposes Health Care Mandate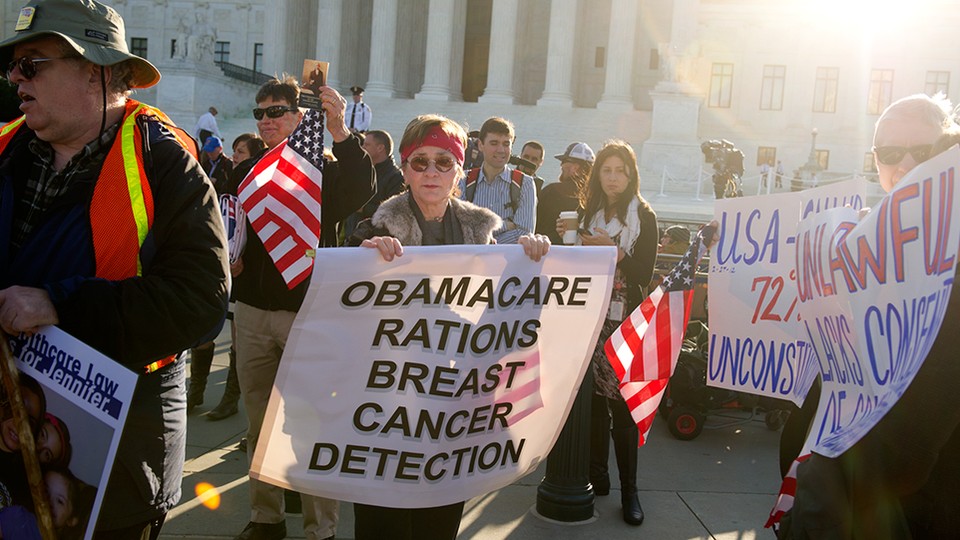 Americans remain overwhelmingly against requiring individuals to purchase health insurance, but they divide in half about the health care law that President Obama signed in 2010, according to the latest United Technologies/National Journal Congressional Connection Poll.
The poll found sweeping opposition to the so-called individual mandate, whose constitutionality the Supreme Court is considering. But it also found the nation split along overlapping lines of partisanship and race when respondents were asked about the impact of Obama's health reform law and its effort to expand coverage to the uninsured. At the same time, the Republican proposal to restructure Medicare into a premium-support or voucher system faces resistance as widespread as the individual mandate.
The mandate on individuals to purchase insurance or pay a penalty, as in earlier national polls, remains an idea without any significant constituency. Overall, when asked if "the federal government should or should not be able to require all Americans to obtain health insurance or else pay a fine," just 28 percent of those surveyed said they supported the mandate, while 66 percent opposed it.
The mandate faced opposition even from a narrow majority of nonwhite adults; almost three-fifths of young people; and two-thirds of college-educated white women — all pillars of the modern Democratic coalition. Even Democrats, by a 48 percent to 44 percent plurality, said they opposed a mandate. Two-thirds of independents rejected the idea, and opposition soared to nearly three-fourths among whites without a college education. Republicans opposed the idea by more than 15-to-1.
The United Technologies/National Journal Congressional Connection Poll, conducted by Princeton Survey Research Associates International, surveyed 1,003 adults on March 22-25. It has a margin of error of plus or minus 3.6 percentage points.
Questions about the reform law's overall impact split the country more closely. Asked for their overall assessment of the 2010 law, 43 percent of adults said they favored it, while 46 percent opposed it.
Reaction diverged along partisan lines: While Democrats backed the law by 75 percent to 17 percent, Republicans opposed it by an even more lopsided 86 percent to 6 percent. Independents split, with 45 percent opposing and 43 percent supporting.
The racial division was equally vivid. Sixty-eight percent of nonwhite adults said they supported the law, with only 18 percent opposed. Among whites, just 33 percent approved of the law, while 58 percent opposed it.
White voters' attitudes fissured further along educational lines. Although whites without a college degree are uninsured at higher rates than whites with advanced education, just 28 percent of noncollege whites said they favored the law, while 61 percent opposed it. Working-class white men and women were equally dubious.
College-educated whites were more supportive overall, but with a significant gender gap. Just 37 percent of college-plus white men supported the law, while 56 percent opposed it. College-educated white women, usually the white demographic group most receptive to Democrats, were again more enthusiastic: 51 percent of them favored the law, while 46 percent opposed it.
The country divided similarly closely on another question that asked about the law's attempt to expand coverage to the uninsured. The question noted that federal estimates project the law would provide health insurance to 33 million of the 50 million Americans now without it at a cost of about $150 billion. The question then asked respondents whether Congress should repeal the program because it is unaffordable "at a time of large budget deficits," or keep it "because it's important to reduce the number of Americans without health insurance."
By 45 percent to 42 percent, respondents said that Congress should keep the program. Nearly four-fifths of Republicans backed repeal, while almost three-fourths of Democrats wanted to maintain the law. Independents, by 45 percent to 40 percent, supported maintaining the coverage expansion.
Once again, the racial divide may be even more telling. Almost two-thirds of minorities said that Congress should maintain the law's provisions to expand coverage; by 49 percent to 38 percent, though, whites backed repeal. Still, that's a slightly better showing than the 33 percent of whites who favored the law overall. Among whites, those without college degrees accounted for all of the difference between the two questions.
In a measure of how difficult it is to generate support for big change in almost any direction on health care, the Medicare restructuring at the center of the House GOP's long-term budget plan fared as badly in the survey as Obama's individual mandate. Asked what Medicare should look like in the future, just 26 percent said it "should be changed to a system where the government provides seniors with a fixed sum of money they could use either to purchase private health insurance or to pay the cost of remaining in the current Medicare program." Fully 64 percent said "Medicare should continue as it is today, with the government "¦ paying doctors and hospitals directly for the services they provide to seniors."
Even a solid 56 percent to 30 percent majority of Republicans preferred the current system.