On Super Tuesday, Will Mitt Romney Finally Break Out?
Romney may finally be on the brink of taking an insurmountable lead in the GOP primary, yet Republican voters remain reluctant to accept him.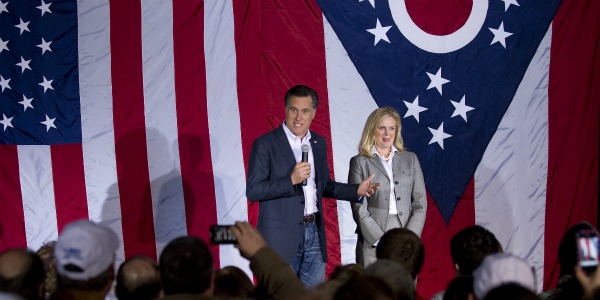 ZANESVILLE, OHIO -- When Ohio votes on Super Tuesday, Amy and Mike Jacoby's Republican primary votes will essentially cancel each other out.
She is voting for Rick Santorum, because she thinks America needs to return to God-based values. He is voting for Mitt Romney, because that's who he thinks can win the general election.
"One of the fundamentals of this country is God, and yet the current administration is always trying to push that out of the discussion," said Amy Jacoby, 42, a blonde housewife with bright reddish-pink lipstick. "That's why Rick Santorum is still in it. People in the heartland are thirsty for that."
Tuesday is very likely to be the day Romney finally blows open the Republican primary, racking up so many delegates that the rest -- the 28 states and four territories that have yet to vote -- becomes a foregone conclusion. But he will have done so without bowling over the stolid, skeptical Midwestern voters of the Buckeye State, that crown jewel of swing-state America.
The perennial doubts about Romney -- chiefly that he is not conservative enough and can't relate to regular people -- have just never been put to rest for a sizable portion of voters. Nor have they been persuaded to overlook those qualities and stop yearning for a better option. Many are more or less resigned to having Romney as the GOP nominee and plan to vote for him in November -- but they're still not voting for him in the primary.
The Jacobys came to Romney's final Ohio rally Monday night in this picturesque old factory town in the southeastern part of the state, accompanied by their two children, ages 11 and 4.
Mike Jacoby, a 44-year-old economic development professional in a dark suit jacket and pink-striped tie, worried the eventual nominee would be damaged by the primary fight. Amy brushed off his concern: "People are getting engaged. That's good," she said. "Whoever wins [the nomination], they're going to get it 10 times worse" in the fall, she added.
Of the 10 Super Tuesday states, Romney appears almost certain to win Massachusetts, Vermont and Virginia, and strong in Idaho, North Dakota and Alaska. Newt Gingrich seems likely to take only his old home state of Georgia, while Santorum looks strong in Oklahoma and Tennessee. However the chips fall state by state, the end result is likely to add to Romney's already substantial delegate lead.
But Ohio, like Michigan a week ago, remains torn, with the vote likely to be close. (The delegates could be another story: Santorum, whose shoestring campaign does not have a national headquarters or a pollster, failed to meet delegate-slate filing requirements in several counties, meaning he's ineligible to win a good portion of the state's delegates.) Though Romney has made headway -- Santorum held a double-digit lead in polls two weeks ago -- the fact that it's so tight underscores his inability to persuade voters it's time to come home.
Campaigning across Ohio in recent days, the candidates appeared little changed from their closing days in Iowa just over two months ago. Romney was a bit more at ease, taking questions from audiences more frequently, and has stopped doing that excruciating thing where he recites the obscure late verses of "America the Beautiful." But his stump speech remains a soothing, placid affair, a collection of maximally inoffensive platitudes. Santorum has gotten grander and less hangdog since becoming a known quantity, but his appeal, too, is essentially unchanged: an urgent, hectoring, disruptive vision of an America where God and family are returned to their rightful primacy.
"I love it when the left says, 'Oh, we need to have separation of church and state' -- except, of course, when the state wants to tell the church what to do," Santorum told a GOP banquet in the Western Ohio town of Lima on Saturday, to enthusiastic applause.
Later that night, in Bowling Green, he used a similar sarcastic formulation. "I love it when the left says, 'Equality, equality.' Where does that come from? Does it come from Islam? Does it come from other cultures? No, it comes from our culture and tradition. It comes from the Judeo-Christian ethic." Various pundits have advised Santorum to drop the family-values shtick and start making a broader appeal; on the trail in Ohio, it was clear he had discarded that advice.
Romney, on the other hand, did not allude to the controversy over contraception and religious freedom in the Ohio campaign stops I attended. In Dayton on Saturday, he attempted to show empathy with one questioner: "This is a human life, all right?" he said. "This is a family affected by government!" He also issued a plea for collaboration and compromise, saying he'd shared credit with the leaders of the Democratic legislature in Massachusetts.
In Zanesville, Romney's final Ohio setting seemed to have been chosen for primarily alphabetical reasons -- he opened by proclaiming that he'd been "all over the state from A to Z, Akron to Zanesville." No more than a couple hundred people filled the room at the quaint brick venue, where oil paintings and jewelry were for sale in the lobby.
Ann Romney, looking radiant as ever, took the microphone to issue a grave threat: "There's only one answer," she said. "It's right here! If Mitt wins, America wins. If Mitt loses, America loses."
Mitt Romney then spoke for a little more than 10 minutes, paying bland tribute to the greatness of America, which he said was founded by "dreamers, achievers, people with derring-do in their souls."
Edie Jenkins and Helen Staub, two elderly sisters in colorful sweatshirts who attended Romney's Dayton event, said they were leaning toward voting for Romney. "I kind of liked Santorum until he started all this bickering," Jenkins said. "I do not like this crap. I do not like it at all."
Staub agreed, saying she was worried Democrats were gaining an advantage as Republicans continued to spar.
"They are gaining on us, and they're probably laughing at us," she said. "Stop it! This will not do anyone any good."
Image credit: Getty Images/Jim Watson