Mitt Romney Wins an Ohio Nailbiter and Snaps up Delegates
With a close win in Ohio and other victories in Virginia, Massachusetts, Vermont, and Idaho, he remains at the front of the pack.
With a close win in Ohio and other victories in Virginia, Massachusetts, Vermont, and Idaho, he remains at the front of the pack.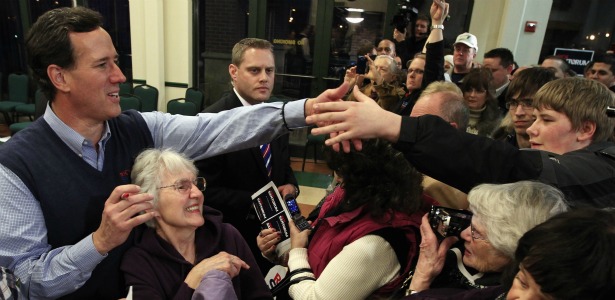 1:06 a.m. That's all, folks. With only Alaska left to report, we're signing off for the night. Read Molly Ball's analysis of all tonight's results here: A Super Tuesday Nailbiter Puts Romney on His Heels.
Check back in the morning for more analysis from The Atlantic's politics team. --DG
12:44 a.m. Joe the Plumber wins.
COLUMBUS, Ohio (AP) - Ohio's 'Joe the Plumber' of 2008 campaign fame wins GOP nomination in US House race #2012

— Phil Elliott (@Philip_Elliott) March 7, 2012
He'll face Democratic Rep. Marcy Kaptur in the general election. --DG
12:31 a.m. Romney wins Ohio. Well, there it is, folks: NBC and the Associated Press have both declared Mitt Romney the winner of the Ohio primary. It's the culmination of a stomach-churning evening: early exit polls showed Romney polling strongly, but as the actual votes came in Santorum gained a significant lead, only to see it melt away as votes from the Cleveland and Columbus metropolitan areas -- which tend to be more socially liberal, better educated, and wealthier -- came in to give Romney a victory. It's unquestionably good news for Romney, who proved he can win in the Rust Belt, and bad news for Santorum, who was unable to hold on to a lead in a state very similar to his own Pennsylvania. A win would have given him serious momentum to keep challenging Romney, though he's vowing to stay on. Still the news could have been much better for Romney, he's escaped with his life, but will have face continued doubts over his inability to finish his rivals -- even though his delegate total by the end of the night puts him well on the way to winning the Republican nomination. Even with the close margin of victory, the former Massachusetts governor will take home the lion's share of the Buckeye State's delegates. --DG
12:05 a.m. Meanwhile, elsewhere in Ohio... In addition to the presidential race, there are actually two notable House races, and both threaten to end the careers of divisive, partisan members, one on each side of the aisle. In the first, Rep. Jean Schmidt appears to have lost to fellow Republican Brad Wenstrup, an Iraq war veteran, in an upset. Schmidt aroused controversy by calling decorated Marine veteran and fellow member of Congress John Murtha a "coward" and appearing to endorse the views of a birther attendee at an event.
But the bigger story is in the Ninth District, where Rep. Marcy Kaptur is poised to defeat Rep. Dennis Kucinich. It's a hard fall for Kucinich, who just four years ago ran for the Democratic nomination for president. But the two veteran Democrats found themselves pressed into a single district when House maps were redrawn, with the Republicans who control the state government seeing a chance to get rid of one of them. The new district included parts of Cuyahoga County -- Kucinich's stronghold since his days as "Boy Mayor" of Cleveland in the 1970s -- as well as much of Kaptur's territory around Toledo. Dennis may be out for now, but don't assume we've seen the last of him. After all, he miraculously recovered from his tumultuous term as mayor, and he has been rumored to be eyeing a House district in Washington state as a post-loss move. --DG
11:37 p.m. Yes, Idaho voted with coins dropped into buckets. If you've been following the race on Twitter tonight, you know that Idaho's GOP caucuses put Iowa's little scraps of paper system to shame by using coins deposited in buckets as a vote-counting mechanism. But did you know some of the votes were also supposed to be counted by weight? Sorted with a sawed-off length of pipe designed to fit 100 coins? Tallied by a coin-sorting machine on loan from a bank? The GOP caucuses in Idaho were the state's first; until this year, Republicans there have generally held a May primary. (Democrats have been holding caucuses in the state since 1980.) This March 3 Moscow-Pullman Daily News story (from Moscow, Idaho), explains some of the unusual vote-counting plans in the state this year as local Republicans made their maiden foray into caucusing:
In Payette County, they'll be using a sawed-off plastic pipe long enough to accommodate 100 coins to expedite tallying. In Canyon County, Idaho's second-biggest by population, caucus participants will cast their support for a candidate by dropping coins in a bucket. The buckets will be weighed instead of hand counted.

Ada County considered weighing coins, too, before bankers offered to loan Republicans in Idaho's most-populous county a machine.

"We've looked at both options, but I think we've decided on coin counting," said Ada County Republican Chairman Dwight Johnson. "They're very fast."
The voting coins are not legal tender, but brass tokens handed out to voters when they arrived at caucus locations, which have "an outline of Idaho flanked by GOP elephants on one side, and an eagle and shield on the other," according to the Idaho Statesman. --GFR
11:11 p.m. A nervous man. Santorum Press Secretary Alice Stewart tweets this photo of Rick Santorum and his entourage (that appears to be Mike DeWine leaning over him) watching the results come in.
--DG
11:01 p.m. Romney wins Idaho. Meanwhile, Fox News has called the Idaho caucuses for Mitt Romney. With a large Mormon population, the state was expected to be a good one for him. It too soon to tell whether Ron Paul (remember him?) or Rick Santorum will come in second. Paul's campaign had argued it would do well and might even pull off a win. --DG
10:56 p.m. Still too close to call in Ohio. It's starting to look like Mitt Romney might pull out a win in Ohio, although it will be a very weak one. While Santorum had a solid lead earlier, that vote excluded major urban centers, especially Cleveland and Cincinnati, that hadn't reported yet. As those totals come in, Romney appears to be pulling back ahead. But NBC isn't taking any chances:
--DG
10:08 p.m. Santorum wins North Dakota. While we wait for Ohio results to come in, numbers from farther west are finally arriving. CNN now projects that Rick Santorum has won the North Dakota caucus, his third win of the night. --DG
9:31 p.m. Looking tight in Ohio. As Rick Santorum speaks in Steubenville -- joined on stage by his 93-year-old mother -- the Buckeye State race looks extremely tight. The results are streaming in slowly, but Santorum and Romney are neck and neck. Howard Fineman reports that the campaign was trying to lower expectations earlier today. But Boston also has its eye on the area around Cleveland, according to Politico's Reid Epstein:
Told Romney high command has its eyes on Cuyahoga County. Metro Cleveland is where they think they can build enuf advantage to win state.

— Reid Epstein (@reidepstein) March 7, 2012
--DG
9:00 p.m. Newt Gingrich: "I am the tortoise."
Gingrich's victory speech was a classic in the genre the former speaker has made his own: rambling, impassioned, oddly buoyant and combative for a candidate whose best days are over, and full of swipes at the hated elites. But his best line was this. (For the record, he's still going.) --DG
8:53 p.m. Can't make this up. From The Atlantic's Molly Ball in Steubenville, Ohio:
"Devil Went Down to Georgia" playing at Santorum event as Newt speaks on TV monitors. Yep.

— Molly Ball (@mollyesque) March 7, 2012
--DG
8:38 p.m. Guess who's coming to caucus?
A lucky CNN cameraman hit the jackpot when he ran into Sarah Palin at a caucus in Wasilla, Alaska. Palin joked that she'd been "busted," but answered several questions while her husband, Todd, waited semipatiently. She wouldn't say who she backed, but she did bash liberals for bashing Rush Limbaugh. --DG
8:34 p.m. Santorum wins Tennessee. NBC is projecting that Rick Santorum has won the Tennessee primary. Of the trifecta of wins he was hoping for, he's now won Oklahoma and Tennessee, leaving only Ohio to be announced. --DG
8:30 p.m. Reading the Exit Polls. CNN has posted their exit poll of voters in Ohio, where the early word is Romney may have pulled off another come-from-behind win. Accordingly, there's a lot of very bad news in it for Rick Santorum, for whom a win would have proved his viability as anti-Romney. A few of the more interesting bits: Santorum's struggles with women continued, with only 36 percent of the vote, but he actually did worse with men, getting just 35 percent. Santorum also did better with younger voters and with those who identified as very conservative. But Romney romped with voters who felt the economy was the most important issue and those who were most concerned with beating President Obama in November. And for all that talk about the lack of enthusiasm about Romney, more voters said they strongly favored him than did Santorum. All in all, it's pretty ugly for the Pennsylvanian. --DG
8:13 p.m. Santorum wins Oklahoma. He had to win one sooner or later, and it came in the Sooner State. The former Pennsylvania senator is being projected as the winner of the state's primary. Now all the attention is on Tennessee and Ohio. --DG
8:09 p.m. Massachusetts goes for Romney. Mitt Romney has won Massachusetts, the state where he was governor from 2002 and 2006 and where he cast his vote this afternoon. --DG
8:05 p.m. Here's your real-time results map. -- GFR
7:27 p.m. Vermont picks Mitt. Fox News projects that Mitt Romney has won in Vermont, a northeastern state where his rivals never seriously competed.--DG
7:19 p.m. Romney wins in Virginia. Multiple outlets are calling the Virginia primary for Mitt Romney. That's also an expected result (he and Ron Paul were the only two candidates on the ballot). The real question is how big his margin is: if Romney gets 50 percent, as expected, he wins all of the state's delegates. There was some headscratching over why Georgia was called for Gingrich so quickly but there was no fast call in the Old Dominion: did anyone really believe that Paul would pull off an upset? University of Virginia politics guru Larry Sabato summed it up:
Shocking news: Romney wins VA. Why in God's name did they wait? Should have been called at 7:01 pm.

— Larry Sabato (@LarrySabato) March 7, 2012
--DG
7:12 p.m. Georgia for Gingrich. The Associated Press projects Newt Gingrich as the winner of the Georgia primary. That's in line with expectations; a loss would have been catastrophic for the former speaker, whose star has faded in recent weeks. Exit polls suggest Mitt Romney could finish second, an upset of Rick Santorum.
--DG
7 p.m. First batch of polls closing. Polls in Georgia, Virginia and Vermont were set to close at this time. --GFR
6:40 p.m. Newt goes to Space Camp. Newt Gingrich, when not multitasking by napping on video while waiting to give a speech, spent part of the day visiting the U.S. Space and Rocket Center in Huntsville, Ala., where NASA also holds its Space Camp for kids. Hey, if you're not going to be president, at least you can get in some cool touring, amirite? Ginger Gibson was there:
"Of all the places we've held rallies, this may be the most amazing, just to stand here," Gingrich said, surveying the space rocket above him. "I invite Saturday Night Live to come here to Huntsville and film their skits."

"America has a destiny in space," Gingrich declared, drawing applause from the 600-person crowd....

Gingrich was flanked by an actual Apollo module that took men to the moon and a model of the lunar landing module. Behind him was a large banner with a photo of the shuttle launch and above his head hung a life-size Apollo launcher. On the wall beside him read a large green-lit sign declaring, "Voyage to the Moon."
6:20 p.m. Here come the early exits. Despite Republicans' lack of abiding passion for any of the candidates running for the presidential nomination, turnout has been quite strong today, according to exit polls detailed by The Washington Post's pollsters:
In Georgia, about two-thirds of Republican primary voters are evangelical Christians, according to preliminary exit polling. The proportion bumps up to nearly three-quarters in Tennessee; it's around half of all voters in Ohio. Turnout across the three states is at least as high as it was in the 2008 primaries.
And in what would be hard not to interpret as a spot of good news for Mitt Romney:
According to preliminary results, by 2 to 1, GOP voters in all three states prioritize business over government experience when thinking about what makes an effective president.
Also intriguing are some of the demographic differences from the 2008 electorate, such as the counter-intuitive -- given stereotypes of the state as a bastion of blue-collar workers -- wealth of the Ohio Republicans casting ballots today:
In the early data, the GOP primary electorate in Ohio appears more educated and higher-income than its 2008 counterpart. Close to half of the voters have a college degree, and about three in 10 have income of $100,000 or more, both up from four years ago.
You can read the full results here. --GFR
5:32 p.m. Right back atcha, Mr. President. Who says civility is dead in American politics? Responding to President Obama's wish of good luck to Mitt Romney earlier today (see below), Romney was cordial in Belmont, Mass., where he cast his vote. --DG
MITT ROMNEY: Says he appreciates Obama's well wishes today and returns best wishes... #mapoli

— Glen Johnson (@globeglen) March 6, 2012
5:28 p.m. Faces of the Republican electorate. While reporters have been typing and tweeting away all day, The New York Times dispatched photographers to take portraits of voters at today's primaries and interview them. Just for fun, guess who this gentleman -- Gary Foust of Savannah, Ga. -- is supporting before you click through to see the whole gallery. --DG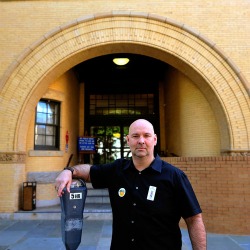 5:15 p.m. Rick Santorum rests his case. Linda Killian is in Westerville, Ohio, where she heard a slightly hoarse Santorum's closing argument as Buckeye State voters went to the polls today. You should read the whole thing, but here's a taste from the end:
Santorum has been the last of the GOP candidates to rise to the top of the pack and try to threaten Romney's superior organization and financial advantages. Ultimately, they have all fallen short.

But voters like the hundreds who packed the American Legion hall here were clearly looking for the conservative message they got from Santorum and not what they've been hearing from Romney.

What seemed to excite them the most though was the prospect of defeating Obama in November. What remains unclear at this point is whether that desire will trump their antipathy for Romney.
Read it here. --DG
4:55 p.m. Pro-Santorum, anti-gay robocalls in Ohio. Over the last few days, there's been a steady undercurrent of voices calling for Rick Santorum to focus more on economic issues and set aside the more divisive social issues that have been his bread and butter. Those calls have come from influential evangelical leaders and voters alike, but it looks like Santorum's backers are doubling down with an aggressive robocall (the campaign doesn't appear to have any involvement). Via Religion Dispatches, here's the text:
Hi, my name is Brian Camenker; I'm a Jew from Massachusetts. And, this is Darcy Brandon; I'm a Christian from California. If you believe as we do that marriage and sexuality should only be between a man and a woman, please help us stop Mitt Romney. As Governor, Romney signed "Gay Youth Pride Day" declarations, promoted homosexuality in our elementary schools, and unconstitutionally ordered state officals to make Massachusetts America's first same-sex marriage state. Romney supports open homosexuality in the military, the appointment of homosexual judges, and the ENDA law, making it illegal to fire a man who wears a dress and high heels to work, even if he's your kid's teacher. When you vote tomorrow, please vote for social sanity and Rick Santorum, NOT for homosexuality and Mitt Romney. Rick Santorum is the ONLY candidate who can be trusted to uphold traditional marriage, a straight military, and the rights of American children to have both a mother and a father. This message paid for by Jews and Christians Together.ORG and not authorized by any candidate. To get the FACTS before you vote, visit Jews and Christians Together.org.
Some of this is badly distorted, if not outright false. For example, Romney's order to state officials was in accordance with a state supreme court ruling, not his own views. He has said he would not try to reinstitute Don't Ask, Don't Tell, and he has supported ENDA. RD's Sarah Posner has some of the background on Jews and Christians Together's past campaigns, from the alarmist ("URGENT: Stop Sharia Law in Florida.") to the absurd ("10 Reasons Why Obama is not a Christian.") --DG
4:13 p.m. Voter turnout -- among the candidates. With 10 states voting today, three of the four remaining GOP contenders have a chance to vote. Mitt Romney plans to arrive at the Beech Street Senior Center in Belmont, Mass., in about an hour, where he'll presumably cast a ballot for himself. He's heavily favored to win the Bay State. Later tonight, he has a victory party in Boston. It's his first trip home in two months.
Newt Gingrich is a registered Virginia voter, but he's not voting. You see, he failed to collect enough signatures to make it onto the ballot (as did Rick Santorum), and the former speaker couldn't bring himself to vote for either of his rivals. "In this Republican primary, when given a choice between Ron Paul and Mitt Romney, they could not pick either one," Gingrich spokesman R.C. Hammond told NBC News. Meanwhile, Gingrich has been campaigning doggedly in Georgia, the state he represented in Congress and on which he has pinned his hopes for staying in the race. Santorum is also a registered Virginia voter, but it's unclear whether he's voting or abstaining. We've asked his campaign and will update as soon as we hear back.
As for Ron Paul, he'll have to wait until the Texas primary on May 29. --DG
3:43 p.m. Newt Gingrich is very very sleepy.
Campaigning for president is exhausting. In case anyone had any doubt, the former House speaker served up a reminder today while waiting to be broadcast to the AIPAC conference in Washington, D.C.
Reports ABC
:
Newt Gingrich apparently has been so busy campaigning all around Georgia that he hasn't had time to sleep, or even write a speech for the AIPAC crowd.

Moments before he was set to video-stream live to the American Israel Public Affairs Committee, Gingrich was caught on camera dozing off, perhaps dreaming about what it would be like to be president or live on the moon -- or both.

At one point, he woke up and was either thinking about the secretary of defense or was talking about him with someone not seen. "Listening to Panetta is not a relaxing experience," Gingrich said, before slipping away into nap time again.

He woke up before he was introduced for his speech. He told the audience:

"I understand you have a panel. I look forward to any questions."

Then 12 seemingly eternal seconds of silence followed... Finally the AIPAC introducer had to cut the awkward void.

"Mr. Speaker, there is not a panel," he said. "Please do continue, sir."
--GFR
3:27 p.m. The enthusiasm gap.
Via
Buzzfeed
, this chart shows the enthusiasm gap in voter turnout in Ohio, as measured in by the Ohio Secretary of State's office count of absentee and early voting. Of course, the 2008 figures are not totally comparable, as they measured the still pitched Democratic battle between Barack Obama and Hillary Clinton, as well as the then fading GOP contest, which
Mitt Romney had already left
by the
time Ohio voted in 2008.
--GFR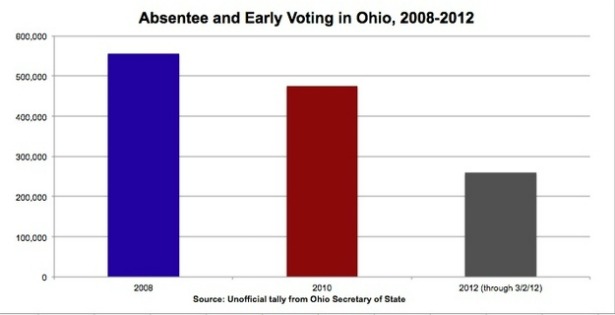 3:06 p.m. The used-car test.
We've all heard the old metric that voters want to pull the lever for someone they'd want to have a beer with. But what about someone they'd buy a used car from? That's a question Craigslist asked of 662 Republicans. Here are the results:

Santorum has the edge in pretty much every category. Perhaps not surprisingly, Democrats prefer the more moderate Romney (the former Massachusetts governor also has more experience in the private sector than his rival). Unpolled but self-evident is the fact that Santorum's sweater vests are classier than the stereotypical polyester suit of the second-hand lot salesman. Sadly, the results don't include Ron Paul, Newt Gingrich, or -- perhaps most crucially -- Barack Obama.
--DG
2:35 p.m. Obama wishes Romney luck. Norah O'Donnell of CBS asked President Obama at his midday news conference what he'd say to Mitt Romney, who just called Obama America's most "feckless" president since Jimmy Carter, on this Super Tuesday.
"Good luck tonight," the commander-in-chief replied.
"No, really," a member of the press called out.
"Really!" the president said, evoking laughter from his interlocutors. --GFR
Watch:
2:30 p.m. The social safety net in 1925. Politifact dug into Rick Santorum's frequently stated contention that, "When my grandfather came to this country back in 1925, there were no government benefits." Not so, the fact-checking outfit finds. "Contrary to what Santorum said, millions of Americans in 1925 would have either qualified for benefits directly, such as payments to veterans, or have been protected by workers' compensation laws that provided benefits to those who became disabled by their jobs. And state and local governments had the longstanding role of paying support to people who were disabled or indigent. This provides a much more complex picture than Santorum is painting. We rate his statement False." --GFR
2:25 p.m. Hello, America! It's Super Tuesday. Welcome to The Atlantic's liveblog of all the news and results from the 10 GOP primaries and caucuses being held across the nation. Here's a quick rundown of our coverage of Super Tuesday so far.
The perennial doubts about Romney -- chiefly that he is not conservative enough and can't relate to regular people -- have just never been put to rest for a sizable portion of voters. Nor have they been persuaded to overlook those qualities and stop yearning for a better option. Many are more or less resigned to having Romney as the GOP nominee and plan to vote for him in November -- but they're still not voting for him in the primary.
Here are poll closing times tonight, via the AP (all times EST):
7 p.m.: Georgia, Virginia and Vermont.
7:30 p.m.: Ohio.
8 p.m.: Massachusetts, Tennessee and Oklahoma.
Start times for the caucuses:
8 p.m.: Alaska.
6:30 p.m. and 7:30 p.m.: North Dakota.
9 p.m. and 10 p.m.: Idaho.
7 p.m., 7:30 p.m., 8 p.m. and 9 p.m.: Wyoming. Caucuses also will be held in some counties on March 8 and March 10.
--DG
Image: Jim Young / Reuters