How Ohio Democrats Got Their Groove Back
A rising economy, the brutal Republican primary and a resurgent culture war have weary swing-state activists feeling better than they have since 2008.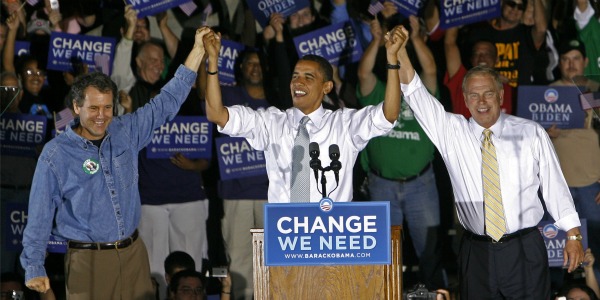 COLUMBUS, OHIO -- A few months ago, it would have been hard to believe a roomful of swing-state Democrats would be feeling this good. But the activists who gathered here for the Ohio Democratic Party's Legacy Dinner on Friday were in a positively jubilant mood.
"There is a war going on against women in America," warned Ted Strickland, the former Ohio governor ousted in the 2010 Republican tsunami. "The Republicans are attacking our women, and we're not going to put up with it -- are we, men?" A cheer rose from the 1,000 well-dressed party regulars in the elegant Art Deco hall.
As speaker after speaker hit this note, from legislators to labor leaders to the chairwoman of the Democratic National Committee, one thing was obvious: The recent resurgence of the culture war has fired up Democrats. Gone is the forlorn mood of many Democratic gatherings in recent memory. Eight months before Election Day, buoyed as well by the improving economy and the GOP's messy primary, Democrats are starting to feel almost like it's 2008 again.
The surge of enthusiasm comes at a crucial time for President Obama's reelection hopes. While the GOP bickers, the president's formidable grass-roots operation has sought to get a head start on the eventual Republican nominee.
In Ohio, Obama's campaign just opened its ninth field office -- in New Philadelphia, half an hour south of Canton. Since officially relaunching in April 2011, the campaign says it has contacted 650,000 Ohioans by phone, at their doorsteps or in one-on-one conversations, and it has held 5,000 events, from phone banks and canvasses to house meetings and public rallies.
But all that legwork might be for naught if Democrats weren't feeling the thrill of four years ago, and until quite recently, 2008 seemed more like the prelude to a cruel letdown than an inspiring precedent. Not anymore.
Strickland -- a fair-haired, ruddy-complected populist who looks younger than his 70 years -- recalled how good it felt when the networks called Ohio for Obama just after 9:30 p.m. on election night 2008. This year, he said, he'd be generous and give them an extra half hour. "By 10 o'clock p.m., Bill O'Reilly on Fox News will be compelled to announce that Ohio has stood for Obama!" he said.
The last few years have been a roller coaster for Ohio Democrats. In 2010, they lost both houses of the state legislature, five seats in Congress and every major statewide office. Strickland, the incumbent governor, lost his bid for a second term.
But 2011 marked something of a comeback. The governor's attempt to limit public workers' collective bargaining rights, known as SB5, went to a ballot referendum, where it was soundly defeated. (At the same time, a ballot measure symbolically rejecting Obama's health-care overhaul was approved, an indication that voters' mood remains mixed.)
Almost to a one, the speakers at the Ohio dinner touched on four points: the happy memory of 2008; the SB5 fight; the agony of the GOP contenders; and, most rousingly, the current controversy over access to birth control.
The SB5 victory was cited as proof that Democrats could win again. "Ladies and gentlemen, the middle class is under attack, and we're here to fight!" said Eric Kearney, the minority leader of the Ohio state Senate.
Armond Budish, the minority leader in the state House, blamed Republicans for "an unprecedented series of attacks on working people." He foretold a future where "kids sit in classes of 40 or 50 kids, with no sports or band"; where "Mom's in a nursing home and when she presses that call button, nobody comes"; where the natural landscape is despoiled by fracking; and where "no one in the state can get a job unless they're a friend or crony of [Gov.] John Kasich."
As Mitt Romney and Rick Santorum circled the state tearing each other down, the Democrats practically licked their chops.
"This president has done a good job. He deserves to be reelected," Strickland said, to mild applause. "But he also deserves to be reelected because of the total ineptness and inadequacy of his opponents!" Big cheers.
Sherrod Brown, the first-term U.S. senator who faces a tough reelection battle this year, gave a rather subdued, rambling speech, but he got the crowd on his side when he brought up the opposition. Brown closed his speech by reading an open letter his wife, newspaper columnist Connie Schultz, had written to Santorum protesting his contention, since withdrawn, that Obama was a "snob" for promoting higher education. "My wife doesn't drive two Cadillacs -- she drives a Dodge, but that's OK," he noted.
But by far the most galvanizing lines of the night were those that touched on the contraception debate. There were repeated references to Rush Limbaugh's comments calling law student Sandra Fluke a "slut." It was a reminder that women volunteers who started as activists for the Equal Rights Amendment in the 1970s, now elderly, remain the backbone of many local Democratic Party organizations.
Betty Sutton, the energetic blonde congresswoman who represents Brown's former Akron-area district, recalled a mailer her opponent had sent: "Let's take Betty Sutton out of the House and put her back in the kitchen," it said. "And my husband said, 'What would she do there?'" she said, to laughter. "Because that's not where my talents lie."
Rep. Debbie Wasserman Schultz took the stage last, apologizing for her voice, which was hoarse -- likely from hundreds of events like this one. As she began, an email to supporters from the Democratic Senatorial Campaign Committee landed in my inbox, with the subject line: "Misogyny."
Wasserman Schultz began by touting the president's plans for the economy as laid out in his latest State of the Union. There was no more than perfunctory applause for this part, the arid, pleading case Obama would be relying on to win reelection if Republicans hadn't given them so much new material.
But then Wasserman Schultz brought up Limbaugh and Fluke. "He wants to watch her having sex!" she exclaimed. "What, pray tell, did she do to deserve this vitriolic treatment?"
She attacked the Republican candidates for not denouncing Limbaugh strongly enough. "Mark my words, they are going to pay for it! They are going to pay for it on Election Day!" she said, whipping the audience into a frenzy.
"It's our bodies!" Wasserman Schultz cried, her voice breaking as the crowd rose to its feet. "We will not stand for it! That debate was settled before I was born!"
Jonathan Beck, a 55-year-old attorney in Columbus, loved the speech. Two or three months ago, he wasn't particularly optimistic about Obama's reelection, he said. But with the economy ticking upward and the Republicans seemingly competing to be the most out-of-touch, his pessimism was fading.
"There's been a steady stream of slightly better news -- that and the fact that the Republicans appear to be shooting themselves in the foot with these attacks on women and all the social-values, religious talk," Beck said.
"They are losing women, and I think they're losing the middle of country," he added.
Image credit: Associated Press/David Kohl