Hispanic Votes Won't Be a Gamechanger in the 2012 Election
Although they represent a growing share of the U.S. population, Hispanic voter registration and enthusiasm about Obama are both low.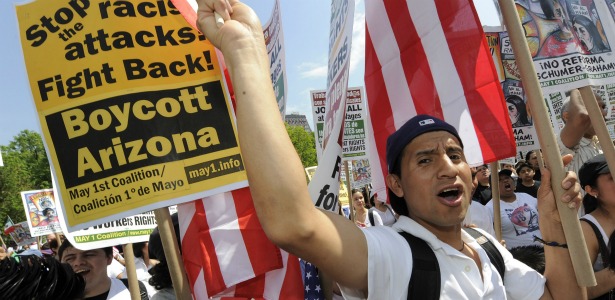 If your family hails from Latin America and you live in a battleground state, brace yourself: politicians have finally woken up to the importance of your vote. President Obama's reelection, pundits say, may depend on an outpouring of support from the barrios of the West and Southwest.
Yet attracting Hispanic votes may require more investment, in more places, than either party anticipates. For all the hype about the Hispanic vote in 2012, the aftershocks of the recession may have created a logistical barrier in many states for voter registration.
New numbers suggest that previous predictions of between 11 and 12 million Hispanic citizens voting in 2012 might be overly optimistic, said Antonio Gonzalez, president of the William C. Velasquez Institute and the Southwest Voter Registration Education Project. Barring a major investment in registration, turnout, or both, that's about 10.5 million votes cast.
Gonzalez dug into the U.S. Census Bureau's Current Population Survey and found that Hispanic voter registration dropped from 11.6 million to 10.9 million in 2010. Voter registration typically speeds up in presidential election years and slows down in "off-year cycles," he says, but for over half a million voters to drop off the rolls is a big interruption of a 20-year trend of rising Hispanic voter registration.
"What we think is happening is that the recession, and in particular the housing and foreclosure crisis really knocked the heck out of the Latino community," Gonzalez said. Unemployment and foreclosures caused a big spike in mobility, he said, as Hispanics moved to find work or a new home -- an activity that causes a loss of voter registration.
It's hard to tease out voter registration data, experts say, because many states don't ask citizens to declare their ethnicity when they register. The Census' Current Population Survey relies on self-reporting, which can lead to inaccuracies. It's also hard to infer why registration levels might have fallen.
But an anomaly in a pattern the survey has been tracking for decades deserves attention, said Ricardo Ramírez, a political scientist at Notre Dame University.
Given demographic pressures, "There shouldn't be a drop, there shouldn't even be a stabilization, there should be continued growth" in voter registration, Ramírez said. He said that mobility compelled by the recession is the likeliest explanation for the drop, although tougher voter-registration regulations could also have had an effect.
The impact on the presidential race shouldn't be huge, experts and advocates say. Seventy-two percent of Hispanic voters say they voted for Barack Obama in 2008, according to polling agency Latino Decisions, and the Obama for America campaign has made it clear that it will fight for this crucial constituency.
But a drop in Hispanic voter registration could impact downballot races, or make the Obama campaign's task more difficult, Gonzalez said. And it certainly makes life harder for advocates working in states, like California and Texas, that aren't competitive on a national level but are where about half of America's Hispanics actually live.
"Remember, the battleground states only represent about one in five Hispanic voters," Gonzalez said. "You can't just depend on presidential campaigns to reverse this trend." Eight states with big Latino populations experienced "significant declines" in the number of registered Latino voters between 2009-2010, Gonzalez found: California, Texas, Nevada, Florida, Washington, New Mexico, New Jersey, and Pennsylvania.
Florida lost 141,000 registered Latino voters, according to his analysis. California lost 238,000. Texas, New Jersey and New Mexico lost about 100,000 voters apiece.
Voter registration advocates say they're already struggling to close the massive gap between Hispanic citizens eligible to vote and Hispanic citizens who are registered to vote. In a year when political action committees are raking in millions of dollars of donations, advocates say interest in funding basic voter registration work seems lower than ever.
Recent years have brought "a devastating, and I mean devastating, decline in the interest to fund voter-registration drives," said Lydia Camarillo, vice president of the Southwest Voter Registration Education Project.
Ben Monterroso, national executive director of Mi Familia Vota Education Fund, said he's hopeful that his organization will attract more funding as Election Day nears. But he, like other advocates, emphasized the size of the need, and said that new voter registration laws in states like Texas and Florida have made it harder for many groups to operate.
More than half a million Hispanics become eligible to vote each year, according to Latino Decisions. Many of them will be teenagers turning 18. While 9.7 million Hispanic citizens voted in 2008, another 7.9 million were eligible to vote but didn't register to do so, according to the Census Bureau. Eighty percent of registered Hispanics cast a vote in 2008, according to the Census.
"In general, when you add up the balance sheet on electoral expenditures, voter registration is a minimal part of that equation -- even though it is critical to sustaining our democracy," said Clarissa Martinez-De-Castro, Director of Immigration and Civic Engagement at the National Council of La Raza. "For the Latino community, where you have a lot of people coming of age, that's extremely problematic."
Looking ahead to 2012, Latino Decisions predicts a registration gap of over 8 million citizens who need to be registered; NCLR predicts 9.6 million. If Gonzalez' numbers are correct, the gap may be even greater.
It's obvious that Hispanic turnout rises when advocates invest in registration and politicians invest in outreach, Camarillo said. Just look at the Hispanic mobilization that helped save Senate Majority Leader Harry Reid's Nevada seat in 2010.
"If you don't expect Hispanics in other states, like Colorado and Nevada, to turn out without resources, why do you expect Hispanics in Texas to do that?" Camarillo asked. There's also an X factor, analysts and advocates say: the presence, of absence, of anti-immigrant rhetoric from Republicans at the local and national level.
One outlier in Gonzalez' data? Arizona gained 200,000 registered voters. The recent mobilization of Arizona's Hispanic community, analysts say, is tied to anti-immigrant rhetoric and legislation in the state.
It's the same pattern that mobilized California's Hispanics in the 1990s, said Gonzalez. "Frankly, the Democrats were the beneficiaries of a catastrophic short-term Republican strategic blunder," he said of California.
Republican presidential candidates Mitt Romney and Rick Santorum did little to ingratiate themselves with Hispanic voters when they called for tougher immigration enforcement while debating in Arizona last month, analysts say. The Obama for America campaign has a video on its website that highlights former Massachusetts Governor Romney's opposition to the DREAM Act.
But Obama's failure to pass the DREAM Act -- despite Democratic control of both houses of Congress -- and the record number of deportations under his administration has soured the Hispanic community on the candidate they backed in 2008, advocates say.
Linda Vega, a Houston lawyer and founder of Hispanics Ready to Vote, heads one of the few conservative groups working to register Hispanic voters in Texas. Vega contends that apathy and low turnout, rather than low registration rates, are the real problem facing the Hispanic community. Another problem she sees is confusion.
"They show disappointment in the Obama administration. They feel they have been lied to, let down," Vega said. "With the Republicans, they are shocked. Bush never spoke that way. Nor did Governor Perry," she said, referring to the primary season's escalation of anti-immigrant rhetoric.
The president might have his work cut out for him, Vega said, particularly as he has failed to pass comprehensive immigration reform and has increased the number of deportations.
"He really expects the Hispanic community to come out and vote for him," Vega said. "I think he might be shocked."
Image: Timothy A. Clary / Getty Images