Disparate Impact: Black Lawmakers and Ethics Investigations
A disproportionate share of cases have been brought against Congressional Black Caucus members. African-American lawmakers would like to know why.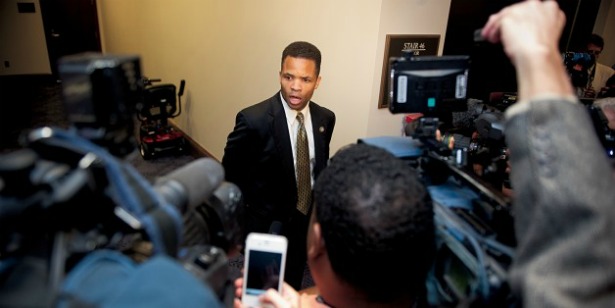 CLARIFICATION: The original version of this article suggested that one of the two Ethics Committee aides placed on leave had possibly declined to answer questions in the independent inquiry into the investigation of Rep. Maxine Waters. The aides' attorney, Richard Sauber, said that both testified voluntarily.
Emanuel Cleaver, a Methodist minister and the chairman of the Congressional Black Caucus, stood up and began searching his desk for a Bible. Cleaver wasn't looking up a particular verse or Psalm. He grabbed the Good Book for emphasis. He wanted to hold it in his hands as he declared, with a firm shake, that the way Congress investigates the ethics of its own lawmakers is horribly broken.
"I think," Cleaver said, "the facts speak for themselves."
The facts say this: African-Americans make up 10 percent of the House, but as of the end of February, five of the sitting six named lawmakers under review by the House Ethics Committee are black. The pattern isn't new. At one point in late 2009, seven lawmakers were known to be involved in formal House ethics inquiries; all were members of the Congressional Black Caucus. An eighth caucus member, Rep. Jesse Jackson Jr. of Illinois, had also been under investigation, but his probe was halted temporarily while the Justice Department undertook an inquiry of its own.
All told, about one-third of sitting black lawmakers have been named in an ethics probe during their careers, according to a National Journal review.
Only two members of Congress have been formally charged with ethics violations in recent years and have faced the specter of public trials -- Reps. Charles Rangel of New York (censured) and Maxine Waters of California (investigation ongoing). Both are black. There are no African-Americans in the Senate. Remember the most recent black senator, Roland Burris of Illinois? Reprimanded by the Senate Ethics Committee in 2009.
Those are the facts, as Cleaver said. The question is why so many African-American members have been in the ethics spotlight.
---
MORE FROM NATIONAL JOURNAL
---
In interviews with more than a dozen members of the CBC, an unsettling thread emerges: They feel targeted. There could be no other explanation, many said, for what they see as disproportionate treatment at the hands of ethics investigators. They describe a disquieting reality of being black in Congress today: a feeling that each move they make is unfairly scrutinized. "We all feel threatened," said Rep. Hank Johnson, a Georgia Democrat, as he sat by the fireplace off the House floor. "If the only reason that you would suffer a complaint is because of your skin color, that is a cause for concern."
It is a grave accusation: Could the congressional ethics process, ostensibly safeguarded by professional staff members and by a bipartisan structure that allows nothing to move forward unless Democrats and Republicans agree, be singling out African-Americans?
Other explanations are possible. Perhaps more ethical issues arise within the black caucus than within the House as a whole. Many of its members occupy safe seats, after all, and have been in Washington for decades. Maybe some of them grew too comfortable or insulated, and they failed to track changing ethics standards.
Or maybe they're disproportionately the victims of an investigation process that relies heavily on outside information from watchdog groups with their own agendas, or on big-city media prone to examining politicians in their urban backyards. Or maybe their white counterparts are quicker to retain high-priced counsel to make ethics inquiries disappear before they ever become public or have quickly resigned rather than face a probe.
Whatever the reason, the disparity has had a profound effect on African-American legislators on Capitol Hill.
"People walk around on eggshells," Cleaver said, "doing everything they can to avoid attention without retreating from the work that is front of us."
A "POLICE FORCE OUT OF CONTROL"
Congressional ethics cases do not develop in a vacuum. In the House, probes can begin in two ways. The secretive House Ethics Committee, run by equal numbers of Democrats and Republicans, can initiate an inquiry. Or the newer Office of Congressional Ethics, an independent prosecutor of sorts created by then-House Speaker Nancy Pelosi, D-Calif., as part of her pledge to "drain the swamp" in Washington, can refer a case to the Ethics Committee.
The two panels are supposed to work in tandem. Behind the scenes, however, they have tussled in a bureaucratic turf war over who are the Hill's real corruption cops. Privately, veterans of both panels blame the other for the skewed racial statistics. Ethics Committee loyalists say that nearly all of the cases involving black lawmakers that they have investigated came from OCE referrals. For their part, backers of that office note with suspicion that the Ethics Committee has dropped or quickly resolved many of their cases involving white members, while those against African-Americans have lingered or resulted in penalties.
The OCE lacks subpoena power and can mete out no punishment, but it has another tool that has proved in many ways as potent: Its findings are made public. Watchdogs and ethics reformers have hailed the office for lifting the veil of secrecy on what has long been an insular process dominated by lawmakers resistant to policing their own colleagues. But it is in naming names that the OCE has drawn scrutiny. Since its inception, the office has recommended that the Ethics Committee undertake further investigations in 26 cases involving sitting House members. Twelve of those have targeted African-Americans, including Rangel, Waters, and Jackson.
The steady drumbeat of allegations and accusations has damaged the image of the Congressional Black Caucus, which likes to call itself "the conscience of the Congress." As a result, African-American lawmakers have been in a cold war with the office almost since its creation in 2008. They've met privately with investigators, complained to Pelosi, and introduced legislation to curb its powers. When Rep. Marcia Fudge, D-Ohio, introduced a measure in 2010 to shrink the office's authority, her bill had 19 cosponsors, all of them fellow members of the black caucus. A year later, when African-American Rep. Melvin Watt, D-N.C., pushed on the floor to slash the office's funding by 40 percent, 25 of the 29 Democrats who voted with him on the failed measure were black.
The office is "like a police force out of control," said Rep. William Lacy Clay Jr., a Missouri Democrat whose father was a founder of the black caucus, adding that the disparity reflects larger law-and-order issues that plague African-Americans. "What the process mirrors is our criminal-justice system," he said. "Look at the fact that African-Americans make up about 12.5 percent of the total national population, but we are much higher in the percentages in prisons and on parole and under criminal investigation, and all that."
Omar Ashmawy, chief counsel to the Office of Congressional Ethics, bristled at the suggestion of any bias in the office's approach. Three of his four investigating counsels are minorities. His chief deputy is African-American. And one of the office's eight board directors is a former CBC chairwoman.
"Anybody who would make that accusation is not living in the real world," said Ashmawy, who is Arab-American.
"A CONSTANT PATTERN OF COINCIDENCE"
In 1988, a young Washington lawyer named Abbe Lowell noticed a troubling trend. A wave of investigations across the country was hitting leading black politicians, from then-Rep. Harold Ford Sr. of Tennessee to prominent black mayors such as Andrew Young in Atlanta and Marion Barry in Washington, Lowell, who represented some of the accused black officials, penned an op-ed about what he saw as unspoken biases at work.
"A white member of Congress who maintains two houses and sends his children to private school is not considered unusual," he wrote. "When a black does the same, someone wants to know where he gets his money."
In other words, a double standard.
Twenty-four years later, Lowell, a go-to lawyer for the city's political elite who has represented lawmakers before the Ethics Committee, said that his analysis still stands. "The numbers alone indicate that the issue is alive and not well," he said.
Few have looked closer at the racial disparity than George Derek Musgrove, author of the recent book Rumor, Repression, and Racial Politics: How the Harassment of Black Elected Officials Shaped Post-Civil Rights America. Musgrove, an assistant history professor at the University of the District of Columbia, said that his research showed that between 1980 and 1992, roughly one-third of black members of Congress were targeted by federal authorities for investigation. Two were indicted, he said; none was convicted.
"At a certain point, a constant pattern of coincidence is no longer a coincidence," Musgrove said, adding that he was not presuming the innocence of the accused, then or now. But, he said, "the issue isn't whether or not these people are guilty. The question is whether Congress is being policed equally."
In November, Rep. Laura Richardson, D-Calif., gave voice to the tensions running through the black caucus. After the House Ethics Committee opened its second full-scale investigation of her in as many years, she lashed out. Why, she demanded, didn't the panel "take the same actions against other members -- of whom the overwhelming majority are white males?"
Rep. Bennie Thompson, D-Miss., who was cleared in an ethics probe in 2010, said that it comes down to the issue of "threshold" -- that the bar is lower for launching an inquiry when it comes to African-Americans. A Mississippi Democrat who cut his political teeth as a young civil-rights activist in the late 1960s, Thompson contends that investigators are more willing to probe the alleged wrongdoing of blacks. "I'm from the South, and I've seen double standards all my life," he said. "And so the standard here is no different than the standard I experienced as a young person, not having a choice of going to the school that I wanted to, or eating at the lunch counter that I wanted to. That double standard -- in the sense of the threshold -- is alive and well in this body."
Violations of House ethics laws aren't crimes. No one goes to jail. Rangel, the silver-maned veteran whose ethics case made headlines for years and who was publicly censured on the House floor, still holds his Harlem seat. (The probe, however, cost him his prestigious chairmanship of the Ways and Means Committee.) And an ethics inquiry, even when it is resolved in a member's favor, has consequences. The reputation takes a hit, the bank account, too. Rangel survived without a serious challenge, but others may not be as fortunate. Both Jackson in Chicago and Richardson in Southern California face tough primary opponents -- and their ethical woes promise to be fair game. Jackson's challenger, former Rep. Debbie Halvorson, launched her campaign last fall by declaring that residents of the district deserved a representative "free from the ethical distractions that plague" the incumbent.
Still, Rangel's case is a particularly sore spot. Few now -- except perhaps the lawmaker himself -- debate his culpability in failing to pay income taxes on a villa in the Dominican Republic or misusing his position to solicit donations. But many African-American lawmakers feel that he was overzealously prosecuted, if not persecuted. All but one member of the Congressional Black Caucus opposed Rangel's censure, only the 23rd doled out in U.S. history.
"The treatment of Charlie Rangel was unprecedented," said Rep. Bobby Scott, D-Va., the lone black lawmaker who sat on, and ultimately dissented from, the Ethics panel when it brought the charges against Rangel. Scott preferred a lesser punishment as more befitting the offenses. "The problem with acting without precedence is that it invites speculation as to the reason," Scott said.
DEEP WATER
If Rangel's punishment sparked a sustained outcry from black lawmakers, the ethics case against Maxine Waters threatens to shake the congressional ethics system to its foundations.
The longest-tenured African-American woman in Congress, Waters is accused of arranging a 2008 meeting with Treasury Department officials to help steer financial-bailout funds to a minority-owned bank in which her husband held a stake. Soon after the meeting, Treasury gave the bank $12 million.
But the case was polarizing almost from the start. On the very same day that the Ethics Committee opened a full-fledged investigation of Waters, it also absolved a white lawmaker, Rep. Sam Graves, R-Mo., of an ethical lapse for inviting a witness to testify at a hearing about renewable fuels without disclosing that his own wife and the witness were investors in renewable-fuels plants. The cases, both referred to the committee by the OCE, were substantively different, to be sure. But both involved spousal conflicts.
And their timing and disparate outcome -- one quickly resolved, the other lingering for years -- injected race into the discussion. (Waters declined comment for this story.)
The Ethics panel formally charged Waters with violating House rules in mid-2010. But by last summer, the inquiry was frozen; a special counsel, D.C. lawyer Billy Martin, was recruited after allegations surfaced of improper communication between investigators and GOP committee members. Two committee aides who had led the Waters probe have been placed on indefinite leave. The panel's then-staff director, in a memo first published by Politico, accused them of making racially insensitive remarks.
Then, last month, every Republican on the Ethics Committee, and the top Democrat, recused themselves from the case at Martin's recommendation. The committee revealed that at least one key witness -- possibly one of the two former aides -- had declined to answer Martin's questions, even after being subpoenaed; the witness cited the Fifth Amendment. A final report from Martin, a prominent African-American attorney whose past clients have ranged from Monica Lewinsky to Michael Vick, is due by July.
Ethics Committee Chairman Jo Bonner, R-Ala., ranking member Linda Sanchez, D-Calif., and its sole black member, Rep. Donna Edwards, D-Md., declined to comment for this story.
Black lawmakers who have chaffed under ethics reviews seem almost giddy at the turn of events. Rangel, for one, could barely muzzle his pleasure when asked about the imbroglio. "The Ethics Committee is presently under investigation," he said with a grin. "So I think, in fairness to them, whatever comments I have as it relates to my experience should at least wait until the results of the investigation."
GROWING TOO COMFORTABLE
But the question persists: Do African-American members simply commit more ethical lapses? "Nobody wants to say that, because as soon as you do, you're accused of being racists," said Melanie Sloan, executive director of Citizens for Responsibility and Ethics in Washington, a watchdog group. Sloan said it anyway: "The black caucus really does have more ethics problems."
Sloan said she empathizes with those innocent lawmakers who feel targeted. But, she said, plenty of African-Americans have been guilty of bending the rules. For the past six years, at least one black lawmaker has graced her group's list of the "Most Corrupt Members of Congress." Last year, five out 19 were black. One former fixture on that list, African-American ex-Rep. William Jefferson, D-La., is in prison, after the FBI raided his home in 2006 and found $90,000 stashed in his freezer.
Some of the current targets of probes don't present the most sympathetic of profiles. Richardson has seen a constant churning of staff and one former aide's resignation letter, since made public, called her office "toxic and hostile." The California lawmaker is facing her second ethics investigation, this time over whether she forced aides to "volunteer" for her campaign; the first probe cleared Richardson of receiving preferential treatment from her mortgage lender.
Another current target, Rep. Alcee Hastings, D-Fla., was impeached and tossed off the federal bench by Congress in 1989 in connection with a $150,000 bribery case when he was a judge. Recently, he has been tied to two ethics probes, the first as part of a group of lawmakers -- some of whom are white -- accused of pocketing per diem allowances (he was cleared) and another alleging that he sexually harassed a staffer. The Federal Election Commission once levied a fine of $63,000 against a another black lawmaker, Rep. Gregory Meeks, D-N.Y., after he billed his campaign treasury more than $6,000 in personal-trainer expenses, among other things. He is currently under the microscope for failure to disclose a $40,000 payment he said was a loan.
Rep. Allen West, R-Fla., the only Republican member of the Congressional Black Caucus, offered little sympathy to his colleagues under review. "When I commanded a battalion, if you had a certain platoon that had some issues, you didn't say that you were picking on that platoon. Maybe there were some issues in that platoon you had to look at," the retired Army lieutenant colonel said.
Sloan argued that the caucus's ethics woes stem in part from job security. African-American members so often represent safe districts and serve for so long that bright moral lines become obscured, she said. A 2010 survey by the University of Minnesota showed that black lawmakers hold 22 of the 50 safest House seats. Indeed, most of those entangled in ethics reviews are long-in-the-tooth, notably Rangel (who took office in 1971), Waters (1991), Hastings (1993), and Jackson (1995). Richardson, elected in 2007, is an exception.
Yvonne Burke, who serves on the OCE's bipartisan board of directors and chaired the Congressional Black Caucus in the 1970s, also suggested that some veteran members' long tenure could explain the disparity -- but for a slightly different reason. "I think members who are there for a long period of time may not keep up with the rules," such as financial-disclosure laws that have tripped up numerous lawmakers, including Rangel, she said. Burke adamantly insisted that race has no part in the office's probes: "I can say that very comfortably."
OUTSIDE INFLUENCES
An unspoken truth in the closed-door world of congressional ethics is that the media and outside watchdog groups mostly set the agenda. Neither the House Ethics Committee nor the Office of Congressional Ethics would discuss its internal procedures on the record. But ethics veterans and lawyers say that the initiation of inquiries is mostly "reactive." Think less of green-eyeshade investigators poring over files in a basement, and more of staffers reading the morning news clips with an eye for the unusual. Budding scandals, once corroborated, evolve into formal inquires.
"Because there [aren't] enough resources in law enforcement and not enough column inches in newspapers, all targeting of subjects is, by definition, selective," Lowell said. Many black lawmakers hail from urban districts in Chicago, Los Angeles, and New York. Historically, these big cities have produced robust investigative-media outlets that can fuel ethics probes. Further, African-American lawmakers tend to be among the most outspoken on the Hill; that's how many earned their political stripes--"therefore, just by definition, making themselves the biggest target of scrutiny of all kinds, the media, ethics, the Justice Department, etc.," Lowell said.
Some, such as Rangel, seemed interested in fighting the charges in public rather than making them go away. He went so far as to challenge ethics investigators to come after him. That can be counterproductive, said well-known Washington lawyer Robert Bennett. "If you go and take your hat in your hand and say you apologize and work out some lesser punishment--which is usually in the form of words--it goes away," Bennett said. Peter Flaherty, among others, works to make sure that doesn't happen.
No single case has ensnared more black lawmakers than a 2008 trip to the Caribbean island of St. Maarten. As lawmakers boarded planes for the three-day beachside conference, Flaherty, camera in hand, was close on their heels.
Flaherty, president of the National Legal and Policy Center, a conservative watchdog group, showed up at the meeting, snapped some photos, and handed the exclusive on a corporate-funded junket to the New York Post. (House rules forbid business interests from picking up such tabs; the corporate sponsors of the Caribbean conference hung their banners from the rafters.) The story spread to other media, and soon the ethics watchdogs in Congress had sunk their teeth into a full-blown investigation. Along the way, Flaherty offered up his pictures, audio recordings, and a copy of the program to help make the case.
All told, investigators probed six black members for two different island jaunts. All but one were ultimately cleared of knowingly receiving a corporate-paid trip. The exception was Rangel, whose staff was proven to have known that corporations were footing the bill; he was admonished.
Flaherty, who served as chairman of Citizens for Reagan in the 1980s, said that House ethics investigators would not have been aware of the trip if not for his efforts. "The only way an outside group like our own can get any traction is if you get it out into the media bloodstream, and then the Ethics Committee can't ignore them," he said.
The National Legal and Policy Center has proved particularly adept at using the media echo chamber, especially through its almost symbiotic relationship with the New York Post. The group pushed portions of the Rangel probe that led to his censure (including dispatching a Spanish-speaking sleuth to the Dominican Republic to investigate his property there). More recently, the center has been digging into Meeks's finances. Flaherty openly bragged about placing pieces critical of Meeks in The New York Times, the New York Post, and the New York Daily News.
"They know how this game is played," Meeks said in an interview, predicting his eventual full exoneration. "They know what they're doing, and they manipulate it to the fullest extent." He emphasized that "a disproportionate number" of the center's recent targets -- those on the Caribbean trip, Rangel, himself and, before that, Al Sharpton and Jesse Jackson Sr. -- are black.
Flaherty defended his track record, saying that the misdeeds he uncovers are real. "We've hit plenty of white crooks," he added, naming past reports on former Rep. Alan Mollohan and Pelosi, both Democrats.
Other groups have effectively used the media to pressure the formal ethics watchdogs, including Sloan's organization (which asked for a probe into Richardson last summer, releasing a file of internal staff emails about performing errands and campaign work for the lawmaker) and Judicial Watch (a conservative group behind the sexual-harassment lawsuit against Hastings that evolved into an ethics case).
Flaherty makes no apologies for his role. "They really are influenced by the forces around them," he said of congressional ethics officials. "Left to their own devices, they'd probably do nothing."
BALANCING THE SCALES
It's important to note that white lawmakers on the Hill have not escaped scrutiny.
The Ethics Committee is currently examining Rep. Vern Buchanan, R-Fla., for omitting information from financial disclosure forms. In December, the House Oversight and Government Reform Committee referred the names of four lawmakers (three white, one black) to the Ethics Committee for allegedly receiving favorable loans from mortgage lender Countrywide. The Ethics panel has issued no word about a formal probe.
Meanwhile, freshman Rep. Michael Grimm, R-N.Y., a former FBI agent, faces a budding scandal after a New York Times exposé about improper campaign contributions spurred calls for inquiries by the Ethics Committee and the Justice Department. Other white lawmakers who have come under scrutiny in recent years -- notably, ex-Sen. John Ensign, R-Nev., and ex-Reps. Eric Massa and Anthony Weiner, both D-N.Y. -- have resigned rather than face an ethics investigation. More cases are in the pipeline.
Records show that the Ethics Committee had dozens of unnamed, active cases at the end of 2011 and that the Office of Congressional Ethics had undertaken eight preliminary inquiries in the fourth quarter of 2011.Only one name has surfaced, that of Rep. Spencer Bachus, a white Alabama Republican, who is under investigation for insider stock trading. The new cases may begin to balance the scales, but for African-Americans lawmakers such as Cleaver, the palpable sense of mistreatment lingers.
"It makes," Cleaver said, "for an uncomfortable feeling as you walk these halls."
Image: Chet Susslin / National Journal