Chart of the Day: From 'Mad Men' to Medicare, Measuring U.S. Health Care
The good news and the bad news -- well, mostly the bad news -- on how our medical system has changed.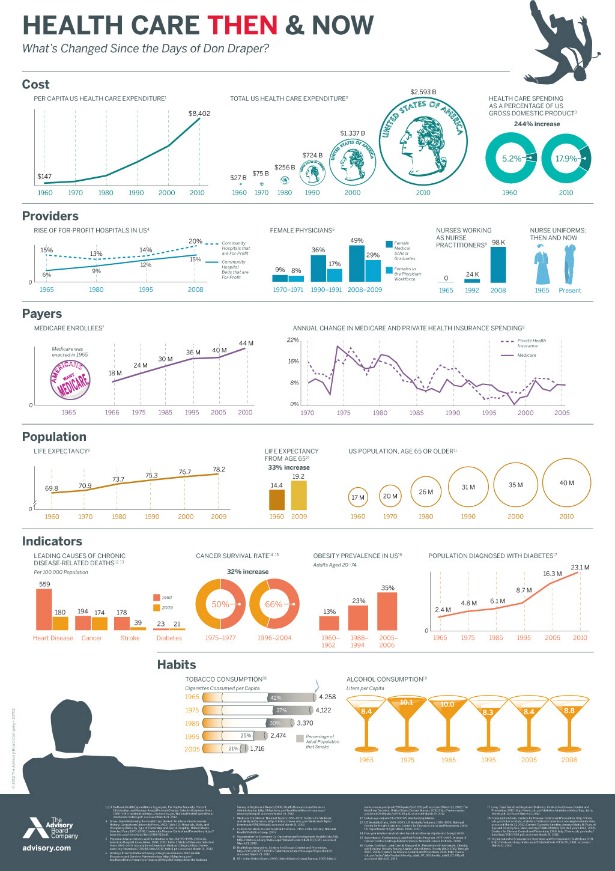 This week marks two major events. One is the second anniversary of something that's not that popular: the Affordable Care Act, a.k.a. Obamacare. The second is the return to television of something that's far more popular: Mad Men. The clear solution is to combine them in one awesome infographic.
There's some good news. As everyone knows, levels of smoking have fallen precipitously. Cancer is more survivable. More women are doctors. But most of the news is bad. Alcohol consumption, shockingly, is actually higher now than in 1965. Obesity is higher. Diabetes is more prevalent. The most important thing to watch is the top line. It shows dramatically why some sort of health-care reform that controls costs is a pressing need for the nation. The hard part is just figuring out how that works. Frankly, we'd just as soon sit back with a full highball glass and the Mad Men season premiere.
Hat tip: Dan Diamond