Birtherism Is the Least of Sheriff Joe Arpaio's Sins
His interest in President Obama's roots is discrediting him. Given his long history of far more troubling behavior, it's about time.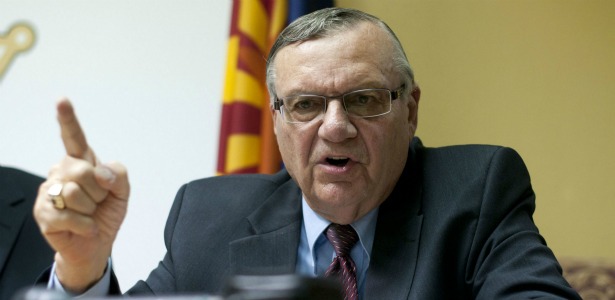 National Review has published an editorial urging everyone to disassociate themselves with Joe Arpaio, the Maricopa County sheriff who is questioning whether President Obama is a real American. "Republicans who have chosen to associate with the birthers have done their party and their country a disservice," the magazine wrote. "And as Sheriff Arpaio settles comfortably into that political mental ward, the same must be said of those Republicans who choose to associate themselves with him more broadly. Those who cannot distinguish between the birthers' flim-flam and the critical questions that face our nation in 2012 will not win and do not deserve to."
They're absolutely right. Birthers beclown themselves. The conservative movement is well-served by repudiating them. So kudos on a good editorial. But part of me is bothered that Arpaio's words about a silly conspiracy theory are what has discredited him, given his long history of misdeeds. It's a reminder that bipartisan political culture elevates relatively meaningless controversy while alarming transgressions against civil liberties and the rule of law are ignored. Now that prominent intellectuals in the conservative movement acknowledge Arpaio's poor judgment, capacity for shoddy logic, and blinkered moral compass, it's worth looking back on all that he was able to do before conservatives and right-leaning moderates turned on him.
All of the following have happened since Arpaio was elected in 1992:
"Sheriff Joe Arpaio's Phoenix-based department repeatedly arrested Latinos illegally, abused them in the county jails and failed to investigate hundreds of sexual assaults, the Justice Department charged after a three-year civil rights investigation." The investigation found "432 cases of sexual assault and child molestation, often involving Latinos, that were not properly investigated over a three-year period." Additionally, "one Latino was intentionally hit by a patrol car and dragged, with instructions for other deputies to 'leave him there... A Latino motorist was incarcerated for 13 days for not using his turn signal. Emails written by deputies caricatured Mexicans as being from 'Mexifornia,' and deputies derided Latino inmates as 'wetbacks,' 'Mexican bitches,' 'stupid Mexicans' and other epithets."(The Los Angeles Times)
"Maricopa County Sheriff's officials misspent $99.5 million in restricted jail funds over the last eight years... discrepancies existed for years between sheriff's employees' actual duties and the duties reported in county payroll records." (The Arizona Republic)

"A federal judge has sided with inmates' claims that conditions in Maricopa County jails continue to violate their constitutional rights." (The Arizona Republic)
"The Maricopa County Sheriff's Office failed to adequately investigate more than 400 sex-crime cases, including dozens in El Mirage, over a two-year period because of poor oversight and former Chief Deputy David Hendershott's desire to protect a key investigator from bad publicity, according to documents pertaining to a recent internal investigation released by the Sheriff's Office." (The Arizona Republic)
"A federal investigation found that deputies had used stun guns on prisoners already strapped into a 'restraint chair.' The family of one man who died after being forced into the restraint chair was awarded more than six million dollars as the result of a suit filed in federal court. The family of another man killed in the restraint chair got $8.25 million in a pre-trial settlement. (This deal was reached after the discovery of a surveillance video that showed fourteen guards beating, shocking, and suffocating the prisoner, and after the sheriff's office was accused of discarding evidence, including the crushed larynx of the deceased.) To date, lawsuits brought against Arpaio's office have cost Maricopa County taxpayers forty-three million dollars, according to some estimates. But the Sheriff has never acknowledged any wrongdoing in his jails, never apologized to victims or their families. In fact, many of the officers involved have been promoted." (The New Yorker)
"The Phoenix New Times ran an investigation of Arpaio's real-estate dealings that included Arpaio's home address, which he argued was possibly a violation of state law. When the paper revealed that it had received an impossibly broad subpoena, demanding, among other things, the Internet records of all visitors to its Web site in the previous two and a half years, sheriff's deputies staged late-night raids on the homes of Michael Lacey and James Larkin, executives of Village Voice Media, which owns the New Times. The deputies arrested both men for, they said, violating grand-jury secrecy. The county attorney declined to prosecute, and it turned out that the subpoenas were issued unlawfully." (The New Yorker)

On numerous occasions Arpaio put political opponents in his cross-hairs, eventually prompting an FBI investigation that began in the last days of the Bush Administration:

I could go on, but is it really necessary? This man presided over a police force that violated the Constitution, intimidated political opponents by abusing his legal authority, misspent funds, saw an increase in crime, paid out millions in taxpayer dollars when his underlings brutally terrorized inmates... and through it all, he was, as Radley Balko once put it,  a right-wing darling, "winning praise and defenses from conservative outlets such as Fox News, National Review Online, the Washington Times, and Newsbusters." It's good that his birtherism is being rejected, but it's important to remember that it doesn't even make the top ten list of his most egregious behavior.
Rather, it marks the moment when Arpaio became a political liability - the American public, left, right, and center, is more inclined to pay attention to birtherism than abuse of power by police or the sexual assault of inmates or sheriffs departments where Mexicans are denigrated in emails written by deputies. Doubting the place of Obama's birth is loony. It's the other stuff that's outrageous. Until we recalibrate what we regard as most discrediting, we'll continue to be complicit in a government run system where charges of the public are routinely raped and abused.
Maybe if we could get Donald Trump to talk about that...
Image credit: Reuters