Andrew Breitbart, RIP (1969 to 2012)
The world of conservative publishing lost one of its most controversial figures Thursday when he unexpectedly died at age 43.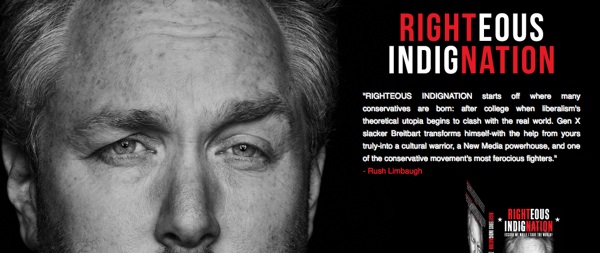 Andrew Breitbart, the rabble-rousing conservative activist, Web publisher, husband, and father of four, died in Los Angeles shortly after midnight Thursday, his Web site Big Government reported this morning in a short, mournful announcement. It offered up, as a sort of parting sentiment, an update Breitbart wrote for his most recent book. "I love my job. I love fighting for what I believe in. I love having fun while doing it. I love reporting stories that the Complex refuses to report. I love fighting back, I love finding allies, and -- famously -- I enjoy making enemies," it states. "Three years ago, I was mostly a behind-the-scenes guy who linked to stuff on a very popular website. I always wondered what it would be like to enter the public realm to fight for what I believe in. I've lost friends, perhaps dozens. But I've gained hundreds, thousands -- who knows? -- of allies. At the end of the day, I can look at myself in the mirror, and I sleep very well at night."
As news of his death spread Thursday, old friends, bitter foes, and all manner of people in between reflected on the shock of a man so full of vim and vigor dying so young; he was just 43 years old. "Andrew Breitbart was a major force in making conservatism more gay-friendly. Such a loss," journalist James Kirchick said. "Whether junketeering in Baku or showing photos of Weiner's weiner to Indian businessmen at a bar in NYC, Andrew was the funniest and funnest."
"I have fond memories of sharing meals and long chats with him in earlier, friendly days," said Xeni Jardin, the Los Angeles-based Boing Boing writer. They hung out when he was an employee of The Drudge Report, and later as he helped Arianna Huffington to develop The Huffington Post. "He'll be remembered for the way he behaved & worked in most recent years. Back then, I knew him as a genius of web publishing. The man loved his kids and his wife. This I remember vividly."
There have been a lot of profiles written about Breitbart in recent years -- among the best are Chris Beam's effort in Slate, Rebecca Mead's article in The New Yorker, and Noah Shachtman's piece in Wired. All portray a singular figure unlike any other in American politics or Web publishing. Despite tangling with Breitbart, bitterly at times, over our conflicting temperaments, contrasting approaches to journalism, and almost opposite codes of conduct, I sometimes marveled at his ability to advance a story, even if I'd discourage others from mimicking his approach.
Perhaps my favorite Breitbart contribution to Web journalism was Retracto, The Corrections Alpaca, for it captured the man's mix of humor, capacity for innovative, attention-grabbing stunts, and righteous indignation at the media; at his best, he was a sharp press critic; at his worst, an aggressive bully who held his adversaries to a higher standard than he met as a publisher.
An active Twitter user, with more than 26,000 Tweets sent and 72,577 followers, Breitbart often took to that medium to bait leftists. He took pleasure in re-tweeting the most vile insults his most hateful criticism sent his way, and argued that by doing so he was exposing the fact that his ideological adversaries, not his fellow right-wingers, were the intolerant, hateful ones. In the aftermath of his death, the inevitable occurred: various Breitbart haters said nasty things about him on Twitter.
Said Michele Malkin: "If he were here, he'd be re-tweeting all the insane tweets from the Left rejoicing over his death. Even in death, he succeeds in exposing the hate-filled intolerance of the tolerance poseurs." Breitbart would've re-tweeted those rejoicing at his death, but I dissent from the proposition that exposing hate by provoking the worst in people is the part of the man's legacy to celebrate. Better to glean wisdom from the evident love he had for his family, the energy with which he conducted his work, the personal generosity he showed friends, and his passion. To take seriously his life's work is to debate its impact in coming days. For now, there is much more to life and death than the political arena, and evidence even for folks who found his public persona vile that beneath it lurked a man with many admirable qualities to mournfully remember. For today, condolences to all those who loved Andrew Breitbart, especially his wife and children; and condolences as well to those media consumers who found special value in his voice.
Andrew Breitbart, rest in peace.