A Majority Wants the Supreme Court to Rule Against Obamacare
A new New York Times poll shows that more generous health insurance remains popular. Being forced to pay for it is less so.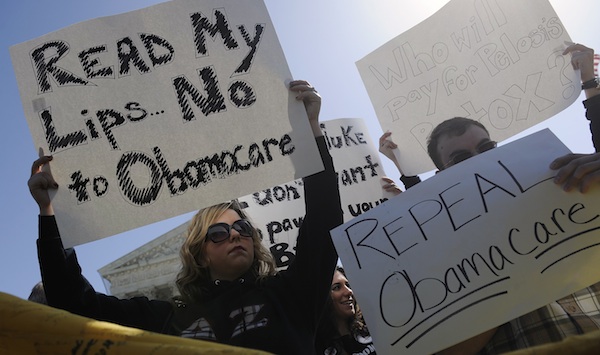 Reuters
Sixty-seven percent of Americans say that they want part or all of the Affordable Care Act overturned by the Supreme Court, according to new polling data published today by the New York Times and CBS News.
Thirty-eight percent want the entire law scrapped.
And 29 percent want just the individual mandate to buy health insurance overturned. The opposition to the law is driven partly by the 52 percent of Americans who say that it is ultimately going to increase what they pay in health-care costs. If majorities get their way on everything, costs will go up, for even as a majority wants to undo the imperative to buy health insurance, 85 percent of respondents want to force insurers to cover people with preexisting conditions. And 77 percent favor new subsidies that the law gives to seniors with high prescription costs.
Put simply, Americans want all the freedom of a market-based health insurance system, all the security of a system heavily regulated by government, and the option to put off purchasing this guaranteed insurance until it's needed. And all for no more than they're paying now. It seems whoever is in power will be doomed to disappoint.