Xi Thinks My Tractor's Sexy
Barnstorming through Iowa, the Chinese vice president gets a taste of the campaign-trail life.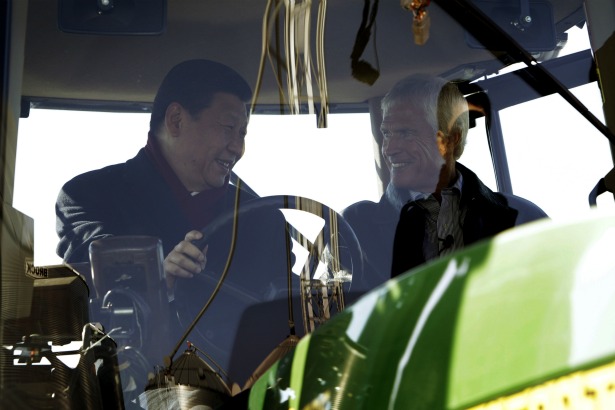 As part of his visit to the United States, Chinese Vice President Xi Jinping was in Iowa Thursday, where this delightful picture was taken. To be clear, it features the likely future president of the world's most populous nation driving a John Deere tractor in Maxwell, Iowa, pop. 807. Rick Kimberley, who owns the farm Xi visited and is seen riding in the cab with him, also presented his guest with a model of the Deere.
It's actually not Xi's first visit to the Hawkeye State -- he came there to inspect agricultural techniques 27 years ago, when he was a lowly provincial bureaucrat. Apparently would-be Chinese leaders have to go through the same somewhat humiliating corn-country rituals as would-be American presidents before they can take the reins of power.
Apologies to Isaac Stone Fish for the headline.
Image: Reuters