Wisconsin, One Year Later
Twelve months ago, 100,000 protestors took over Madison. The political storm they stirred up is still raging as polarizing Governor Scott Walker faces a recall.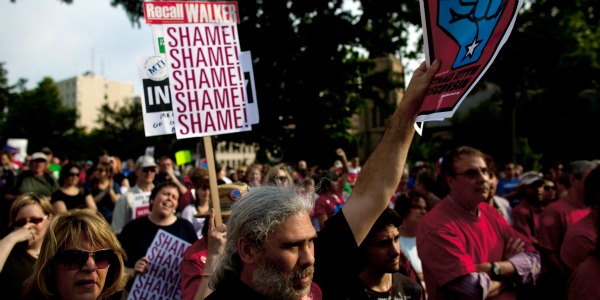 A year ago this month, Wisconsin Gov. Scott Walker proposed a slate of changes to public-employee benefits, including sharply limiting government workers' right to bargain collectively. The action quickly provoked a firestorm. A hundred thousand protesters camped out at the capitol building in Madison; the minority Democrats in the state Senate fled the state to prevent the bill from passing.
Walker got his changes through the state legislature anyway, but the fight wasn't over -- in fact, it was just beginning.
In Madison today, the reverberations of a year ago are still being felt. And for Walker, the determined, grandiose politician at the center of it all, the biggest battle still lies ahead: He is all but certain to face a tough recall election this summer.
The after-effects of the protests have been "not so much a hangover as a bender," said Tom Holbrook, a political scientist at the University of Wisconsin-Milwaukee.
Walker's response has been to frame his recall as a referendum, not on his own leadership or the issue of public workers' rights and privileges, but on the very idea that any political leader can enact large-scale change. It is an odd, self-aggrandizing, and slightly bullying posture: He is daring voters to put up or shut up.
Walker's plight mirrors Obama's. He campaigned on a platform of sweeping change, then proceeded to seek that change.
"Voters say they want leaders who are willing to make tough decisions, who aren't always worried about the next campaign," Walker told me in a recent interview. "So my point is, if you have people who are willing to do those things, and ultimately that's what people say they want, then when elections like this come about, they need to stand with those elected officials who actually have the courage to take those actions."
In intriguing ways, Walker's plight mirrors Obama's. He campaigned on a platform of sweeping change (although, his opponents note, his platform did not specifically include collective bargaining alterations). Once elected with what he considered a mandate from voters, he proceeded to seek that change.
Even his opponents agree Walker has been nothing if not bold. After the protests, the political storm continued to rage, but Walker staunchly refused to back down.
In short order after the demonstrations, a state Supreme Court election that was supposed to be a snoozer turned hotly contested, with millions spent on television ads by national groups on the left and right. (The Republican candidate prevailed.) Then the recalls started: Six Republican state senators and three Democrats faced voters in special elections in July and August; the Democrats netted two seats, short of the three they needed to take the senate.
Even as Walker's reforms have inspired similar efforts in numerous other states, his hard-line conservative push has had another, unintended result: an upswell of progressive mobilization for economic fairness that can credibly claim to be a precursor of the Occupy Wall Street movement.
"It's a level of activism and involvement we haven't seen in decades," said Robert Kraig, executive director of the liberal coalition Citizen Action Wisconsin. As damaging as [Walker's actions] were, they created a movement -- a sense of community and mission that didn't exist a year ago."
In the face of this backlash, Walker, a former county administrator who never graduated from college, might have been expected to moderate and seek compromise. Quite the opposite -- he and the Republicans who still control both houses of the legislature pressed even harder.
They pushed through a GOP-friendly redistricting plan that's now tied up in court over allegations it was done illegally. Walker signed legislation on the hot-button issue of requiring photo identification to vote. A plan for major cuts to the state's popular health-care program, BadgerCare, is under consideration, and Walker is pushing for an iron mine in northwestern Wisconsin that environmentalists strongly oppose.
"His whole approach has been to double down -- to take a very strong, archconservative position and try to use his power to push it through," Kraig said. "He could have probably gotten 75 percent of his agenda and not caused this mass movement against him if he hadn't taken on every single issue in this way."
The result, Kraig said, is a state of total, permanent partisan warfare in the capital, and an electorate that is split like never before. It's a sharp shift in what had been a fairly typical swing state that regularly elected both Democrats and Republicans to statewide office.
"According to polling, the whole state is extremely polarized," he said. "Governor Walker is the most popular governor in the country among Republicans and the least popular among Democrats." A Marquette University Law School poll released this week measured Walker's approval rating at 46 percent favorable, 48 percent unfavorable.
Walker rejects the idea that his actions have created a sharply divided electorate. "Most of the people in our state, I've found, aren't particularly pumped up one way or another. They care more about what happens under the roof of their house than what happens under the dome of the capitol," he said.
If there is polarization, he says, it is the other side's fault: "the national big government unions" who "poured tons of money" into the state and "ginned up their members" with "distortions" of Walker's positions.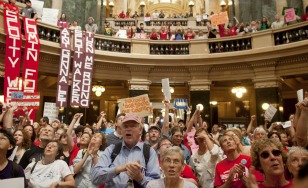 The unions and their allies have submitted a million signatures, nearly double the amount needed, for the Walker recall. A state board has undertaken a review of the petitions -- the process itself has, naturally, become contentious -- with the recall likely to be scheduled sometime between April and August. More legislator recalls also are in the works.
Already, Walker's campaign has spent about $7 million on television ads (outside groups that support him have poured in millions more). They are chiefly positive spots that feature Wisconsinites talking about how life has gotten better under his governorship.
This is why Walker predicts he will win: "A year ago, the national unions came in and scared people into thinking the world was going to end. All these awful things were going to happen," he told me. "A year later ... not only the sky didn't fall, things aren't bad like they predicted, [and] in many cases things are better." Unemployment is down, there have been no mass layoffs of teachers, most people's property taxes didn't go up. (You'll notice, though, that Walker doesn't claim he didn't raise taxes; rather, in his speeches, his claim is that he lowered the "overall tax burden." That's because he raised taxes on some while lowering them on others, chiefly businesses.)
Walker himself acknowledges now he could have done a better job introducing and making the case for his collective bargaining proposals, which were unveiled just six weeks into his governorship. But the problem was one of marketing, not policy, said Mark Graul, a Green Bay-based Republican consultant who ran the Bush-Cheney campaign in Wisconsin in 2004.
"The reforms that the governor made were ones that the public agreed with in concept," Graul said. "That's what's been lost in all this. You're not going to see a single campaign ad run against Scott Walker saying public employees shouldn't have to pay more of their health care and retirement."
In Walker's telling, he never set out to be a provocateur. "A year ago, I just saw a problem -- kind of like somebody coming in and taking over a small business -- I saw a problem, saw a solution and set out to fix it, never dreaming that it could draw national attention or have a national impact."
Nonetheless, Walker has become a national lightning rod -- a frequently featured villain in the broadcasts of liberal talk-show hosts like Rachel Maddow, Ed Schultz, and Keith Olbermann; a rockstar on the right who gets a hero's welcome from conservative audiences around the country, including at his recent dinner speech at the Conservative Political Action Conference.
Activists on both sides -- the left with dread, the right with glee -- see in his weakening of public-sector unions the possibility of permanently disabling organized labor and with it the major engine of the Democratic Party. The Koch brothers, those liberal bogeymen, are a major patron of Walker's efforts. David Koch recently told the Palm Beach Post, "What Scott Walker is doing with the public unions in Wisconsin is critically important. He's an impressive guy and he's very courageous. If the unions win the recall, there will be no stopping union power." The Koch-backed group Americans for Prosperity has a $700,000 ad buy on the air touting Walker's efforts.
But Walker insists his drive is not political. "All we're doing is empowering workers. We're giving every public employee in our state the right to choose," he said. He declined to endorse the recent move to curtail union rights in Indiana, which this month became the first "right-to-work" state in the Rust Belt.
"In our case, we've opted to address [unions] on the public sector level," Walker said. "You look at private sector unions by and large have been our partner in economic development. They haven't been an obstacle to that. So that's not anything we're pursuing."
I asked if that meant he would oppose a right-to-work law for Wisconsin. "Not oppose it, it's just not something we're pursuing right now," he said. "When I was in the legislature, I supported it. It's not something I'm pursuing right now, nor have any plan of pursuing. Again, private-sector unions have been our partner in the economic revival we've had in this state. A bigger issue is the impact the public-sector unions have had on the taxpayers. And that's essentially what we have in Wisconsin -- right-to-work in the public sector." Walker's refusal to take a position on the issue, an apparent attempt to placate both the private unions that support him and his national right-wing base, was striking.
"If I end up losing a recall election, I think it sends a message — you know, don't bother taking on tough issues," Walker says.
Handicapping the recall is tricky. Working against Walker: a highly motivated opposition, as evidenced by those million signatures, and voters' implacably entrenched views of him. Despite the millions he's spent already, his approval rating hasn't budged, and in the most recent poll actually declined.
"People made up their minds about Scott Walker in the first two months of his term," said one liberal operative working on the recall effort. "All of this energy you've seen has been anger directed specifically against Scott Walker. People have been wanting to cast this vote for months."
But working in Walker's favor is the sheer amount of time that's elapsed since the protests, sapping some of his opponents' fervor. Democrats also must put up a candidate to oppose him and have no clear standard-bearer; three lesser-known figures have declared their candidacy, and a potentially divisive primary is expected.
As with Obama, Walker's decision to view his election as a sweeping mandate looks naive in retrospect. The fact that voters -- that is, humans -- tend, in practice, to find large-scale change disorienting and scary seems to have caught him by surprise.
And so Walker has tried to remind his constituents that all along, he has only been doing what, in his mind at least, they said they wanted when they elected him.
"If I or a majority of senators end up losing a recall election, I think it sends a message -- in my statehouse, but I think it sends a message elsewhere and I think it certainly sends a message in our nation's capital -- you know, don't bother taking on tough issues," he told me. "Don't make tough decisions, even if you know that they're the right thing to do long-term, because in the short term, you're going to lose an election. They're going to target you. They're going to come after you. That's where I think, when I talk in terms of courage, that's what I think is ultimately at stake."
Images: Darren Hauck / Reuters