Why America Keeps Getting More Conservative
Religion and education explain why, at the state level, the United States is seeing a clear shift to the right.
Even with the president's approval rating showing signs of life and the Republicans busily bashing themselves over the head -- "one is a practicing polygamist and he's not even the Mormon," retired Supreme Court Justice Sandra Day O'Connor recently quipped about her party's two frontrunners -- America continues to track right, according to polling data released by the Gallup Organization last week.
Americans at this political moment are significantly more likely to identify as conservative than as liberal: conservatives outnumber liberals by nearly two to one. Forty percent identify as conservative, 36 percent as moderate, and 21 percent liberal.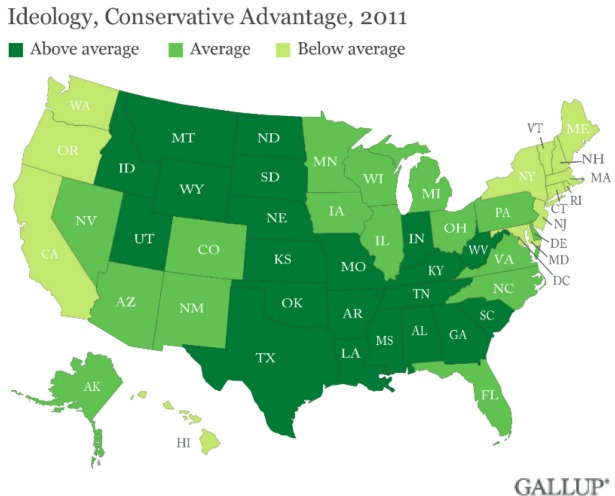 The map above charts the ideological divide across America's states. There are four states where conservatives make up more than half the population: Mississippi, Utah, Wyoming, and Alabama. Conservatives make up more than 40 percent in 20 more states. Liberals now outnumber conservatives in just one state, Massachusetts, and the District of Columbia.
Read the rest of this post at Atlantic Cities.