Where Rick Santorum Fits Into the American Tradition
His moralistic conflation of 'God's laws' and society's laws make him the modern descendant of Puritans, Prohibitionists, and anti-sodomy crusaders.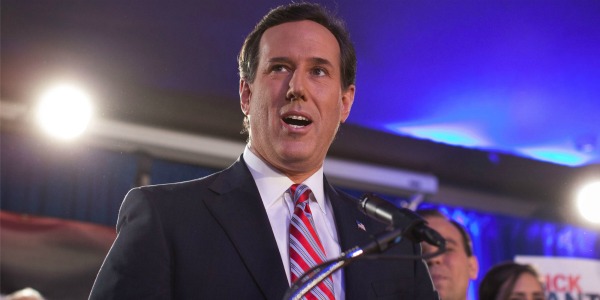 A criticism I made of Rick Santorum is generating a bit of dissent. It all started when the former Pennsylvania senator pledged that if elected president he'll speak out against the use of contraceptives. In his opinion, it isn't ever okay to use condoms or birth control pills because he regards procreative sex as the most "special" kind, whereas non-procreative sex is "simply pleasure." That's problematic in his view because sex "is special, and it needs to be seen as special." He concluded his remarks by saying that "most presidents don't talk about those things, and maybe people don't want us to talk about those things... but these are important public policy issues."
Here's a part of my retort:
Any politician who regards the adult use of contraceptives as a matter under his purview cannot lay claim to the limited government label, nor can he credibly invoke a tradition rooted in the pursuit of happiness.

James Taranto of The Wall Street Journal responds:
In truth, Santorum says only that he would "talk about" what he sees as the social harms of contraception. There is no conflict whatever between limited government and moral exhortation, provided the latter is unaccompanied by legislative or administrative action.

And the quote is very much in keeping with "a tradition rooted in the pursuit of happiness." Santorum is merely making a case for deferred gratification. His claim is that the easy availability of birth control has enabled and encouraged a pursuit of pleasure that is inimical to the achievement of happiness. One may reasonably argue that Santorum is overgeneralizing or that on the whole he is mistaken. But to write him out of the American tradition on the basis of that quote, as Friedersdorf attempts to do, is simply bonkers.

This misunderstands both Santorum's position and mine.
As my excerpt and Santorum's full quote make clear, he asserts that the alleged superiority of procreative sex and the need to keep sexual intercourse "special" are "important public policy issues." To label something a "public policy issue" implies that it is an appropriate subject for policy-making by state or federal legislators (one would hope) or executive branch bureaucrats.*
And Santorum is not merely arguing for deferred gratification because he regards the use of birth control as inimical to individual happiness. If there were a couple that enhanced their total happiness by using birth control, Santorum would still regard their actions to be wrong -- his reason for wanting to keep sex "special" isn't that he wants to maximize individual happiness on a longer time horizon; what he means by needing to keep sex "special" is that it needs to be kept sacred, so that it comports with its divinely determined purpose and improves prevailing sexual norms.
So again, given his opinion that an important public policy matter is keeping sexual intercourse "special" as he defines it, Santorum cannot rightly lay claim to the limited government label; and because he thinks upholding the sacred for the benefit of all society is more important than permitting individuals to pursue happiness as they define it for themselves, he cannot "credibly invoke a tradition rooted in the pursuit of happiness." In standing by that judgment, I do not think that I am writing Santorum "out of the American tradition," as Taranto puts it, because I think that the American tradition includes lots of people who sometimes acted contrary to the principles articulated in the Declaration of Independence -- the Puritans (who, of course, also preceded the Declaration), the Prohibitionists, and every state legislator who ever voted to make sodomy a crime, for example. "The American tradition" is diverse. Santorum just happens to be the modern incarnation of the strains that go unacknowledged because they are so antithetical to the parts of the tradition that make us most proud.
*It's also worth asking if Taranto regards all exhortation as being consistent with small government so long as no legislation or rule-making is involved. For example, if a liberal surgeon general started giving Joycelyn Elders-inspired speeches exhorting the nation's youth to masturbate rather than engage in sex, would Taranto see those exhortations as being consistent with limited government, or an example of the government overstepping its proper purview, if only in rhetoric? I don't know the answer, but I'd be curious to hear it. In my experience, politicians never in fact stop with moral exhortation, and the mere notion that they are appropriately regarded as moral leaders, rather than legislators or executives with specific Constitutional duties, is problematic, if parenthetical enough to this conversation that I've put it here at the bottom in small print.