What Do Republican Voters See in Rick Santorum?
He may be caricatured as a far-right culture warrior, but Santorum has made headway in the race by contrasting his authentic conservatism with Romney's record.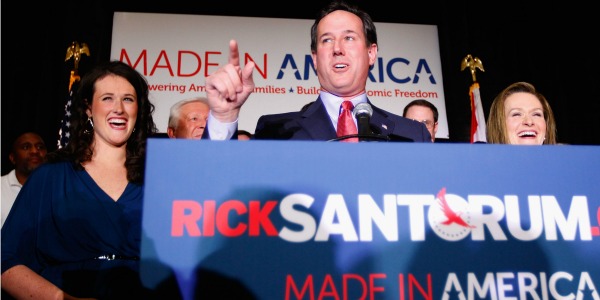 Rick Santorum is back. After his stunning three-state sweep in Tuesday's Republican balloting, the former Pennsylvania senator has single-handedly revived a GOP race that seemed to be on the verge of wrapping up. How seriously has his new wave of successes reordered the landscape? A forthcoming national poll will show him in first place, the Democratic firm Public Policy Polling tweeted Thursday night.
To those who had written him off as a social-conservative niche candidate or a one-hit wonder after his Iowa surprise, this is a bit jarring, if not plain laughable. The guy who once equated homosexuality to "man on dog," prompting a sex columnist to turn his name into an obscenity? The guy who lost his last race for reelection by 18 percentage points? The dweeb in the sweater vest? Why is this guy being taken seriously by Republican voters?
His latest resurgence may be as much about Mitt Romney as it is about Santorum. But there are three key attributes that endear Santorum to conservatives -- and they're all things Romney lacks: an appealing personal story, a refusal to back down and a set of impeccable culture-war credentials.
1. His Appealing Personal Story. Santorum is a first-generation American -- as a child, his father was brought to the U.S. by his grandfather, an Italian who worked as a coal miner in western Pennsylvania. Those are some serious blue-collar credentials, and Santorum references them frequently on the stump, whether it's describing how his ancestors' sacrifices match up with the sacrifices of immigrants today, or pitching an economic plan that he says would bring back manufacturing for the good of the working class. Santorum also lives his pro-life beliefs. A Catholic who personally opposes contraception, he has seven living children (another died after just hours of life), including one, Bella, who is now three years old, despite having a Down Syndrome-like condition, Trisomy 18, that few children survive. Santorum speaks movingly of her situation, too, giving his professed belief in the sanctity of all life an intensely, sometimes painfully personal cast. Recently, he took a few days off the campaign trail when Bella was hospitalized. In his victory speech in Missouri on Tuesday, one of the first things Santorum said was this: "I just want a particular little note to my Bella, who I know is watching me and looking at her daddy. So I love you, sweetie. Thank you so much for getting healthy."
2. His Refusal to Back Down. The most telling moment I witnessed with Santorum on the campaign trail was in Marshalltown, Iowa, before the caucuses when a questioner at a town hall asked him what he would do to bring back the good old days when polarization was not so severe and the two parties could get together and compromise -- when Bob Dole and Tip O'Neill could put their differences aside and solve problems. There's an easy non-answer to this question, and politicians give it all the time: I'll reach across the aisle, they say, and common sense will prevail. Instead, Santorum argued against his questioner's premise. Those weren't the good old days at all, he said. In those days, Democrats got to keep expanding government, and Republicans' idea of "compromise" was to get them to spend a little less, or to get some money for Republican districts. Santorum praised the current Congress -- unpopular as it is -- for having drawn lines in the sand on things like the debt ceiling, rather than going along to get along. He does this on other issues, too. Conservatives hate that he wholeheartedly supported his liberal colleague Arlen Specter's 2004 reelection against a more conservative primary challenger, but Santorum defends it, saying Specter's votes guaranteed the confirmation of George W. Bush's Supreme Court nominees. Likewise, Santorum refuses to apologize for having avidly sought earmarks while in Congress, saying elected representatives know better how federal money ought to be spent than bureaucrats do -- though he concedes pork-barrel spending has now gotten out of hand. Santorum's refusal to compromise his principles, and his ability to articulately defend his stances, are attractive qualities for conservatives who find Romney squishy. They also make Santorum a consistently excellent debater, the only candidate who's successfully prosecuted the case against Romney on health care.
3. His Culture-War Cred. With the economy thawing, conservatives are suddenly concerned that they won't be able to beat Obama on that issue alone, and they worry that Romney doesn't have any other case to make. Meanwhile, and perhaps not coincidentally, cultural issues are having a flare-up -- from the federal court decision affirming gay marriage in California, to the battle between Susan G. Komen for the Cure and Planned Parenthood, to the Obama administration's decision to require some religious employers to pay for insurance plans that cover birth control. This latter issue was by far the hottest topic at the Conservative Political Action Conference that kicked off Thursday in Washington, with speakers and participants alike seeing it as an attack on religious freedom and the First Amendment. (Santorum, Romney and Newt Gingrich are the star speakers at the confab today.) With his long history as a culture warrior, this is a hot button Santorum -- who led the charge for congressional intervention on the Terri Schiavo case and authored the partial-birth abortion ban -- is uniquely qualified to push.
Image credit: Getty Images/Whitney Curtis