Was George W. Bush a Conservative or a Moderate?
Newt Gingrich suggests the former president was to the right of John McCain and Bob Dole, but he's still not considered all that conservative by today's Republican Party standards.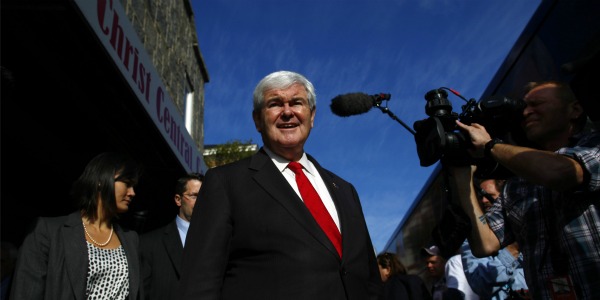 On Sunday's episode of Meet the Press, Newt Gingrich said this:
The challenge is to say do you really want to go into a fall election with a moderate candidate? The last two times we nominated a moderate, 1996 and 2008, we lost badly. A conservative candidate can offer a much greater contrast with President Obama, can offer a much bigger difference.

In keeping with the apparent rule in this year's GOP primary, George W. Bush goes unmentioned, but the implication is that he was more conservative than Mitt Romney and Bob Dole.
Is that really clear?
I suppose if you're the kind of conservative who favors deficit-financed tax cuts, expanding the Department of Education, a new drug entitlement for seniors, nation building in the Middle East, a guest worker program, and Wall Street bailouts, you might think of Bush as a fellow traveler. And Gingrich favored all those policies, along with the attempt to put Harriet Miers on the Supreme Court.
Certain figures are always talking as if running conservative candidates is the obvious path to Republican victory, as if Ronald Reagan represents a rule rather than an exception. It's true, of course, that neither Dole nor McCain was ever elected president. But it's also true that George W. Bush, George H.W. Bush, Gerald Ford, Richard Nixon, and Dwight D. Eisenhower -- five of the last six Republican presidents -- are considered overly moderate by the standards of today's movement conservatives.


Image credit: Reuters