The South Won't Save Newt Gingrich
The Florida primary results reveal the problems the former House speaker faces in trying to resurrect his campaign in his native region.
The Florida primary results reveal the problems the former House speaker faces in trying to resurrect his campaign in his native region.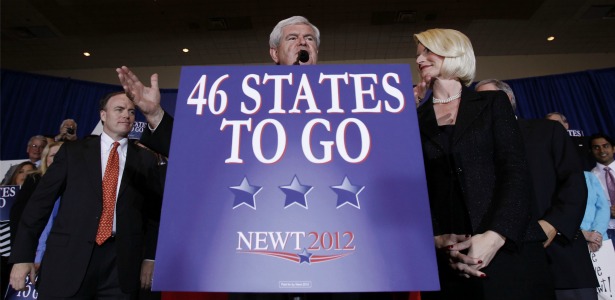 Although his newly minted battle cry is "46 states to go," Newt Gingrich, a son of the South, is pinning his comeback hopes on the Super Tuesday sweepstakes in friendly states like his native Georgia, Oklahoma, and Tennessee.
The March 6 megaprimary gives Gingrich a better shot at defeating front-runner Mitt Romney than do the near-term caucuses in Nevada, Colorado, and Minnesota or primaries in Arizona and Michigan, all scheduled this month. (Romney won Michigan, where his father served as governor, when he unsuccessfully sought the 2008 GOP nomination, and he's been endorsed by Arizona's Sen. John McCain.)
But the results from the Florida primary on Tuesday suggest that even on friendlier turf, Gingrich faces an uphill challenge.
---
MORE FROM NATIONAL JOURNAL
---
Of the 67 counties in Florida, Romney won 34 and Gingrich carried 33 -- a pretty close split. But a closer look at the returns shows Romney dominated the metropolitan areas while Gingrich fared well only in the state's more rural, less populated counties. Among the 32 counties that had the highest number of voters, Romney won 30 and Gingrich carried two -- the 19th and 25th highest vote-producers. Among the 28 counties that had the lowest number of voters, Gingrich went 28-0. The seven counties in between broke narrowly for Romney, four to three.
Candidates are usually successful when they win the places where the most votes are cast. Romney carried all 11 of the counties that tallied more than 50,000 votes in the Florida primary, and he romped in the 10 that contained Miami, Ft. Lauderdale, Tampa, St. Petersburg, Palm Beach, Ft. Myers, Orlando, Sarasota, Naples and Melbourne. Only in Duval County, home to Jacksonville, did Gingrich manage to hold Romney to a narrow victory.
One big factor in Romney's favor in the major metros is that his campaign and the super PAC boosting his candidacy outspent Gingrich's campaign and a Gingrich-allied super PAC by a factor of roughly 5-to-1 on television advertising. Unless casino magnate Sheldon Adelson doubles down on his family's $10 million contribution to the pro-Gingrich Winning Our Future PAC, Romney is going to continue to enjoy a comfortable financial and ad-time advantage in this race.
One region in Florida where Gingrich was competitive with Romney was the northern part of the state that stretches from Jacksonville across the Panhandle to Pensacola and south to Ocala. It's often said that the northern part of Florida is the most "Southern" part of the state, and Gingrich narrowly carried it, 38.7 percent to Romney's 38.5 percent. Gingrich strategists may take this is evidence that he will be able to prevail in Dixie's other primaries, but that could be wishful thinking.
Gingrich's success in North Florida was due to the large number of small, rural counties there. Romney carried Duval (Jacksonville), St. Johns (St. Augustine), Leon (Tallahassee), Okaloosa (Fort Walton Beach), Bay (Panama City), and Marion (Ocala). The only two metro northern counties that Gingrich carried were Alachua (Gainesville) and the Panhandle's Escambia (Pensacola).
In Southern and border states, where rural counties comprise a large share of the vote, Gingrich could do well. But unless he stumbles badly, Romney is almost assured of winning Virginia on Super Tuesday, where he and Rep. Ron Paul of Texas are the only two candidates who qualified for the ballot.
In the 2008 Tennessee GOP primary, former Arkansas Gov. Mike Huckabee narrowly defeated McCain by about 15,000 votes -- 34 percent to 32 percent. But the state has major metro areas like Chattanooga, Knoxville, Memphis, and Nashville that could be friendly territory for Romney, and it also has an increasing number of voters who cast their ballots early or absentee. With its superior resources and organization, the Romney campaign was able to overwhelm Gingrich with early and absentee voters in Florida.
Oklahoma could be a state that holds some promise for Gingrich, but McCain narrowly beat Huckabee there in the primary four years ago. Huckabee did best in Tulsa and the rural eastern part of the state that is closest to Arkansas. McCain carried Oklahoma City, its suburbs and rural western Oklahoma.
Gingrich should be favored in his home state of Georgia, but even there, he still might have to fight for it. Huckabee defeated McCain by only 34 percent to 32 percent in the Peach State's 2008 primary. Romney, who ran third in that contest, actually carried Atlanta and its larger suburban counties. Overall, 27 percent of Georgia's vote in the 2008 presidential primary was cast in urban areas, 54 percent in the suburbs and only 19 percent in small cities and rural areas.
To be sure, a Mormon from Massachusetts may not fare as well in primaries below the Mason-Dixon Line as a war hero from Arizona did. But if Romney can duplicate his Florida showing in other Southern cities and suburbs, even Dixie won't be able to rescue Gingrich's campaign.
Image: Shannon Stapleton / Reuters