The Most Fervent Tea Partiers in Michigan Backed Santorum
If they prefer a big-government social conservative what's the point of their movement?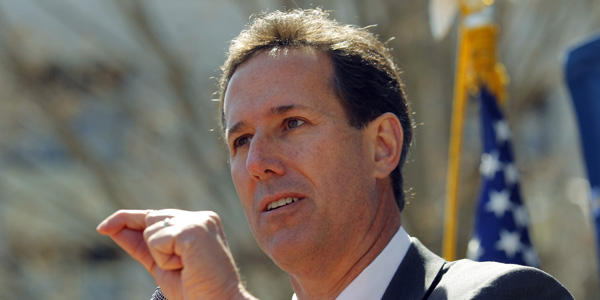 CNN's Michigan exit poll had a nugget of information that caught my eye: Republican voters who "strongly supported" the Tea Party favored Rick Santorum -- 45 percent of that subgroup cast a ballot for the former Pennsylvania senator. Mitt Romney came in second place, winning 37 percent of strong Tea Party supporters, Newt Gingrich won 11 percent of their vote, and Ron Paul finished last with 6 percent.
These results underscore the chasm that separates what Tea Partiers say they care about and their revealed preferences. Visit some of the Web sites for regional Tea Party-affiliated groups in the state. The Southwest Michigan Patriots are typical. The "core principles" they list: Limited government, separation of powers, protection of individual rights, fiscal responsibility and transparency, free trade and commerce, and taxes. Or look at the core principles listed by the Tea Party of West Michigan:
1. To preserve the economic future for our children.
2. To work for a return to the principles of our governing constitution.
3. To demand limited government.
4. To promote the free market that made our country the leader of the world.
5. To give support for individual rights, and property rights.
6. To provide a platform for giving like-minded people a voice.

And the voters who say they support these principles have chosen, as their preferred 2012 nominee, Rick Santorum, the social conservative who says he voted contrary to his beliefs in order to be a "team player" during the big-spending, federal-government-expanding Bush Administration. Their least favorite is Ron Paul, the most consistent champion of all the issues they say that they care about most. It's almost a  joke. If they prefer an interventionist foreign policy or don't think there's any chance for Paul to beat President Obama, fine: no one is obligated to vote for a principled advocate of small government. But if they wind up supporting Santorum what's the point of having a Tea Party at all?
As if to underscore the incoherence of the Republican Party these days, Santorum won not only the voters who most strongly supported the Tea Party -- he also won the voters that most strongly oppose it:

Both groups can't be right!
Also confounding: the 18 percent of Michigan Republicans who strongly oppose the Tea Party and voted for Ron Paul. Results like this make it difficult to believe that the Michigan Tea Party is a coherent expression of anything, and those who strongly support it shouldn't be regarded as reliable allies for people who actually prioritize small government, the separation of powers, or constitutionalism.
Image credit: Reuters