The Koch Bros. Have Something to Say About the Obama Campaign's Attack
The president is fundraising off the right-wing billionaire bogeymen, and they aren't taking it lying down.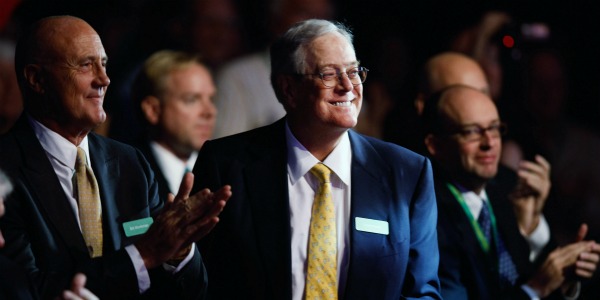 Earlier this week, the Obama campaign sent a fundraising email to supporters taking aim at the Koch brothers, the right-wing billionaires who have become bogeymen of the left. "They're obsessed," it said, contending they've "committed $200 million to try to destroy President Obama before Election Day."
Late Friday, the brothers responded, issuing a public letter to Obama campaign manager Jim Messina signed by the Koch Companies' Philip Ellender:
Contrary to your assertion that we have "committed $200 million to try to destroy President Obama," we have stated publicly and repeatedly since last November that we have never made any such claim or pledge. It is hard to imagine that the campaign is unaware of our publicly stated position on that point. Similarly, Americans for Prosperity is not simply "funded by the Koch brothers," as you state -- rather it has tens of thousands of members and contributors from across the country and from all walks of life. Further, our opposition to this President's policies is not based on partisan politics but on principles. Charles Koch and David Koch have been outspoken advocates of the free-market for over 50 years and they have consistently opposed policies that frustrate or subvert free markets, regardless of whether a Democrat or a Republican was President.

If the President's campaign has some principled disagreement with the arguments we are making publicly about the staggering debt the President and previous administrations have imposed on the country, the regulations that are stifling business growth and innovation, the increasing intrusion of government into nearly every aspect of American life, we would be eager to hear them. But it is an abuse of the President's position and does a disservice to our nation for the President and his campaign to criticize private citizens simply for the act of engaging in their constitutional right of free speech about important matters of public policy. The implication in that sort of attack is obvious: dare to criticize the President's policies and you will be singled out and personally maligned by the President and his campaign in an effort to chill free speech and squelch dissent.

This is not the first time that the President and his Administration have engaged in this sort of disturbing behavior. As far back as August, 2010, Austan Goolsbee, then the President's chief economic advisor, made public comments concerning Koch's tax status and falsely stated that the company did not pay income tax, which triggered a federal investigation into Mr. Goolsbee's conduct that potentially implicated federal law against improper disclosure of taxpayer information. Last June, your colleagues sent fundraising letters disparaging us as "plotting oil men" bent on "misleading people" with "disinformation" in order to "smear" the President's record. Those accusations were baseless and were made at the very same time the president was publicly calling for a more "civil conversation" in the country.

It is understandable that the President and his campaign may be "tired of hearing" that many Americans would rather not see the president re-elected. However, the inference is that you would prefer that citizens who disagree with the President and his policies refrain from voicing their own viewpoint. Clearly, that's not the way a free society should operate.
If the Obama campaign wants a debate with the Kochs -- and they probably do -- that's what they'll get, the letter makes clear.
Image credit: Chip Somodevilla/Getty Images