The Election 2012 Photo That Would Most Unnerve a Martian
Callista Gingrich, a woman in a surgical mask, at least 10 disembodied hands, and a galactic imperialist lurking in the background.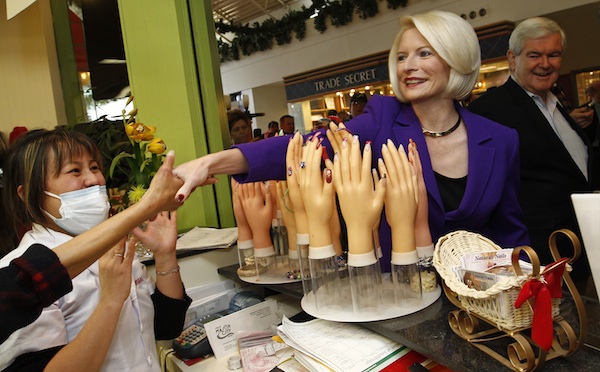 In a way this is a normal scene -- a campaign stop in an American mall, a nail shop where the manicurist wears a surgical mask, the candidate looking on. At least that's what appears to be going on. But a Martian wouldn't know any of that. A Martian would see a bunch of disembodied human hands, a masked woman, the words "trade secret" in one corner of the frame. And in the other? Newt Gingrich, a man who, having announced his colonial designs on the moon,
followed up
by championing regular flights... to Mars! What Martian wouldn't shiver to see it all?
Admittedly, I haven't yet looked at every Election 2012 photo published. But I defy the Internet to find another that would unnerve a Martian as much as this one. Email me your nominations, put them in comments, or Tweet a link with the hashag #FreakingOutMars.
Image credit: Jim Young / Reuters