That Was Not the GOP Debate Rick Santorum Needed
In what may have been the last debate of the Republican primary, it's a win for Romney -- and a major missed opportunity for Santorum.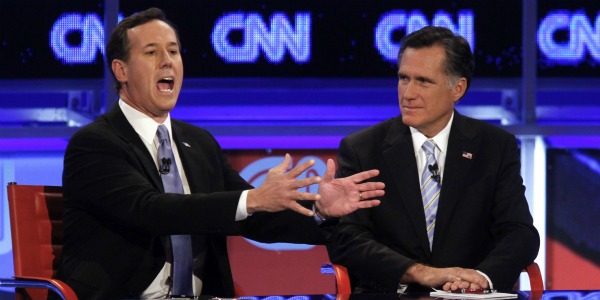 He may have won more states than Mitt Romney so far, but Rick Santorum went into Wednesday night's Arizona debate an underdog. Elevated to the spotlight like never before, he needed to show he belonged -- ideally alone -- in the top tier. In the past, he's often risen to the occasion. But on Wednesday, he was thrown badly off his game.
One of the qualities that
endears Santorum most
to GOP base voters is his refusal to back down -- his willingness to defend his positions rather than tweak or finesse them the way, say, Romney might. He's unapologetic. But there's a serious flip side to this quality: It means he tenaciously clings to the ugliest parts of his record. At the debate, that meant long, pleading stretches of Santorum trying to justify his pursuit of earmarks in Congress, his enthusiastic support for former Sen. Arlen Specter's 2004 reelection, and his vote in favor of the No Child Left Behind education law. More than once, he was booed.
That last topic was particularly awful for Santorum. Though it was one of George W. Bush's signature achievements, the new GOP orthodoxy is that No Child Left Behind represented an unacceptable expansion of federal bureaucracy and spending. Santorum's defense wasn't that he didn't realize how bad it was at the time; the man who knows everything, and always has, can't admit he changed his mind. Worse, he said he knew it was bad policy but voted for it out of partisan duty to Bush. "I have to admit, I voted for that. It was against the principles I believed in," he said. "But, you know, when you're part of a team, sometimes you take one for the team." Romney's efforts to paint Santorum as a horse-trading Washington insider have often been less than convincing. Santorum did a much better job at filling out that picture.

Romney was by no means at his strongest. Though he succeeded in his primary goal -- setting Santorum off-balance -- none of his answers were particularly memorable or inspiring. At the end, when the final question to all the candidates was to correct a misconception, Romney launched into rote sloganeering -- "We've got to restore America's promise" -- and then, when moderator John King noted he wasn't answering the question, snapped back, "You get to answer the questions you want. I get to give the answers I want." Rick Perry (who was in the audience Wednesday night, looking relieved) once used the same comeback, but when he did it, it smacked of Texas swagger. Coming from Romney, it reeked of too-good-for-this-stage entitlement.
But overall, the debate has to be scored a major win for Romney and a major missed opportunity for Santorum. (Ron Paul, for his part, provided crucial aid to Romney, calling Santorum "a fake" and pointing out that his excuse-making was exactly why Americans dislike Congress.) In previous debates, Santorum has successfully pressed the case against Romney's Massachusetts health-care reform as a precursor to the dreaded Obamacare. This time, he barely got down that road before Romney turned him around by arguing that if he hadn't supported Specter, Obama wouldn't have had the votes for his bill in the Senate. "Don't look at me. Take a look in the mirror," he said. As juvenile as this I'm-rubber-you're-glue tactic was, it worked spectacularly well, drawing Santorum into his laborious defense of why supporting Specter -- at the time a Republican, and Santorum's partner in the Pennsylvania Senate delegation, facing a more conservative GOP primary opponent -- was "the right thing for our country."
Santorum also allowed Romney to outflank him to a degree on the dreaded contraception issue. Before King could ask a question about it, Romney was touting his work with Catholic authorities in Massachusetts to "protect their right to exercise their religious conscience." Santorum was clearly expecting a lot of culture-war questions -- a fair bet, considering how those issues have been in the news the past few weeks -- and gave his most impassioned answer of the night to the contraception question when it came up: "The left gets all upset, 'Oh, look at him talking about these things.' You know, here's the difference between me and the left, and they don't get this -- just because I'm talking about it doesn't mean I want a government program to fix it." But King, facing rumblings of disapproval from the audience and perhaps fearing a repeat of his
drubbing from Newt Gingrich
when he asked an unpopular question in South Carolina, quickly backed off this line of inquiry, depriving Santorum of more opportunities to play the brave spokesman for values voters everywhere.
Gingrich also got off his strongest answer of the night on the birth-control issue: "If we're going to have a debate about who the extremist is on these issues, it is President Obama who, as a state senator, voted to protect doctors who killed babies who survived the abortion. It is not Republicans." Never mind that Gingrich's claim that the "elite media" failed to ask Obama about this during the 2008 campaign was erroneous; it was the sort of rallying-the-troops moment that Gingrich does best. But by the standards of his most crowd-pleasing performances, this was too little, too late to light a fire under Gingrich's flagging candidacy.
For his closing statement, Santorum made what should have been his best argument: that he is better qualified to beat Obama than Romney because, if he becomes the nominee, he will have already succeeded once in toppling a better-funded, better-organized opponent with a grassroots, activist-driven campaign. But it came out halting and garbled. He didn't mention Romney by name, and his logic was difficult to follow.
Santorum seemed rattled -- too rattled to make his case. And that, for Romney, may have been the biggest victory of the night.
Image credit: Reuters/Joshua Lott