Senator Olympia Snowe Won't Run for Reelection
The Maine Republican's decision to retire is a blow to GOP hopes for retaking control of the Senate in November.
The Maine Republican's decision to retire is a blow to GOP hopes for retaking control of the Senate in November.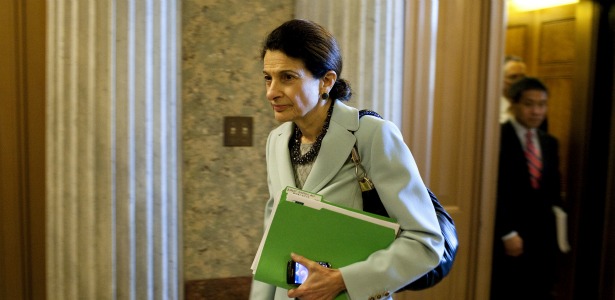 The species known as the moderate Republican seemed to move one step closer to extinction on Tuesday when Sen. Olympia Snowe of Maine announced that she will not run for reelection this year.
"After an extraordinary amount of reflection and consideration, I am announcing today that I will not be a candidate for reelection to the United States Senate," Snowe said in a statement on the Maine Republican Party's Facebook page.
Snowe's surprise announcement that she will not seek a fourth term has dramatic resonance. As one of the last of the truly moderate Republicans, Snowe is part of a breed that's disappearing from Congress. Her vacating a seat in a state that has voted Democratic in every presidential election since 1992 greatly strengthens the Democrats' chances of holding on to the Senate, and it gives strategists at the National Republican Senatorial Committee reason to cry in their beers.
GOP officials in Washington were given little notice by Snowe of her decision. One senior GOP source said Snowe only informed Senate Minority Leader Mitch McConnell, and Sen. John Cornyn, the NRSC chair, of her decision this afternoon. She had more than $3 million in the bank and was on cruise control in her reelection bid, giving Republicans no reason to believe that she was heading toward a retirement.
---
MORE FROM NATIONAL JOURNAL
---
Aside from the electoral implications, Snowe will be missed in the corridors of the Capitol, where she was a trailblazing woman in the Senate and a well-liked figure with friends on both sides of the aisle. Her long service stretches back to the 1970s in the House of Representatives, where she made friends with Trent Lott, the Mississippi Republican who went on to become Senate majority leader and who helped her elevation. On the Armed Services Committee, she was known as a thoughtful hawk who looked out for Maine's military installations. And on issues like abortion rights, which she favors, and the impeachment of President Clinton, which she opposed, she cut a unique figure. She voted for President Obama's stimulus package and the Dodd-Frank financial-reform bill.
But she stuck with her party on key votes, too, such as the president's health reform bill. Snowe's husband, John McKernan, is a former Maine governor, and there's bound to be speculation that Snowe could replace the state's controversial Tea Party governor, Paul LePage. But Snowe has been in elective office for almost 40 years, so it's doubtful she's seeking a term in Augusta where she began her career in the state assembly.
Snowe is one of the Senate's most centrist Republicans, ranked as the 55th most liberal senator in 2011, according to National Journal's vote ratings. Not surprisingly, she was the target of Tea Party ire at the beginning of this election cycle. Conservatives targeted her, but were never able to recruit a candidate who presented a serious threat to her candidacy. Thus, she has remained a heavy favorite to keep her seat for much of the cycle. She won in her last election with over 70 percent of the vote.
But her exit breaks the race wide open, not only for other Republicans, but for Democrats as well. With the Democratic Party facing the prospect of losing control of the Senate this November, Tuesday's announcement is welcome news. The only other Republican currently in the field is Scott D'Amboise, a little-known former congressional candidate. The Democratic field includes state Sen. Cynthia Dill, former Secretary of State Matt Dunlap, state Rep. John Hinck, and businessman Benjamin Pollard.
Republicans are now left searching for a standard-bearer. The names being floated by GOP operatives in the wake of Snowe's announcement include Attorney General William Schneider, former Amb. Peter Cianchette, 2010 gubernatorial candidates Steve Abbott and Bruce Poliquin (who serves as state treasurer), and former state Rep. Josh Tardy.
"While I would never underestimate the fight ahead in defending any open Senate seat, Republicans remain well-positioned to win back a Senate majority in November," Cornyn said in a statement. "Maine has a proud history of electing independent leaders, including a Republican governor in 2010, and while this will be a key battleground in the fall, I am confident it will remain in Republican hands."
"Maine is now a top pick-up opportunity for Senate Democrats," countered Democratic Senatorial Campaign Committee Executive Director Guy Cecil. "If there is one place in the country that is likely to reject the extreme, anti-middle class, divisive Republican agenda, it is Maine."
D'Amboise, the lone Republican candidate currently in the race, released a statement pointing to a filing deadline that is fast approaching.
"I respect Senator Snowe's decision, and look forward to facing the Democratic nominee in the fall," D'Amboise said. "With Maine's complicated signature process, it is doubtful that any other Republican could collect the requisite number of signatures to appear on the ballot before the March 15th deadline no matter how much money they spent."
Image: Joshua Roberts / Reuters