Sarah Palin Brings Out the Barbs at CPAC
The former Alaska governor gives a rousing speech to conservatives in Washington, but most were glad she's not running for president.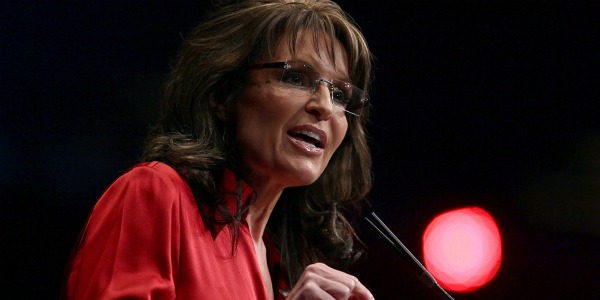 Sarah Palin closed out the Conservative Political Action Conference on Saturday with a speech full of sarcastic barbs for the Washington establishment, crony capitalism, and President Obama.
"Hope and change?" she said, a hard edge in her sharp voice. "Yeah, you gotta hope things change!"
Palin reiterated the populist line that has become her trademark, accusing the Beltway elites of profiting from the growth of government while the rest of the country suffers.
"While America suffers, Washington prospers. While our real-estate markets crash, Washington's is strong," she said.
"Washington is hiring, but the question is, hiring for what? They don't manufacture. They don't mine. They don't drill. They don't harvest," added Palin, who makes a living as a cable-television commentator. "They produce nothing, and the services they provide create dependency, not freedom. They don't create wealth, they take it."
When Palin unveiled this attack on "crony capitalism," in a speech in Iowa in September, it was accompanied by a detailed five-point policy plan to restore the American economy to strength. In Saturday's 35-minute address, the positive agenda was gone -- only the attacks remained.
When Republicans win the presidency, she said, "We will have a president who defends our American way of life instead of apologizing for it. We will have a commander-in-chief worthy of our troops."
Palin's place in the conservative movement these days is difficult to define. It seems to consist mainly of doing what she did Saturday: giving speeches that get people riled up. "She's an exciting speaker," Al Cardenas, chairman of the American Conservative Union, answered when I asked him what her role was. "She fires up the base, and I hope she'll be very active through November."
Though Palin was expected to fade to insignificance after she decided against running for president in October, she has remained a surprisingly influential presence. Her "crony capitalism" formulation -- the idea that powerful interests and their corrupt lobbyists have perverted the free market of conservative ideals -- has become widespread.
Candidates from Michele Bachmann to Newt Gingrich have wielded the phrase. In a debate in South Carolina last month, even Mitt Romney picked it up, accusing the president of "practicing crony capitalism." And though Palin rebuked Occupy Wall Street protesters who tried to interrupt her speech Saturday -- shaking her fist and leading the crowd in a chant of "U.S.A.! U.S.A.!" as the protesters were ushered out of the room -- her people-power pitch can be heard in that movement's critique of certain kinds of capitalism as well.
Palin's speech was received ecstatically by the capacity crowd in the CPAC ballroom. But in interviews, many audience members said they were glad she wasn't a candidate for president, and some said she'd lost her hold on their attention.
"I was very pro-Sarah when she ran, but I'm not sure about her anymore," said Lisa Everington, a defense employee from Richmond, Va. "She had a focus before. Now, I don't have a clue what she's supposed to be about."
Everington said she voted for Rick Santorum in the conference's straw poll to send an anti-Mitt Romney message to the party establishment. Romney, however, won the straw poll, despite a speech in which he
labored
, not always believably, to emphasize his conservative sympathies.
Palin didn't mention any presidential candidate by name in her speech. She has previously said she would vote for Newt Gingrich if she were a voter in the South Carolina primary, but said she wasn't endorsing Gingrich, just encouraging a longer vetting process instead of the anointment of any single candidate.
She did, however, call for the nominee to be a "passionate" conservative, in what sounded, to those accustomed to reading between Palin lines, like a jab at Romney.
"Our candidate should be someone who can instinctively turn right to constitutional conservative principles," she said. "It's too late in the game to teach it at this point. It's either there or it isn't."
She also reiterated her call for the primary to continue.
"We've all heard the pundits say we've got to name our nominee right now. We've got to wrap it up! No debate for you! We'll cut it off, we're through!" she said. "As if competition weakens our nominee. Here in America, we believe competition strengthens us. Competition will lead us to victory in 2012. I believe the competition has got to keep going."
It was a call that Republican voters seemed to be heeding when they handed Romney unexpected losses in Minnesota, Missouri and Colorado on Tuesday. But with Romney bouncing back to win the straw poll and Maine caucuses on Saturday, maybe Republican voters aren't listening to Sarah Palin after all.
Image credit: Getty Images/Mark Wilson