Santorum's Strange Interpretation of the Founders' 'Pursuit of Happiness'
The former Pennsylvania senator thinks the Declaration of Independence gives us the right only to seek pleasure insofar as we do God's will.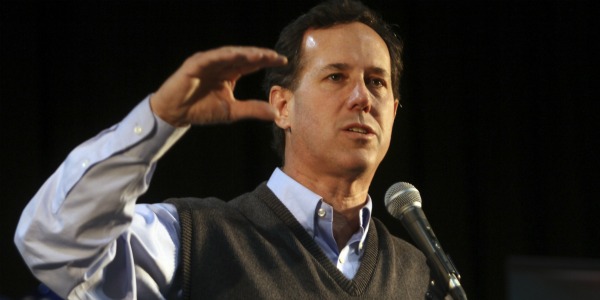 Rick Santorum is continuing to invoke the Declaration of Independence as if its words imply that his brand of social conservatism is enshrined in the founding documents of the United States. In doing so, he has gradually revealed his unusual interpretation of the phrase "the pursuit of happiness."
Here's how he sees it:
 

"Happiness" actually had a different definition, way back at the time of our founders. Like many words in our lexicon, they evolve and change over time. "Happiness" was one of them. Go back and look it up. You'll see one of the principle definitions of happiness is "to do the morally right thing." God gave us rights to life and to freedom to pursue His will. That's what the moral foundation of our country is.

On several occasions, James Taranto of The Wall Street Journal has insisted that the former Pennsylvania senator is being mischaracterized -- that people like me are mistaken when we complain that Santorum's beliefs are incompatible with the Declaration of Independence, insofar as he asserts that upholding what he regards to be God's will, for the ostensible benefit of society, is more important than permitting individuals to pursue happiness as they define it for themselves.
I wonder if this latest bit of rhetoric gives Taranto and other Santorum defenders pause. Here the candidate is saying that for the Founders, an inalienable right to "the pursuit of happiness" meant no more than a right "to do the morally right thing" -- less license than Adam and Eve were given in Eden! Certainly it is a different definition of "pursuing happiness" than Santorum defenders have previously imputed to him, and an implausible one, given that the Declaration nearly guaranteed rights to "life, liberty, and property." Its authors regarded "the pursuit of happiness" as a close if important substitute, not a radical shift in the sentence's meaning and purpose.
Image credit: Reuters