Santorum Is Still Losing the Most Important Race: Money
Even if he gets an infusion of cash after his trifecta of wins Tuesday, Santorum is nearly broke and can't keep up with Mitt Romney.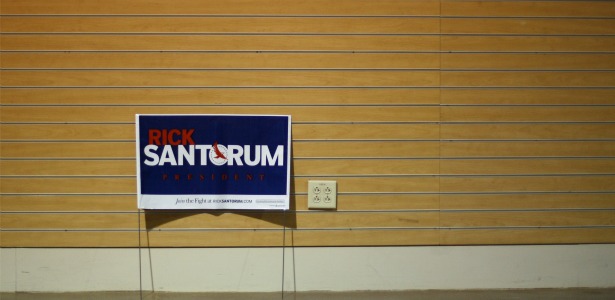 Not to rain on Rick Santorum's parade, but the man needs help from Wall Street or Big Gambling and he needs it quick. The former senator from Pennsylvania and perennial underdog managed to win not one but three states holding caucuses and a primary last night. But clear away the confetti and it's an unhappy fact for the would-be threat to front-runner Mitt Romney that he is just about broke.
Santorum's campaign had just $279,000 left in the bank at the beginning of the year, a paltry sum by presidential-campaign standards and light years behind than conservative rival Newt Gingrich ($2.1 million) or libertarian rival Ron Paul ($1.9 million). It was multiple light years behind than Romney's $20 million. Even the hapless Jon Huntsman was able to put a few more pennies together. He raised nearly $6 million by December 2011, to Santorum's $2.2 million.
The picture for the super PAC supporting Santorum was even worse: The Red, White and Blue Fund had just $78,000 left after spending a paltry $2.2 million by year's end. The super PAC behind Gingrich's campaign, funded by Las Vegas casino operator Sheldon Adelson, spent four times that amount, and the Romney-loving Restore our Future, fueled by Romney's pals in the corporate restructuring biz, spent nearly 10 times that amount and ended the year with $24 million in cash on hand.
The money picture for Santorum could change after his trifecta win in Colorado, Minnesota, and Missouri Tuesday night. It will have to. In the nearly three weeks leading to the next two big events in Michigan and Arizona on Feb. 28, the Romney campaign no doubt will hail negative advertising on Santorum as it did on Gingrich, and money will be no object.
But it will take a wholesale change in Santorum's operation to turn things around. The earlier twist of luck that allowed Santorum to eke out an impressive if narrow victory over Romney in Iowa had only a modest positive impact on his fundraising. Santorum spokesman Hogan Gidley sounded an optimistic note today, saying in an MSNBC interview that the campaign's website last night experienced three times the traffic that it did after the Iowa caucuses. The campaign brought in $250,000 in a single night, he said.
Still, it's going to take more than a few thousand Web donors lighting up the board to keep Santorum in the race in the post-Citizens United era. He's probably going to need a sugar daddy.
Image: Nathan Armes / Reuters