Santorum and DeWine: Much Ado About Almost Nothing
The only real impact of the former senator deserting Romney is a flurry of national media attention. Inside Ohio, voters are likely to shrug.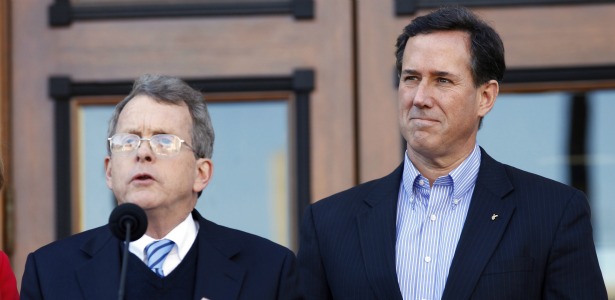 If you're convinced that the sky is falling on Mitt Romney, Mike DeWine's endorsement of Rick Santorum today is certainly evidence for your point of view. The Ohio attorney general -- who was a U.S. senator from 1995 to 2007 -- made the surprise announcement Friday afternoon that he's switching his backing from Romney to the former Pennsylvania senator. The former Massachusetts governor, who's also the former "inevitable" nominee, has recently lost three primary contests, narrowly won the Maine caucuses, and is now sputtering out in Michigan, his native state. As if that wasn't bad enough, a backer in a key Super Tuesday state has now abandoned him.
You probably shouldn't buy that line of thinking, though. Here's why the DeWine endorsement doesn't matter.
DeWine is a natural Santorum supporter anyway. Both men are Catholics with large families, they are far more concerned about social issues than fiscal ones, they're lifelong politicians, and their tenures in the Senate perfectly overlapped. Oh, and both were trounced in 2006 when they were bounced from the Senate, although DeWine's 12-point loss to Sherrod Brown wasn't as bad as Bob Casey's 18-point beating of Santorum. DeWine originally endorsed Tim Pawlenty, and it seems like he just endorsed Romney because T-Paw backed the former Massachusetts governor (his statement at the time is filled with anodyne bromides about Romney). This is more a course correction than a shocking defection. Romney maintains the endorsement of Sen. Rob Portman -- a cerebral, wonky legislator much more in his own mold than DeWine ever was.
Conservatives in the state don't like DeWine that much. He's representative of the Bush era: a time many activists see as tainted by bloated government and faux conservatism. And his run for attorney general didn't help. DeWine was the establishment candidate, and only became the Republican nominee by boxing out a more conservative challenger. In a terrible year for Democrats, DeWine only barely beat incumbent Richard Cordray in the 2010 race. "Any other year, Cordray wins and probably wins easily," said David Cohen, a professor of political science at the University of Akron. And an acrimonious ongoing battle between state GOP Chair Kevin DeWine, Mike DeWine's second cousin, and Gov. John Kasich hasn't helped.
Who cares what the state attorney general has to say? We're not talking about a U.S. senator, a governor, or even a prominent congressman. DeWine simply isn't that big a name. "I'm not sure how much of a household name DeWine is in Ohio anymore," Cohen said. Chris Littleton, a conservative activist in the Cincinnati area, agreed. "No personal slight to Mike DeWine, but I don't think the endorsement of the attorney general is gong to sway a motivated primary voter," said Littleton, who's backing Ron Paul. He said the news had barely made a ripple in Buckeye State Tea Party circles.
Even as Ohioans shrug at the news, national media is picking up on it as the latest crack in the Romney edifice. And sure, this is embarrassing for Romney. How often do public figures publicly flip allegiance? (Actually, this campaign has seen a spate of such betrayals, from the Michele Bachmann Iowa chair who jumped to Ron Paul to mass migration from Newt Gingrich's campaign to Rick Perry's during the summer.) It's made worse by the fact that his campaign apparently heard the news from the same press reports everyone else did. And DeWine got in a funny swipe at Romney, saying of his new champion, "People like him. He is human. He's real." But what Rick Santorum needs right now is money -- and a win in Michigan. Mike DeWine won't get him either, and he won't deliver Ohio either.
Image: Matt Sullivan / Reuters