Romney's Squeeze: Struggles With the Base and Independents Alike
Though he's still the frontrunner, low turnout in three conservative states, along with slipping independent support, are worrying trends for Romney.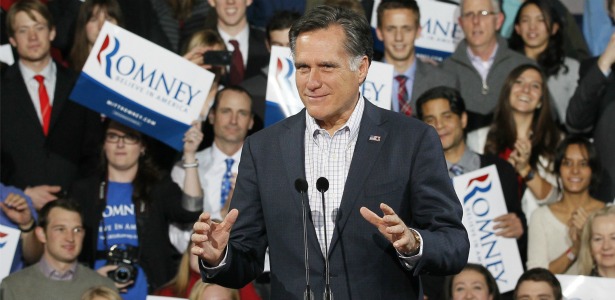 Rick Santorum's clean sweep of Tuesday's lightly-attended GOP contests underscored front-runner Mitt Romney's continuing struggles with the Republican base, even as recent national surveys show the former Massachusetts governor's standing eroding among independents.
Although exit polls were not conducted Tuesday night, the three states that Santorum swept -- Minnesota, Colorado, and Missouri -- are all places where social conservatives represent a central component of the Republican electorate. And in all three states, one of the most striking aspects of Tuesday's results was the sharp decline in the number of people who came out to vote for Romney, compared to four years ago.
In 2008, Romney attracted 25,990 votes while winning the Minnesota caucuses. Last night, he won only 8,090 while finishing a distant third (despite the strong support of the state's former Republican governor, Tim Pawlenty).
Four years ago, Romney won 42,218 votes while winning a decisive victory in the Colorado caucus. Last night, he attracted only 22,875 while finishing second.
In Missouri last time around, Romney won 172,329 votes while finishing third (after John McCain and Mike Huckabee). Last night, he attracted only 63,826 while finishing a distant second to Santorum.
The Missouri results get an asterisk because Tuesday night's primary was a non-binding beauty contest that drew a much smaller overall turnout than the 2008 event, which actually allocated the state's delegates. But still, the pattern has to raise concerns for the Romney team. Compared to 2008, only about half as many people turned up this year to vote for Romney in Colorado, and only about one-third as many in Minnesota -- two states that he carried four years ago.
The overall pattern for Romney this year isn't as bleak. His vote totals this year are significantly higher than his 2008 tally in New Hampshire (97,591 now, compared to 75,675 then); South Carolina (167,297 now, compared to 68,142 then) and Florida (775,014 now, compared to 604,932 then). But in Iowa, he won about 200 fewer votes last month than he did last time and in Nevada, his vote total declined by about one-fourth from 2008 (from 22,646 then to 16,486 now). After Tuesday's contests, South Carolina is the only GOP state so far that has experienced a significant overall turnout increase from 2008 -- hardly the pattern that most expected given the depth of antipathy in the Republican base toward President Obama.
Romney's disappointing showing in these three socially conservative states last night also came just one day after the latest ABC/Washington Post poll showed him facing trouble against Obama among centrist voters. That survey showed Obama reestablishing a 48 percent to 47 percent advantage over Romney among independents in a 2012 general election matchup. In the previous ABC/Post survey, Romney had led Obama among independents by 12 percentage points. That shift tracked a late January ABC/Post poll that showed Romney's unfavorable rating among independents spiking by 17 percentage points in just a few weeks, to 51 percent overall.
This year's Republican race has been such a roller-coaster -- it's arguably the most unsettled GOP nomination fight since Wendell Willkie won as the classic dark horse in 1940 -- that these challenges could prove temporary for Romney. While Tuesday's results suggest the lingering resistance to Romney among social conservatives, the next two primary states on the calendar, Arizona and Michigan, offer more favorable terrain for him: In 2008, about three-fifths of GOP primary voters in each state did not identify as evangelical Christians (the same proportion as Florida, where Romney romped). And the longer lead up to both primaries should allow him more opportunity to exercise his financial and organizational advantages over Santorum and Newt Gingrich, who also face the risk of continuing to divide the conservative core most resistant to Romney.
But Romney is a point in the race where he appears to be seeding doubts among independents without quelling them among his party's base. That's not a dynamic any candidate wants to endure for very long.
Image: Rick Wilking / Reuters