Romney's Big Win in Nevada: Does It Matter?
Mitt Romney won a commanding victory that will allow him to claim the party is uniting behind his candidacy.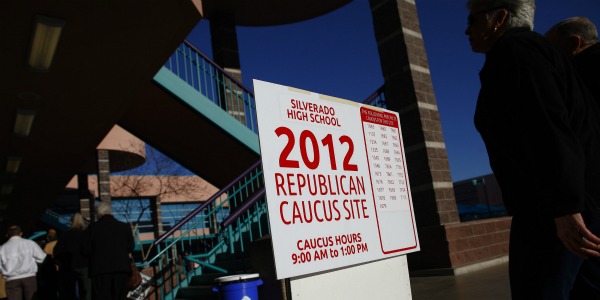 Updated 11:36 p.m.
LAS VEGAS -- Surprising almost no one, Mitt Romney won the Nevada caucuses on Saturday. Associated Press returns from 14 of 17 counties -- but not Clark County, the largest in the state -- showed Romney drawing 42 percent of the votes. Entrance polls of caucus-goers released by CNN earlier in the night showed Romney pulling 55 percent of the vote statewide.
Newt Gingrich and Ron Paul were locked in a tight race for second with 25 and 20 percent of the vote, according to the A.P., with Santorum trailing at 13 percent.
If the exit poll results hold once the Las Vegas votes are counted, it would mark an improvement for Romney from 2008, when he won 51 percent of the Nevada vote. That's significant because Romney had more competition this time than last: In 2008, Romney and Ron Paul were the only candidates to campaign for Nevada; this time, all four remaining candidates have stumped here at least nominally.
Gingrich opted to give a press conference rather than the usual "victory" party. Addressing rumors he might leave the race, he vowed to continue all the way to the Republican convention in Tampa in August. Romney, meanwhile, congratulated his rivals and focused his victory speech here on bashing President Obama.
In action, the Nevada caucuses were a messy affair. Unlike Iowans, Nevadans are new to large-scale caucusing, the precinct meetings that technically exist to elect delegates to Republican conventions. Many were unclear on the whole concept, particularly the requirement for on-time, in-person participation rather than primary-style all-day, drop-in balloting. At one Las Vegas high school, would-be voters continued to trickle in long past the 9 a.m. start time, only to be turned away because caucusing had concluded.
More than four dozen precincts gathered at Western High School, meeting individually in classrooms or around cafeteria tables. Some precincts had a single voter; one consisted of a Romney supporter and a Paul supporter, debating foreign-policy and the Constitution for over an hour as they sat at a table waiting for their ballots to arrive; others featured groups of previously unacquainted neighbors holding frank discussions of their views of the candidates.
That was the case for Precinct No. 4612, a 17-vote caucus that convened over three jammed-together tables in Western's cafeteria, which was decorated with red construction-paper hearts in anticipation of Valentine's Day. A portly Ron Paul supporter in a striped tie presided; a young couple of Romney supporters took turns rocking their 7-month-old daughter; a couple of Filipino immigrants who'd recently acquired citizenship said their votes were guided by Jesus; a grizzled man in a dirty cap railed against illegal immigration.
A 40ish man in a red tracksuit and matching cap professed himself "depressed by the state of our country," and ran down his views of the candidates.
"Newt Gingrich has government solutions to stuff I didn't know was a problem," he said. "Mitt Romney -- I understand you're from Massachusetts, but you are totally unfamiliar with the philosophy of conservatism. Ron Paul: Is there a conspiracy theory you do not subscribe to? Have you ever gotten anything done in Congress? Rick Santorum supported [former Pennsylvania Sen.] Arlen Specter and bailouts and government spending. He's probably not much of a conservative either. But of the four, he's the least offensive to me."
That was the man's speech in favor of Santorum. But Paul got the most votes in that precinct -- seven.
At a neighboring table, one man spoke fervently of Gingrich's "bold ideas," only to have an older woman call out from the other end of the table: "I'm not for having an ex-mistress as first lady. Let's get real." Precinct winner: Gingrich.
The overall tally of the 342 votes cast at Western, after a protracted and improvisational counting process overseen by representatives of the Romney and Paul campaigns: 142 for Romney, or 42 percent; 88 for Paul (26 percent); 82 for Gingrich (24 percent); 30 for Santorum (9 percent).
No matter how expected, every contest Romney wins is another batch of delegates, another stop on the inevitability train -- and another missed opportunity for his opponents to derail him. (Nevada has more GOP delegates than South Carolina.) And with the entrance polls showing Romney sweeping all categories, including Tea Partiers and the "very conservative," his big win here will allow him to claim that the party is coming together behind him.
Mormons made up 26 percent of the vote, according to the poll, the same proportion as 2008. Romney was winning 91 percent of their votes, but he was also winning every other religious group except the areligious, who supported Paul.
Whether Paul manages to beat out Gingrich for second place could be significant as well. Paul has staked his campaign on strong showings in caucus states like Nevada. Meanwhile, Santorum moved on from Nevada days ago, setting his sights on Tuesday's contests in Minnesota and Missouri, where social conservatives are a greater presence than the libertarian-minded West. Colorado also holds its caucuses Tuesday.
Image credit: Reuters/Eric Thayer