Romney Supporter Jon Huntsman Blasts Romney for China Column
The former candidate and ambassador to China takes an unusual swipe at the man he supports for the GOP nomination.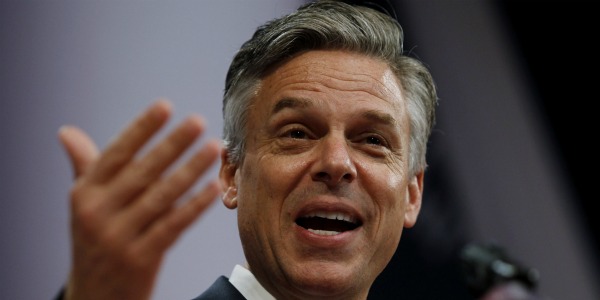 Former presidential candidate Jon Huntsman said Mitt Romney's policy toward China was "wrongheaded," adding that Republican candidates should not pander when deciding how to deal with China diplomatically and through trade.
"Let's just say that it's not unusual for candidates to be saying certain things about China," Huntsman said on MSNBC's Andrea Mitchell Reports. "I've seen a lot of candidates who later became president, who use a lot of rhetoric. It's much easier to talk about China in terms of the fear factor than the opportunity factor."
---
MORE FROM NATIONAL JOURNAL
---
Huntsman attacked Romney's op-ed in today's Wall Street Journal, which lambasted the Obama administration's policy in China. Huntsman, who endorsed Romney after dropping out of the presidential race last month, served as the U.S. ambassador to China under President Obama.
Huntsman stepped back and defended his endorsement, saying that he supported Romney for his economic policies and how he plans to fix the economy. But on China, Huntsman said, Romney and other Republican candidates need to consider the broader picture beyond the primary. "When it comes to China, I think it's wrongheaded about slapping a tariff on day one." he said. "That pushes aside the reality, the complexity of the relationship."
His advice? "Less pandering, take a step back, and analyze with a clear vision," he said.