Romney Rebuked in 'Mini-Tuesday' GOP Primaries
Rick Santorum emerges as the front-runner's new antagonist as voters cast ballots in Missouri, Minnesota, and Colorado.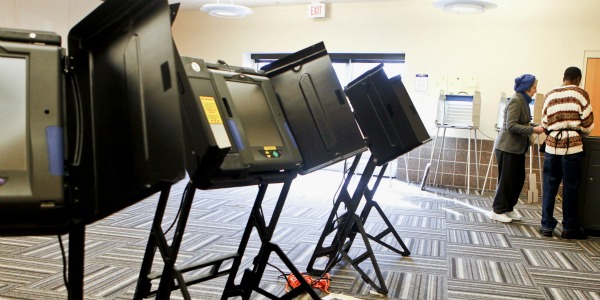 No delegates were directly awarded by Tuesday night's primary in Missouri (it was non-binding) or caucuses in Colorado and Minnesota (as in Iowa, they were merely precinct-delegate elections accompanied by a presidential poll). But the results -- Rick Santorum's stunning sweep of all three states -- were nonetheless a major rebuke to Mitt Romney.
Santorum could not have had a better night. He won Missouri by a stunning 30 points over the second-place Romney. In Minnesota, Romney polled a distant third, with Ron Paul in second place. And in Colorado, where Romney thought he had a safe lead, Santorum staged an upset.
Giving his victory speech in Missouri, Santorum made the most of the opportunity, giving a rallying cry of a speech that emphasized his strengths: authenticity and passion. He mounted a tough-talking attack on President Obama that made him sound like a nominee-in-waiting -- "He thinks he knows better. He thinks he's smarter. He thinks some privileged person should be able to rule over all of you" -- while never losing sight of Romney, either.
"I care about the very rich and the very poor," he said. "I care about 100 percent of Americans."
Romney's speech, on the other hand, was awkward -- a speech he probably didn't think he'd have to give. His syllogistic argument that Obama must be rejected because he had failed on his own terms was oddly facile.
Had Romney rolled through the three low-octane contests, which some were dubbing "mini Tuesday," the analysis would have been that Republicans around the country, weary of petty squabbling, were rallying around their inevitable standard-bearer. Instead, the opposite happened: Iowa-like electorates, with large segments of rural evangelicals, went out of their way to send a message of not being ready to settle for Romney.
Newt Gingrich failed to qualify for the Missouri ballot. That gave Santorum a chance to compete in a situation where he was the sole mainstream alternative to Romney, and he aced it. That will allow him to make the argument that Romney is only winning because the voters who oppose him are normally split between Santorum and Gingrich.
It is still hard to imagine the Romney train getting derailed, but this result will elevate Santorum as his chief antagonist of the moment and force Romney to continue to answer his conservative critics awhile longer, rather than proceeding to a coronation.
Romney's campaign argued that the results would have no bearing on the ongoing primary contest. But the reason for this argument was not because Romney's camp had suddenly discovered the importance of delegates -- it was because he was losing.
Romney's political director, Rich Beeson, made the case in a memo released Tuesday morning:
As the campaign moves forward toward Super Tuesday, it has become apparent that Mitt Romney is the only candidate with the organizational strength and broad-based appeal to secure delegates in all remaining primaries and caucuses. Of course, there is no way for any nominee to win first place in every single contest -- John McCain lost 19 states in 2008, and we expect our opponents to notch a few wins too. But unlike the other candidates, our campaign has the resources and organization to keep winning over the long run. A winning conservative message, hard work and old fashioned delegate math will win this race for Governor Romney.
There is, actually, a way for a nominee to win first place in every single contest. It's by getting the most votes in each state's primary, and Romney would not have minded such an outcome.
Instead, Romney heads to the unfriendly audience of this week's Conservative Political Action Conference, beginning Thursday in Washington, with even more explaining to do.
Image credit: Reuters/Sarah Conard