Rick Santorum's New Hopes
Tuesday's contests could keep him in the race -- or persuade his supporters that he has no shot at the nomination.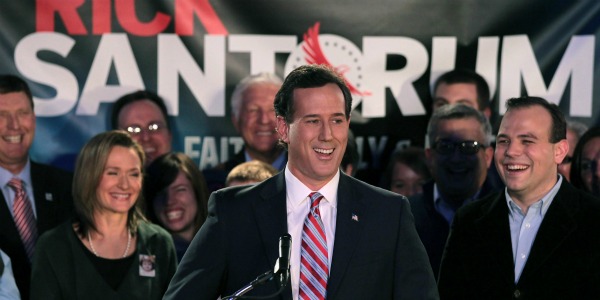 For Rick Santorum, Tuesday's primary in Minnesota is key. Is his candidacy doomed? Or is there reason to stay in the race?
The former Pennsylvania senator finished first in Iowa, tied for fourth in New Hampshire, finished third in South Carolina, third in Florida, and came in last on Saturday in Nevada. In other words, he is trending in the wrong direction.
But he's got an optimistic theory about why that is so.
"Now, we're getting to the states where people don't have the natural advantage, don't have the time commitment, the staff commitment to really build out an organization like they did in these first five," he told Fox News Sunday, predicting a strong performance in upcoming contests. "I think we're going to do very well here in Minnesota. I think we're going to do very well in Colorado, and we've got a one-on-one match up against Mitt Romney in Missouri. While there's no delegates, it is a key state, it is a primary. And we think we can do exceptionally well in the state of Missouri."

Image credit: Reuters