Rick Santorum Would Do Less to Strengthen Families Than Ron Paul
Social conservatives are most attune to their importance. But libertarians seek to reverse the policy that harms them most.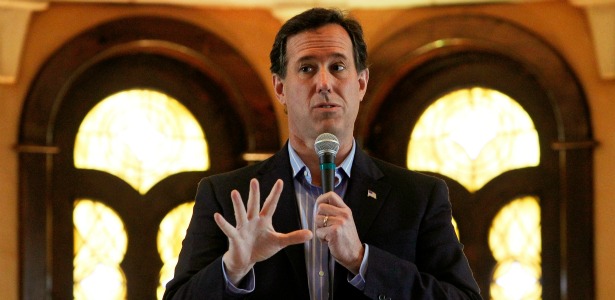 In a recent Rick Santorum appearance on Hugh Hewitt's radio show, the former Pennsylvania senator
talked
about the importance of addressing family breakdown in America's lower classes. "Chuck Colson told me when he left prison 30 years ago there were 250,000 people in prison. There's now 2.5 million, and 70 to 80 percent of them grew up without a father in the home," Santorum said. "I mean, there are real world consequences to the actions that people take. And of course, you have politicians who stay away from that. Well, you can't talk about that. The problem is, if you don't talk about it, and if we don't come to grips with the fact that the breakdown of the family and of the culture is going to have a huge impact on our ability to be prosperous."
These comments were aimed not only at the left, but also at the right's libertarian wing. "The idea of just talking about cutting taxes and reducing regulation and everything is going to be fine ignores the fundamental issue that families are a key component of a stable and healthy society," Santorum said. "Unless we have a candidate that's willing to talk about those things and promote that type of healthy family structure, we're talking past some of the biggest problems that confront the country." It's a critique you might hear, footnoted with more sophisticated examples, from smart reform conservatives like Ross Douthat, Ramesh Ponnuru and David Frum.
It is therefore striking that libertarians, who
are
in fact uninclined to talk about family breakdown, seek to overturn a policy that does more damage to American families than any other. 
Santorum laments the staggering number of incarcerated Americans without noting that government is a major cause of their being locked up. Neither absent fathers nor declining traditional values caused legislators to impose mandatory minimum laws on nonviolent drug crimes. But increasingly harsh penalties passed in a failed effort to win the War on Drugs has led to hundreds of thousands of men being imprisoned, left countless kids with absent fathers, and depleted the supply of marriageable men in neighborhoods where family breakdown is most dire.  
As Bruce Western
puts it
in
The Nation
:
In neighborhoods of mass unemployment, family breakdown and untreated addiction, punitive drug policy (and its sibling, the war on crime) has outlawed large tracts of everyday life. By 2008 one in nine black men younger than 35 was in prison or jail. Among black male dropouts in their mid-30s, an astonishing 60 percent have served time in state or federal prison.

The reach of the penal system extends beyond the prison population to families and communities. There are now 2.7 million children with a parent in prison or jail. There are 1.2 million African-American children with incarcerated parents (one in nine), and more than half of those parents were convicted of a drug or other nonviolent offense.
Libertarians are sometimes mocked for talking as if government is the root of all our problems, and offering little in the way of policy-making save a desire to shrink it. Were the War on Drugs ended, it's true problems like addiction wouldn't just go away. It is nevertheless the case that excessive government regulation of drugs, in the form of our draconian regime of prohibition and imprisonment, has failed to stem addiction even as it destroyed lower income neighborhoods and families.
In this instance, government is a big part of the problem.
Santorum may be more willing than all his opponents to talk about family breakdown. Perhaps he really cares about it most too. As Douthat once put it, the former senator "distinguished himself by talking about issues that most Republicans don't want to touch - the problem of middle-class wage stagnation and the declining social mobility of the poor. Santorum has also framed these issues, correctly, in the context of the crisis in family life that social conservatives have been worrying about for years, making the essential point that absent fathers and broken homes play a greater role in middle America's struggles than the supposed perfidies of the richest 1 percent."
Douthat added that his solutions were inadequate. "Disappointingly, Santorum's specific proposals have focused on reviving manufacturing (and with it, in theory, the solid blue-collar paycheck) rather than targeting family policy directly. But one can doubt his cure and still appreciate his diagnosis." As an alternative, Douthat suggests extended family leave time and a proposal touted by Ponnuru and Robert Stein to "change the way we tax families, dramatically expanding the child tax credit in order to ease the burden on parents with young children."
A safer bet and more urgent priority, if you're trying to strengthen families, is to keep more nonviolent fathers in their neighborhoods, near children they've fathered, rather than locked up in prison. The effect a tax credit might have on the burden faced by parents with young children is uncertain. As uncertain is whether longer family leave would reduce the number of absent fathers. But dramatically reducing the number of fathers who are forcibly removed from their neighborhoods and locked in cages far away from their children? That's guaranteed to reduce the number of absent fathers! Immigration law could also be liberalized in a targeted way that did a better job keeping parents and kids together. And the total number of kids raised in stable, two parent households could also be expanded by permitting gay marriage in every state.
Despite favoring these very practical, family friendly reforms, all of which would result in more kids being raised in stable households, libertarians are often stereotyped as utopian ideologues. Whereas Rick Santorum is credited by smart conservatives who care about families as a particularly effective spokesperson for their cause, even though he wants to keep fighting the War on Drugs, pursuing a hawkish foreign policy that keeps military families separated from loved ones, has no realistic plan for reducing the incarceration rate, and just doesn't include homosexual families or illegal immigrant families among the families he is keen to help. Douthat, Ponnuru and Frum are right. Libertarians don't have anything like all the answers - just more than the hawkish, deportation-happy drug warriors Santorum, Romney and Obama.
Image credit: Reuters