Rick Santorum Has Finally Found His Message
Focusing on issues helps him stand out from his rivals, but is it too late for him to claim the anti-Romney mantle again?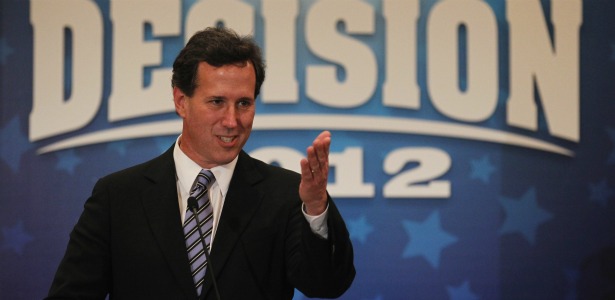 Rick Santorum wants a second chance to be the conservative movement's alternative to Mitt Romney. This time, he might have found the right message.
The Florida primary's third-place finisher argued on Tuesday that Newt Gingrich can't claim to be the strongest alternative to the front-runner Romney after his crushing loss in the Sunshine State. Disaffected conservatives, he said, have only one last place to turn.
"Newt Gingrich had his chance, had a shot," Santorum told CNN during an interview from his Nevada headquarters after the returns came in. "Had a big boost with a win out of South Carolina and couldn't hold it, couldn't deliver in Florida. I think they will be looking for a different conservative as alternative to Mitt Romney now."
---
MORE FROM NATIONAL JOURNAL
---
But the former Pennsylvania senator's pitch leaves out one obvious fact: Santorum himself had a chance to rally conservatives behind his candidacy just a month ago, after his expectations-thumping, apparent second-place finish in Iowa (where he was later declared the victor).
With Gingrich reeling at the time and candidates like Rick Perry and Michele Bachmann quickly heading toward political oblivion, he seemed poised to launch a serious attack on Romney.
But his campaign quickly fizzled when he placed a disappointing fourth a week later in New Hampshire and limped out of South Carolina as a distant afterthought to Gingrich's stunning win. Even his tardily called victory in Iowa and the endorsement of a group of influential evangelical leaders failed to boost his chances.
Even as the one-time House speaker flopped in Florida, it's hard to argue Santorum reclaimed any momentum. He won only 13 percent of the vote there, finishing nearly 20 percentage points behind Gingrich. He's yet to crack one-quarter of the vote in any of the primary's first four contests, topping out at 25 percent in Iowa. He's averaged less than 15 percent of the vote in the three primaries since.
Santorum does have one advantage -- he at least seems to have finally settled on a message, a stark contrast from his post-caucus success. In New Hampshire, his campaign was bogged down by questions over gay marriage, when even most evangelicals are focused on the economy.
Now, Santorum is positioning himself as the candidate focused on issues while his rivals -- Romney and Gingrich -- trade personal attacks on each other. He's still intent on attacking opponents over issues, as he said, but he's talking about subjects voters care about.
"We're not going to do that by mud-slinging," Santorum said in his speech after the Florida returns came in. "We're going to do it by talking about the issues that people at their kitchen tables are talking about."
Image: Joe Skipper / Reuters