Public Divided Over Birth-Control Coverage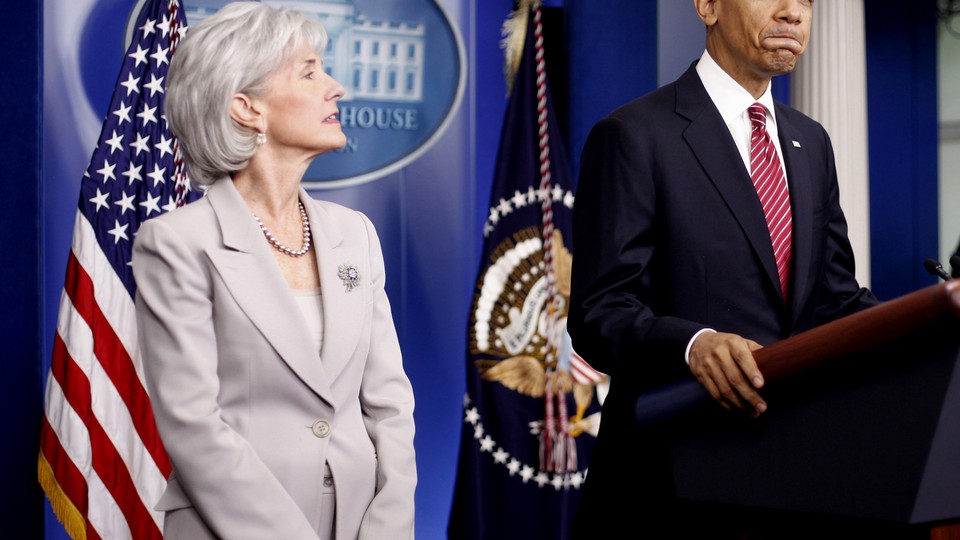 On the docket of contraception-related issues dividing the parties, more Americans lean toward the positions held by President Obama and most Democrats, though in several cases only narrowly, according to the latest United Technologies/National Journal Congressional Connection Poll.
Probing disputes over health insurance coverage for contraception and prenatal testing, federal funding for Planned Parenthood, and whether employers must provide coverage for procedures that violate their moral or religious convictions, the survey found that women tilt more toward the Democratic position than men, with the gap usually even more pronounced among whites.
The issue of contraception has ignited a series of conflicts in recent weeks. The confrontation escalated in January when Obama announced a policy that initially would have required religiously affiliated employers like Catholic universities or hospitals (though not churches themselves) to fund birth control at no cost if they provide health insurance to their workers. After a backlash, Obama unveiled a plan to require the insurance companies, rather than the religiously affiliated employers, to fund coverage for contraception at no additional cost to the worker.
Critics deride that as a wispy distinction, but in the survey 49 percent of adults polled said they supported Obama's plan, compared with 40 percent who opposed it. This issue provoked sharp divisions by gender, race, and partisanship. Men split evenly on the proposal, with 44 percent supporting and 44 percent opposing; women, by contrast, supported Obama's approach by a solid 53 percent-to-36 percent majority. Likewise, while whites split evenly on the idea, minorities backed it by about 2-to-1. And while three-fifths of Republicans opposed the compromise, nearly two-thirds of Democrats, along with just over half of independents, backed it. (In this Congressional Connection Poll, the findings by party are reported only among registered voters, not all adults.)
But in a result that underscores how much the framing of these issues can affect attitudes, respondents split much more closely on a Republican legislative proposal that would have the effect of overriding Obama's plan. The survey noted that "Some members of Congress have proposed legislation that would allow employers to deny coverage for any medical service that violates the employer's moral convictions or religious beliefs"; the Senate is expected to vote this week on such an amendment from Sen. Roy Blunt, a Missouri Republican.
On that question, 44 percent said they opposed creating such an exemption for employers, while 40 percent supported the idea. The idea was opposed by men and women as well as whites and nonwhites, though only by very narrow pluralities. Even the partisan splits were muted: Republicans favored it only narrowly, independents divided about evenly, and Democrats opposed it, though not overwhelmingly.
The Congressional Connection Poll, conducted by Princeton Survey Research Associates International, surveyed 1,005 adults Feb. 23-26; it has a margin of error of plus or minus 3.5 percentage points. The margin of error for registered voters is plus or minus 4.3 percentage points.
On two other contraception-related ideas advanced by Republicans, opinion tilted much more toward resistance. One question told respondents that the House of Representatives last year "voted to eliminate funding for Planned Parenthood, which provides a variety of health care services to women such as birth control and breast cancer screenings" and noted that "[s]ome Planned Parenthood clinics perform abortions, though not using federal funds." Given that description of the decision, fully 69 percent of those polled said they opposed cutting off funding; just 24 percent endorsed it. This idea faced broad opposition; 66 percent of men, 71 percent of women, 65 percent of whites, 78 percent of nonwhites, 70 percent of independents, and 79 percent of adults under 30 all said they opposed the funding cutoff.
Another question tested attitudes toward GOP presidential contender Rick Santorum's recent criticism of the mandate in the federal health care law that employers providing insurance must cover prenatal tests for pregnant women. Without mentioning Santorum by name, the question noted, "Some oppose the mandate because prenatal testing may encourage more abortions." But even after hearing that argument, 60 percent of adults surveyed said they supported the mandate, double the 30 percent who opposed it. Once again, women, minorities, young people, independents, and Democrats were especially supportive of the mandate; Republicans opposed it narrowly, 49 percent to 41 percent.
On each of these questions, opinion among Catholics closely tracked attitudes among other Americans. Catholics backed the Obama compromise by 52 percent to 41 percent — actually a slightly wider margin for the president than the 48 percent-to-39 percent split among non-Catholics. Catholics split exactly evenly (43 percent to 43 percent) on the exemptions in Blunt's proposal. More than three-fifths of Catholics supported the prenatal-testing mandate and three-fourths of them opposed cutting off Planned Parenthood funding. White Catholics showed little difference from nonwhite Catholics on those questions.
The poll suggested that each side may motivate its base on these issues. Sixty percent of college-educated white women supported the Obama compromise. In sharp contrast, the plan faced plurality opposition from noncollege white men and women, and college-educated white men, all of whom are usually tougher audiences for Democrats. Likewise, two-thirds of whites under 34 supported the revised Obama plan — while nearly three-fifths of white seniors opposed it. Two key swing groups — white Catholics and white independents — tilted narrowly toward the Obama position.