Picture of the Day: Santorum's Google Problem on CNN
A risque sign mocking the former Pennsylvania senator made its way onto television.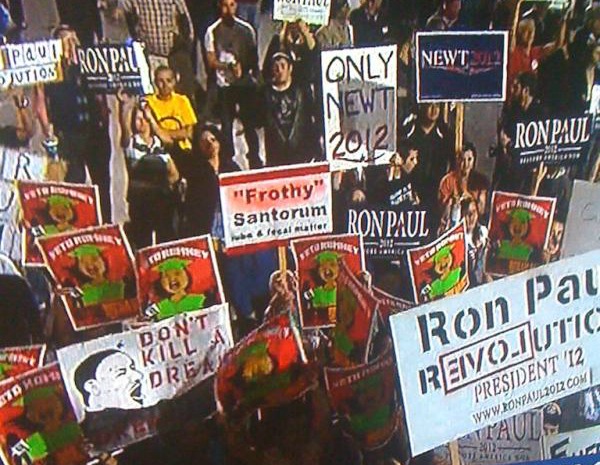 Whoops! Televised national debates are highly choreographed occasions, with rules set ahead of time, seating arrangements tightly negotiated, and the stagecraft neatly planned out. Sometimes, though, accidents happen -- the political equivalents of a wardrobe malfunction.
Twitter user @GOP_2013 took this picture as CNN scanned the crowd outside the GOP debate in Mesa Wednesday night. Amid a sea of ordinary posters -- mostly for Ron Paul, but at least one for Newt Gingrich -- one saboteur held a sign reading "Frothy Santorum," a reference to Santorum's infamous "Google problem." If you've somehow missed it, it stems from sex columnist Dan Savage's quest to redefine the former Pennsylvania senator's surname  to mean something very specific and sexual -- as as form of online retaliation for Santorum's 2003 comments comparing homosexuality to incest and bestiality.
Image: Twitter / @GOP_2013