Picture of the Day: Romney Gets Glitterbombed
The rechristened frontrunner is baptized with sparkles but takes the prank with aplomb, saying it's a fitting way to celebrate his Florida win.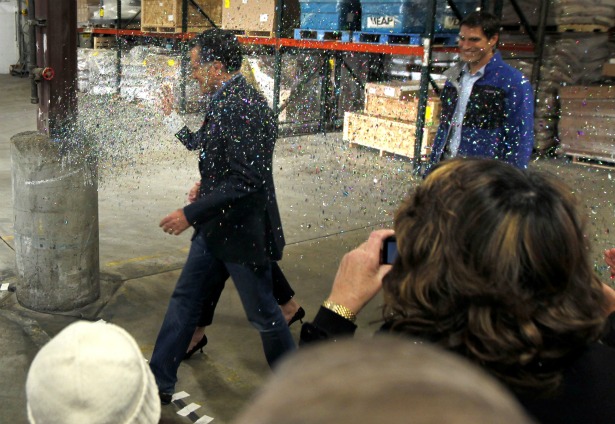 In what's becoming a rite of passage for national politicians, Mitt Romney got some campaign-trail hazing today when he was glitterbombed in Eagan, Minnesota.
The frontrunner, buoyed by his strong performance in Florida Tuesday, took the prank with aplomb, welcoming his decorative assailant from the dais and saying, "Hey, listen you guys, I'm delighted to be here with you, this is an exciting time, I'm happy for the celebration. This is confetti! We just won Florida!" Poor Tim Pawlenty -- who has been stumping for Romney since dropping out of the race -- was at the event, no doubt watching wistfully and reflecting on those happy days when he, too, was a presidential contender and therefore worthy of glitterbombing. According to local reports, the same activist who hit Romney has also doused Newt Gingrich and Michele Bachmann, and is attempting to raise awareness about immigration issues. More typically, activists have glitterbombed candidates to protest their stances on gay rights, as in the cases of Pawlenty, Michele Bachmann, and Rick Santorum.
Image: Gerald Herbert / AP