Picture of the Day: Obama Kicks the Dreamliner's Tires
While delivering a speech on manufacturing, the president got a look at the plane that could be the next Air Force One.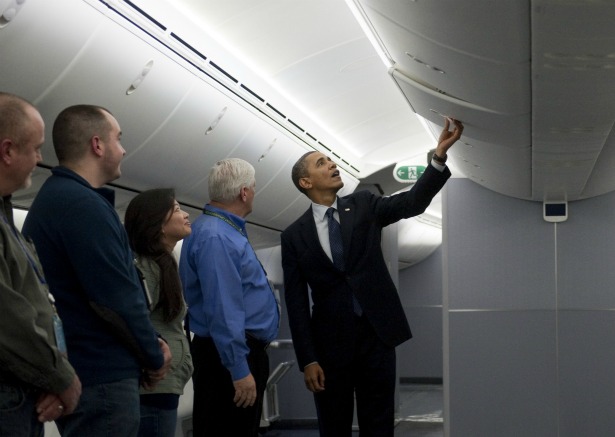 "Hey, can you fit the nuclear football up here?" OK, so that's probably not what Barack Obama was saying, but being president does have its perks -- like getting to check out Boeing's eagerly awaited new 787 Dreamliner before everyone else. Obama was in Everett, Washington, Friday evening, where he got a tour of the plane and delivered a speech about American manufacturing. "The Dreamliner is the plane of the future," he said. "And by building it here, Boeing is taking advantage of a huge opportunity that exists right now to bring more jobs and manufacturing back to the United States of America."
The Dreamliner must look pretty spiffy to the president, whose planes are tricked out but increasingly aged: they passed the quarter-century mark last year. Perhaps he's just assessing the overhead bin space in anticipation of an eventual return to civilian life and standard travel, but his successors may have the opportunity to travel the country in a 787. The two converted 747s that serve as Air Force One are due to be retired in 2017, and only Boeing is in contention for the contract build the next generation of presidential planes -- though the Air Force is expected to face a choice between a newer version of the 747 and the Dreamliner.
Image: Saul Loeb / Getty Images