Picture of the Day: Newt's Hot Wheels
Can the former House Speaker ride to victory?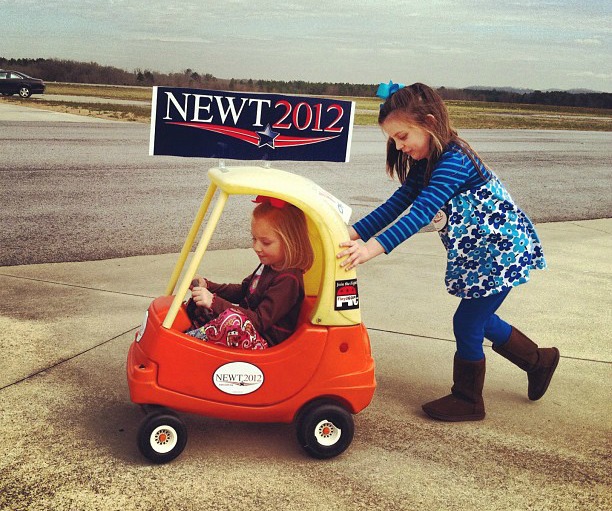 It's been a long time since automobiles were such a hot issue in a presidential campaign. On Thursday, President Obama bashed Mitt Romney (though not by name) at the UAW annual convention. Romney's op-ed arguing against bailing out carmakers has been a major issue in the race, as -- unexpectedly -- has the matter of what cars the former Massachusetts governor owns, especially after he awkwardly noted that his wife drives a pair of Cadillacs. And that's leaving out the late, lamented Cain bus.
If this is the new vehicular stock for the Newt Gingrich campaign, you won't hear anything about him being out of touch with middle-class voters -- though middle-aged ones might be another matter. NBC News reporter Alexandra Moe snapped this shot of two future voters and a Little Tikes at a Gingrich rally in Dalton, Georgia on Tuesday, adding, "Newt's new ride?" This might explain why the former Speaker's campaign seems to have, um, run out of gas since the South Carolina primary.
Image: Alexandra Moe / Twitter