Picture of the Day: End the Fed (Hearing)
Rep. Ron Paul takes a break from the campaign trail to question Fed Chairman Ben Bernanke.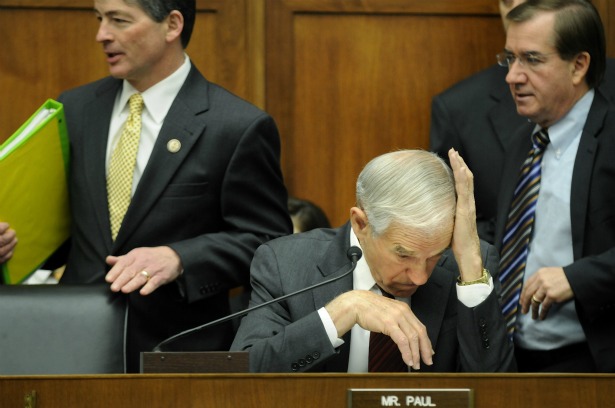 On Wednesday, Federal Reserve Chairman Ben Bernanke was on the Hill, testifying before the House Financial Services Committee. And Rep. Ron Paul, the Texas congressman and longtime opponent of the Fed, was there too.
if Paul looks weary in this photo, it's understandable. On Tuesday, he competed in the Arizona and Michigan primaries, although he wasn't expected to place highly and didn't in either. He has a busy week ahead, with Super Tuesday coming up on March 6, and he's trying to make a serious push in Idaho and in Virginia, where he's one of only two Republicans on the ballot. But Paul is conscientious about attending to his House duties, and he has few chances remaining to continue his lonely crusade against the central bank: He isn't running for reelection to the House and is highly unlikely (at best) to win his party's presidential nomination. So there he was, exchanging pleasantries with Bernanke ("Good to see you again," the chairman told him), asking him if he bought his own groceries, and displaying an ounce of silver he'd brought to the hearing.
Image: Jonathan Ernst / Reuters