Photo of the Day: Shock and Awe at the White House
President Obama gets a thrill after inviting young scientists and inventors to his home.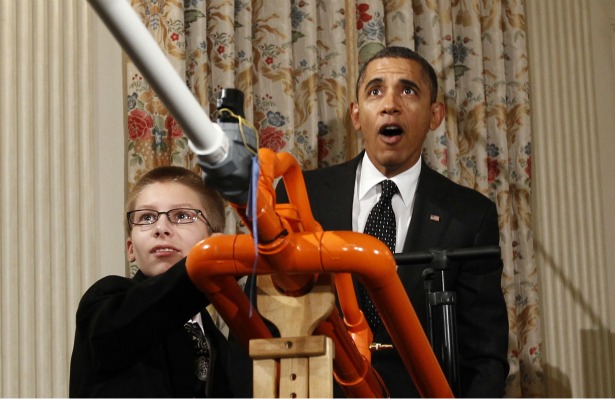 Playing with your food? Shooting things at the White House? It seems like a recipe for disaster and/or arrest, but somehow Joey Hudy managed to play with his food while hanging out at the Executive Mansion and still get this look of amazement out of the president. The 14-year-old Phoenix resident designed this Extreme Marshmallow Cannon and demonstrated it at the second White House Science Fair Tuesday.
In addition to watching Hudy fire sweet treats across the State Dining Room, the president told participants about helping his daughter Sasha prepare for an egg-drop competition by dropping eggs off the Truman Balcony, and quipped to the young inventor of a dissolvable sugar packet, "Tell me when I can buy stock." The event is intended to celebrate and encourage science, technology, engineering, and math education in the United States.
Image: Kevin Lamarque / Reuters