Mitt Romney Cruises to a Landslide Victory in Arizona
As expected, the former Massachusetts governor easily captured the Grand Canyon state's 29 delegates.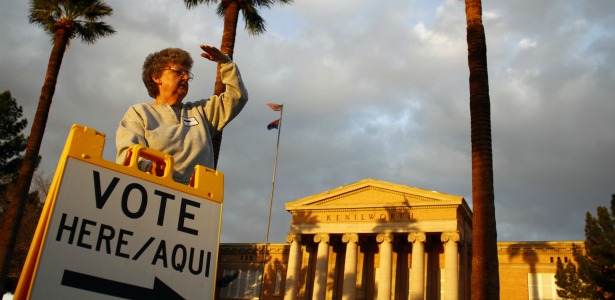 Republican presidential candidate Mitt Romney easily won Arizona's Republican primary on Tuesday, ensuring him at least one victory as he awaited less predictable results in his childhood home state of Michigan.
---
MORE FROM NATIONAL JOURNAL
---
The former Massachusetts governor won Arizona's 29 delegates under the state's winner-take-all system, guaranteeing he will keep his wide early lead in the count of convention delegates needed to secure the nomination.
Rick Santorum, Romney's leading rival, did not wage an aggressive campaign in Arizona. Instead he spent most of his time competing with Romney in Michigan, betting that a victory in Romney's native state would carry symbolic punch and create momentum for his own campaign.
Romney has maintained a hardline stance against illegal immigration throughout the primary season that played well with Arizona Republicans worried about border security. During a debate last week, he called the state's immigration laws a model for the country.
Arizona Gov. Jan Brewer endorsed Romney on Sunday, praising his business background and calling him "the man that can carry the day." Romney also drew support from Arizona's large Mormon community, which has overwhelmingly backed him this campaign.
Image: Joshua Lott / Reuters