Michigan's Cliffhanger Primary Is the Key to the GOP Nomination
A Santorum victory would be bad news for the Republican Party, but the road ahead will remain rocky even if Romney ekes out a win.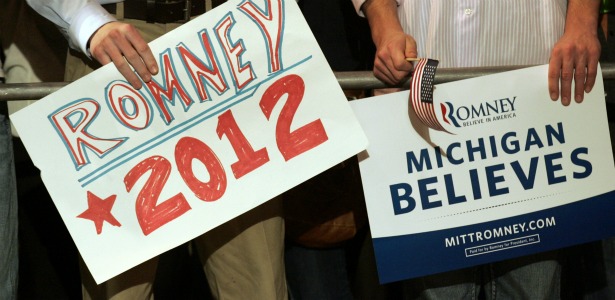 Don't count on the unceasingly volatile Republican presidential primary contest to finally calm down after Tuesday night. The likely best case for Mitt Romney is that he wins the Arizona primary handily, edges past Rick Santorum in Michigan, and lurches ahead to Super Tuesday determined to demonstrate for the first time that he can sustain momentum.
The worst case for the party: Santorum wins Michigan, throwing the nomination race into chaos as Republicans contemplate a social-issues crusader facing President Obama this fall. Santorum would claim to be the new front-runner, and quiet murmurings about recruiting a new candidate would explode publicly.
Predicting what will happen in Michigan and Arizona is risky in this historic roller-coaster of a primary race, but it's clear the ride doesn't end Tuesday. Any scenario will lead to a weeklong sprint to the 10 contests on March 6's Super Tuesday, when the four remaining candidates will have their best chance to prove themselves in diverse states all over the country.
---
MORE FROM NATIONAL JOURNAL
---
"The state of the party is such it wasn't going to come to any quick consensus on the pick," said John Feehery, a GOP strategist. "The party is all over the place -- it's just not that unified right now."
That's not to dismiss the importance of these two Tuesday primaries. They are the first major contests since Santorum, a former U.S. from Pennsylvania, unexpectedly won a trio of states in early February and surged to become Romney's chief rival. More delegates will be awarded on Tuesday -- 59 -- than on any single night during the campaign thus far. For Romney, whose campaign has prepared for a long campaign of collecting delegates to win the nomination, the 59 at stake on Tuesday are critical. He's boosted by the fact that Arizona's Mormon population has made him a heavy favorite in a state that awards all 29 of its delegates to the winner. Romney has the early delegate lead with 105, according to data collected by the Associated Press.
Twitter was humming with analysis about what was at stake on Tuesday night. Larry Sabato, director of the University of Virginia Center for Politics, wondered if Romney, should he win the two states, would be able to capitalize in a way he did not after wins in New Hampshire, Florida and Nevada. "He'll have to keep spending big" to keep moving forward, Sabato wrote. GOP strategist Mike Murphy replied that Washington state's March 3 caucuses equal "trouble" for Romney. In other words, he might follow any wins with a loss four days later.
In Michigan, where he grew up, Romney has already completed a comeback of sorts. Santorum surged in national polls after winning Colorado, Minnesota, and Missouri on Feb. 7, and seemed to have momentum in the Wolverine State. But the Romney campaign has heavily outspent Santorum there, emphasizing Romney's roots in the state. Polls of the race show a close battle, with Romney holding a slight edge.
"My guess [is] Romney ekes it out in Michigan," Feehery said. "Because of structural capabilities, he'll be able to do better than people think. But it's still going to be a long haul because of delegates."
A win would underscore yet again the Romney machine's potency, which a month earlier similarly halted Newt Gingrich's momentum before the Florida primary. But it also raises questions about the strength of candidate himself. Time and again, he has made unforced errors and has had to rely on his superior organization and fundraising apparatus to fend off his rivals. His performance on the campaign trail, marred by remarks that suggest he's out of touch with the lives of the non-rich, has hardly been reassuring to his party.
Beyond that, Michigan and Arizona are favorable ground for the former Massachusetts governor. Twin victories on Tuesday night, particularly if Michigan is tight, would not necessarily allow him to claim he's finally vaulted past his rivals' reach.
A victory for Santorum in Michigan would cap an incredible month for the ex-senator. He started February as an also-ran who had finished a distant third in Florida, and ended it as a legitimate contender after winning four of the last six GOP contests. Late polls in Michigan indicate he's in a statistical dead heat with Romney.
But there are signs that Santorum's momentum has withered in the last week. The Gallup daily tracking poll of the presidential primary, which a week ago showed him leading Romney by double-digits, has since reported a Romney surge. The former Bay State governor, as of Monday, led Santorum by four percentage points, 32 percent to 28 percent.
Critics will charge that Santorum's culture-war rhetoric, brandished in increasingly visible and visceral ways in the past few days, accounts for the drooping support. The former senator, who wrote an op-ed in The Wall Street Journal attempting to reassert his economic agenda, has in recent days alone blasted the idea that church and state are separate and accused Obama of being a snob for promoting higher education.
Santorum's campaign tried to downplay expectations for Michigan on Monday, arguing that it's a victory for Santorum that the state is a battleground at all. "We have already won," John Brabender, Santorum's senior political adviser, told CNN. "No matter what the results are, we've won. This is Romney's home state."
For former House Speaker Gingrich and Texas Rep. Ron Paul, Tuesday is of far less consequence. Neither is expected to get close to victory. Paul drew large crowds in Michigan, but Gingrich skipped the state.
Gingrich is counting on winning several Southern states on Super Tuesday, including his home state of Georgia, to lift him back into contention. A stronger-than-expected finish in Michigan or Arizona, coupled with disappointing results for Santorum, could position him to regain momentum yet again in a race that has already seen him rise and fall twice.
Image: Rebecca Cook / Reuters