Is Rick Santorum Still a Factor in the GOP Race?
Iowa-like electorates, and quirks of the process, make Santorum a renewed threat to Romney in Tuesday's Minnesota and Missouri contests.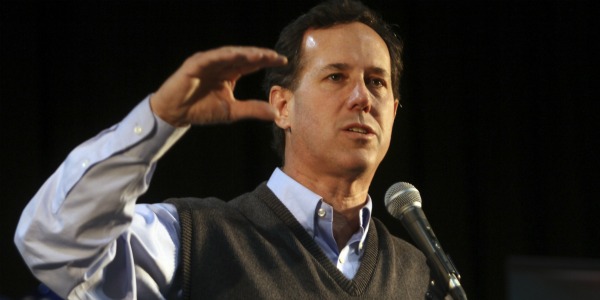 For weeks now, the story of the Republican primaries -- yes, they are still going on -- has been Mitt Romney vs. Newt Gingrich. But on Tuesday, when nominating contests are held in Minnesota, Missouri and Colorado, Rick Santorum could be the name in the headlines instead.
That's because Santorum appears to have a shot at winning both Minnesota and Missouri, according to the scant polling that's been done and expert assessments.
Both states feature large populations of rural evangelical voters -- a Republican voting population that resembles Iowa's GOP caucus crowd much more closely than did voters in the other states to cast ballots so far. And Santorum, you will recall, ended up winning Iowa, though he's seen little success since then. Both contests have quirks that could accrue to his benefit, as well.
Santorum left the Nevada days before Saturday's caucuses there, realizing, correctly, that he could make little headway in such a libertarian-minded environment. He has been campaigning in the upcoming states ever since, even making a stop at the factory in Bemidji, Minn., that manufactures his signature sweater vests.
The Romney campaign appears to recognize Santorum as a returning threat: It has suddenly turned its might on the Pennsylvanian, furiously churning out press releases attacking his record and holding a conference call Monday to do the same -- the first such call from Team Romney that hasn't focused on Newt Gingrich.
Santorum, former Minnesota governor Tim Pawlenty said on the call, "has held himself out as a true conservative -- the gold standard -- when in fact that's not his record." He pointed to Santorum's pursuit of earmarks and votes to raise the debt ceiling during his time in the House and Senate.
The Minnesota caucuses, Pawlenty said, tend to draw a small, hard-core conservative turnout -- he himself lost them during his first run for governor, only to win a later primary. (Romney triumphed over John McCain there in 2008, when he was the more conservative of the candidates in the offing.)
Santorum also stands to profit from a vagary of the process in Missouri: Gingrich's failure to qualify for the primary ballot at all. The vote there is strictly symbolic -- no delegates are at stake -- but it's still an occasion for Republicans to state a preference.
Santorum's camp, meanwhile, delighted in the attention from the front-runner Monday. "SANTORUM SURGE PROMPTS ROMNEY TO USE ATTACK MACHINE," it trumpeted in a press release.
Though the possibility that anything stops a steamrolling Romney at this point seems remote, his campaign has learned the hard way not to take anything for granted. (Plus, at the moment, his team has little to do besides play whack-a-mole in this manner.) It's unlikely but not altogether implausible, in this yo-yoing, momentum-driven campaign, that a couple of freak Santorum wins could suddenly turn the conversation in his direction and elevate him to further success.
On the other hand, while Santorum may be enjoying being important enough to attack now, that "attack machine" proved awfully effective when Romney deployed it against Gingrich.
It is Gingrich who seems like the real loser here. Not long ago, he was calling on Santorum to drop out for the good of the conservative movement, so that Gingrich could be the standard-bearer of the Anybody But Romney movement, such as it is. Now, Gingrich is not even Romney's primary target.
Image credit: Reuters/Nathan Armes