Enough With the Obama Teleprompter Jokes Already
They're stale, sometimes hypocritical, and could actually be counterproductive for the Republican Party.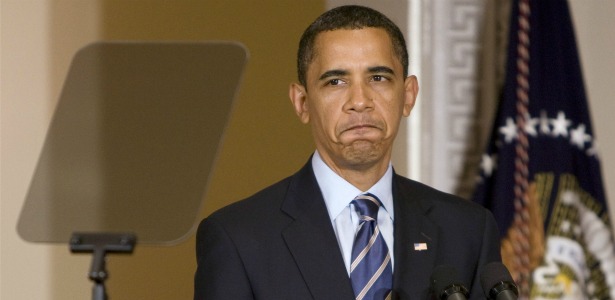 Isn't it time for conservatives to move past the teleprompter jokes about President Obama? The Republican nominee, whoever he is, will have to rely on a teleprompter, and at least one candidate -- Mitt Romney -- already uses one regularly.
Yet the jokes, and the mockery of Obama as incapable of expressing a thought without a cue card, won't die. "I almost feel like a president up here, with the teleprompters," pollster Tony Fabrizio said Sunday at the Conservative Political Action Committee conference. "And they're empty," he added to laughter, "like much of his words."
Rick Santorum calls Obama the "reader-in-chief." Newt Gingrich said last month that "I believe that I can tell the truth without notes better than he can dissemble on a teleprompter." He also routinely offers to let Obama use a teleprompter in the Lincoln-Douglas debates Gingrich has proposed. "Wouldn't you want a teleprompter" if you had to defend "Obamacare"? he asked a cheering audience last fall.
Conservatives grabbed onto the teleprompter theme during the 2008 campaign and have never let it go. There are websites called Ask Obama's Teleprompter and TOTUSblog.com (for Teleprompter Of The U.S.). There's a blog called Barack's Teleprompter, "Because There Is No POTUS Without TOTUS."
There are headlines like "Obama's teleprompter says God is on his side" and "Obama fails without his teleprompter." One opinion writer mocked Vice President Biden for coming to Fort Worth to raise money for "Obama's teleprompter fund."
Romney has used a teleprompter for at least three caucus and primary-night speeches. Santorum could have used one on some of his election-night speeches. He went on far too long in Iowa last month and had some unnecessary stumbles last week on the night of his trifecta in Missouri, Minnesota, and Colorado.
The teleprompter jokes aren't particularly funny at this point, and beyond that suggest a GOP mindset that could be counter-productive. It's reflected in Romney's constant allusions to Obama as "in over his head" and Sarah Palin's sarcastic implication that he is an "idiot." Do Republicans want to lull themselves into thinking Obama is an incompetent who can't speak coherently or win a debate without a teleprompter? He probably hopes they do. It never hurts to be misunderestimated, as George W. Bush famously put it.
Image: Larry Downing / Reuters