Does Santorum Really Want to Make a Stand on Mormonism?
With their candidate on the defensive, Santorum aides suggest they could force Mitt Romney to defend his faith.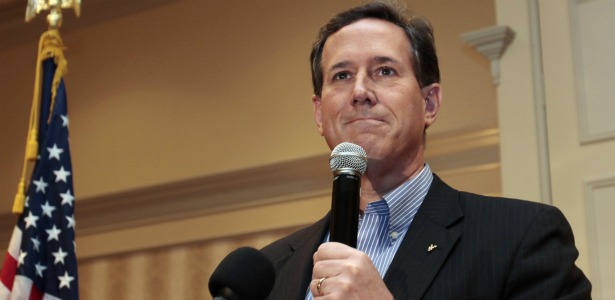 Rick Santorum is on the defensive after the Drudge Report on Tuesday posted comments he made in 2008 warning that Satan is attacking America. That's prompted three lines of response from the former Pennsylvania senator's camp:
1. Pay no attention! Pressed on the matter Tuesday evening, Santorum said, "These are questions that are not relevant to what's being discussed in America today." One imagines that if Satan really is attacking America, it'd be relevant to devout believers, and if Santorum really believes it, one imagines it'd still be relevant to him as well.
2. People agree with me! Byron York of the Washington Examiner has a remarkable article up featuring some commentary from an unnamed Santorum supporter who suggested the candidate was in step with voters:
"I don't know what's newsmaking that Rick Santorum believes in right and wrong, good and evil, God and the devil," says one campaign aide. "I really don't know how that's out of the mainstream."

It's not. In 2007, the Gallup polling organization asked Americans whether they believe in God, in heaven, in hell, and in the devil. The results: 86 percent of those questioned said they believed in God, 81 percent in heaven, 70 percent in the devil, and 69 percent in hell.
Naturally, there's a big difference between voters believing in the devil and wanting their president to be sounding eschatological warnings, and if Santorum was that confident about their support, he would have responded differently Tuesday night.
3. Mormons! Here's the most remarkable part of York's article, which is buried at the end:
"Why is Mormonism off limits?" asks one. "I'm not saying it's a seminal issue in the campaign, but we're having to spend days answering questions about Rick's faith, which he has been open about. Romney will turn on a dime when you talk about religion. We're getting asked about specific tenets of Rick's faith, and when Romney says, 'I want to focus on the economy,' they say, OK, we'll focus on the economy."
For the record: Romney spent the day in Arizona pitching his tax plan, which seems to qualify as talking about the economy (although it's an open secret that Romney aide Matt Rhoades is feeding stories to Drudge).
It's true that Romney's presidential rivals have mostly avoided going after him on religion, although the same cannot be said for pundits and voters, both Republican and Democrat. The major exception was when Robert Jeffress, a Rick Perry supporter, stated at the Values Voters Summit that Mormonism is a cult. Santorum could certainly make a big splash by picking a fight about Romney's faith. A new culture-war front would fit right in with the drumbeat of contraception and abortion news over the last two weeks. Democrats would love that: it'd make the Republican battle that much more acrimonious and save them the trouble (and risk) of dog-whistling on Mormonism later on.
Would picking a fight about whether Romney belongs to a cult be a fight Santorum could win? Even if he did, would it propel him to the nomination? If nothing else, such an attack would seem to bring the GOP establishment together to try contain the damage, likely by undermining Santorum. But the Pennsylvanian is staunch about matters of faith and, as his Satan comments make clear, willing to make controversial, inflammatory, and self-defeating comments.
Image: Rebecca Cook / Reuters