Chart of the Day: Where Members of Congress Worship
All about two Buddhist members of the House, plus more interesting facts from a new demographic report.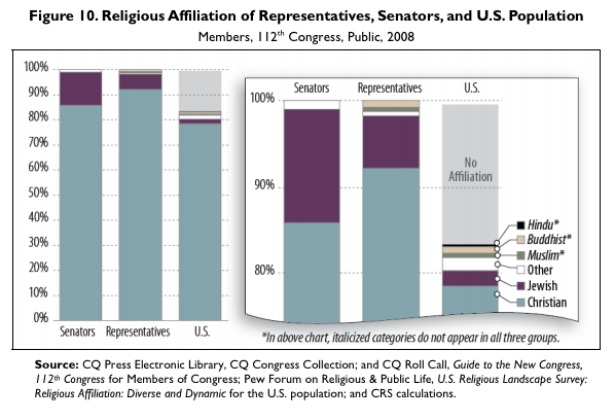 Last week, the Congressional Research Service put out a report (via Andrew Sullivan) packed with great minutiae on member demographics. A lot of it is what you'd expect: members of Congress tend to be better educated than the general population, more male than the general population, whiter than the general population, and older than the general population (although the age of the oldest senator is actually younger than it has been of late). There are actually fewer lawyers than their used to be, though they still dominate, and also fewer veterans. The numbers are based on the 2008 Congress.
This chart caught our eye, though. Naturally, Christians are a vast majority of both chambers (and yes, Mike Huckabee, Mormons are counted as Christians), followed by Jews. Somewhat more surprisingly, more than 15 percent of members of the House report no religious affiliation. And did you know there are two Buddhists in Congress? They are Reps. Hank Johnson of Georgia and Mazie Hirono of Hawaii, both Democrats. There's more detail on denominations in the report.
Image: Congressional Research Service