Chart of the Day: Understanding the Budget-Cut 'Trigger'
An easy-to-understand visualization of sequestration, a hard-to-understand hot-button issue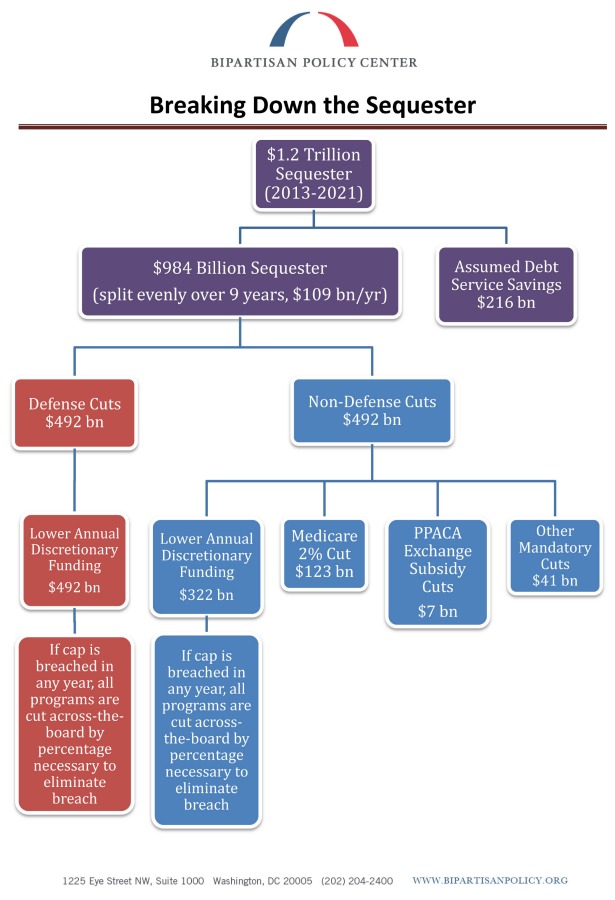 Now that Congress is back in town, and has finished passing legislation that bans congressional insider training -- a no-brainer vote with populist overtones and overwhelmingly bipartisan support among voters -- it's time to go back to the contentious issues. At the top of the agenda are budget cuts.
As you will recall, the failure of the congressional Super Committee triggered mandatory spending cuts. This "sequestration" was meant to be an incentive to both sides to find a deal, because the cuts would harm programs that both parties are fond of. Surprising no one except maybe the members of Congress involved, that ploy, and the Super Committee, failed, and no agreement was reached.
With those cuts looming, some hawkish members of Congress are attempting a last-minute maneuver to prevent the mandatory defense cuts. "I believe the cuts that would be required by sequestration aimed at the Department of Defense are a threat to our nation's security and we are opposed to that draconian action," Sen. John McCain said Thursday. Doves and deficit hawks contend that's scaremongering, pointing out that even with the cuts, the U.S. will spend significantly more on defense than any other nation.
In any case, sequestration remains one of the most arcane pieces of an already arcane budget matter. This chart from the Bipartisan Policy Center lays out what's on the chopping block quite clearly. They've got more on the cuts -- including the disheartening fact that sequestration won't really make much difference in controlling the national debt -- here.
Image: Bipartisan Policy Center