Chart of the Day: GOP Primary Results in Every County
Mapping returns on a county-by-county basis offers a different view of the Republican electorate.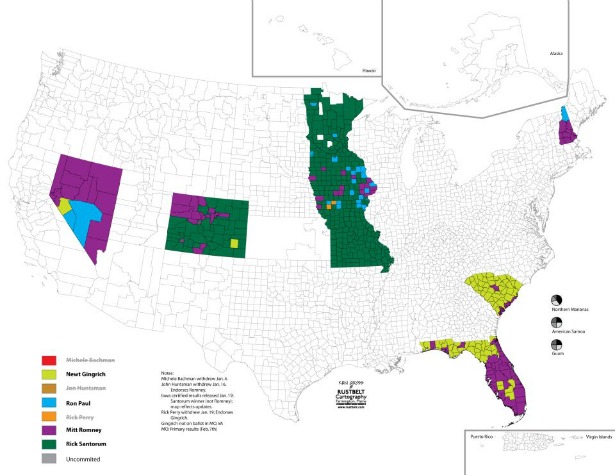 If just seeing which Republican contender won what state isn't enough, this is the graphic for you. Ken Gross of Rustbelt Cartography created this map, which color-codes every county in the nation and is being updated as results from the GOP primaries and caucuses come in. One clear takeaway: Mitt Romney might be the frontrunner, but there's mostly green for Santorum all over the map.
The map gives a view of voter demographics in a way that pure percentages can't. In South Carolina, for example, Mitt Romney got pummeled by Newt Gingrich, but he did well in more urban, wealthy, moderate areas. So in the Palmetto State sea of lime green, you can pick out Columbia, the capital, and the coastal area around Charleston, which has attracted northern in-migration. There's an even starker contrast between Florida Republicans who broke for Romney in the main part of Florida, and the more conservative, "southern" ones who pulled the lever for Gingrich in the panhandle.
Image: Ken Gross / Rustbelt Cartography