Blue-Collar Votes Will Make or Break Santorum in Michigan and Beyond
It's widely expected that the Pennsylvanian can connect with working-class white voters, but Michigan will test the theory -- and his viability.
It's widely expected that the Pennsylvanian can connect with working-class white voters, but Michigan will test the theory -- and his viability.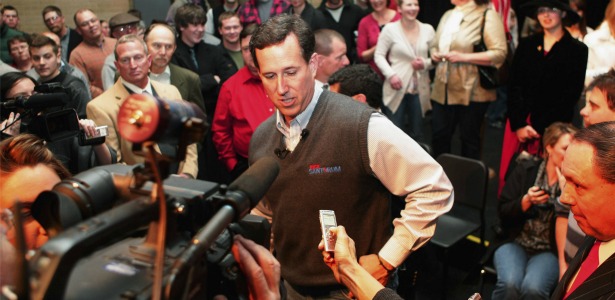 The Michigan primary will test one of the most common -- but as yet unproven -- assumptions in the Republican presidential race: the expectation that Rick Santorum will be a strong candidate for blue-collar voters.
From the moment Santorum emerged as a serious contender in Iowa, many analysts (present company included) have assumed he would run well among the growing ranks of non-college white voters in the Republican electorate. On a policy level, Santorum stresses his determination to rebuild the nation's manufacturing capacity and laments the decline of upward mobility for working-class Americans in language rare among Republicans. On a personal level, Santorum highlights his years growing up in Western Pennsylvania steel country, and his grandfather's experience as a miner; he also projects a regular-guy aura that contrasts with rival Mitt Romney's vast wealth.
Yet so far these assets have not translated into blue-collar success for Santorum. In the five states for which exit polls have been conducted, he has not consistently run more strongly among voters without a college degree than those with one, or better among lower- than upper-income Republicans. In no state so far has Santorum's share of the vote among college and non-college Republicans varied by more than three percentage points -- which is to say it has been almost entirely flat.
---
MORE FROM NATIONAL JOURNAL
---
Santorum's performance doesn't show much more variation by income. In Iowa, his share of the vote rose steadily with income: he ran better among those earning between $50,000 and $100,000 than those earning less; and better yet among those earning more than $100,000 than those in either of the two lower categories. In New Hampshire, Nevada, South Carolina and Florida, his vote varied little by income.
Nor has he demonstrated any particular appeal to Catholics, despite his own strong Catholic faith. In each state in which there were enough Catholics to measure, Santorum's performance among those voters lagged behind his showing with evangelical Christians. So far Santorum's share of the Catholic vote has exceeded his overall vote total only in Nevada, and that by only three percentage points, a statistically trivial difference.
All of this contrasts sharply with Romney, who has demonstrated a strong class skew in his support (as he did in his 2008 run). Except for Florida, Romney this year has run between five and seven percentage points more strongly with college-educated than non-college voters in each of the states with exit polls so far. In every state so far, he's also run better among upper- than lower-income voters, sometimes significantly better. In Iowa, his 36 percent of the vote among those earning at least $100,000 annually more than doubled his 16 percent showing among those earning $50,000 or less; in Nevada Romney ran almost 20 percentage points better among the top earners than he did among those earning $50,000 or less. In New Hampshire the gap was 17 percentage points. He's also run better with Catholics than evangelical Christians in every state, with gaps that were especially wide in New Hampshire and Florida.
It's possible Santorum ran better among these "Sam's Club" Republicans in his victories earlier in Missouri, Colorado, and Minnesota, states in which exit polls were not conducted. The Wall Street Journal recently reported that in the latter two Romney ran better in counties with a median income above the statewide average than those where it lags; that implies the reverse was true for Santorum. But the big tests of Santorum's blue-collar appeal are coming. In the 2008 Michigan primary, 57 percent of GOP voters lacked a college education and 75 percent earned less than $100,000 annually. Super Tuesday on March 6 will bring key tests in Ohio (61 percent non-college, and 79 percent below $100,000 last time); Oklahoma (53 percent non-college and 70 percent less than $100,000 in 2008); and Tennessee (56 percent non-college, and 76 percent under $100,000.) In those states, Santorum is more likely to travel the road to victory in a Chevy than a Lexus.
Romney's weakness with downscale voters suggests Santorum will almost inevitably improve his performance among them at least somewhat as he emerges more clearly as the alternative to the dethroned front-runner; after all, the voters resisting the former Massachusetts governor must vote for someone. But Santorum will have a much better chance of overcoming Romney's other advantages if he can do more than just fill the space that Romney leaves open among working-class Republicans. If Santorum is ever to succeed at demonstrating that his mix of economic nationalism and cultural conservatism can galvanize the GOP's burgeoning working-class wing, he couldn't pick a better time than the next two weeks.
National Journal researcher Amrita Khalid contributed.
Image: Brian Losness / Reuters