Birth Control and the 'Obama Independents'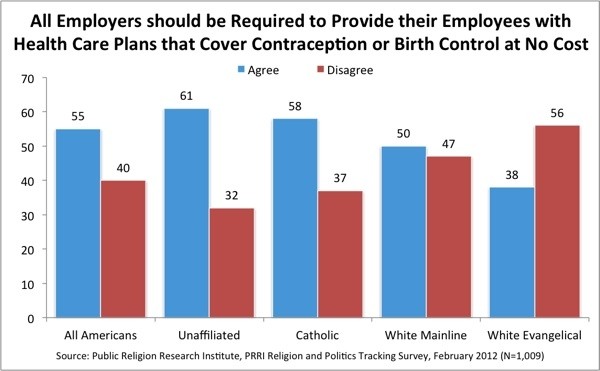 Sarah Kliff parses
the numbers on birth control, insurance, religion and the illusive independents:
And a lot of this likely isn't about Catholic voters at all. Rather, it may well be about the demographics that are most supportive of this particular health reform provision: young voters and women. In the PRRI poll, both groups register support above 60 percent for the provision. 




Those two demographics are important here for a key reason: they were crucial to Obama's victory in 2008. Third Way crunched the numbers earlier this month and found that the "Obama Independents" -- the swing group that proved crucial to his 2008 victory -- are, as Ryan Lizza put it, "disproportionately young, female and secular..." 




These voters have tended to be difficult for abortion rights supporters to engage on reproductive health issues like abortion. Research from NARAL Pro-Choice America, which I wrote about last weekend, found a significant "intensity gap" there, with abortion rights supporters much less likely to see it as a crucial voting issue than their anti-abortion counterparts. 




But when the conversation moves away from abortion to contraceptives - as it has this week - the intensity gap flips: A much larger segment of voters are willing to penalize a legislator who votes to defund family planning. That became apparent in polling that Democratic firm Lake Research Partners did earlier this year, which found that 40 percent of voters would be less likely to support a member of Congress who votes to defund family-planning programs. Just 22 percent would be more likely to support such a lawmaker.
Two things:
1.) I think it really helps to separate Obama independents--disproportionately "young, female and secular"--from the broad nebulous "Independent voters" that we are all so fond of invoking. Everyone claims to appealing to "independents." I think that has more to do with connotations and branding (independent="thinks for self") than the actual make-up of a candidates support.
2.) The difference numbers for Catholics and White evangelicals are really interesting. It's almost as if the issue for Republicans, isn't so much a hard pitch to Catholics, as it is a hard pitch to white Evangelicals, with the hope of clipping off some conservative Catholics along the way.